I promised pics, so here they are!
The garden spot before clearing the area, including the first snake of the season, right in the middle of the picture. YUCK!!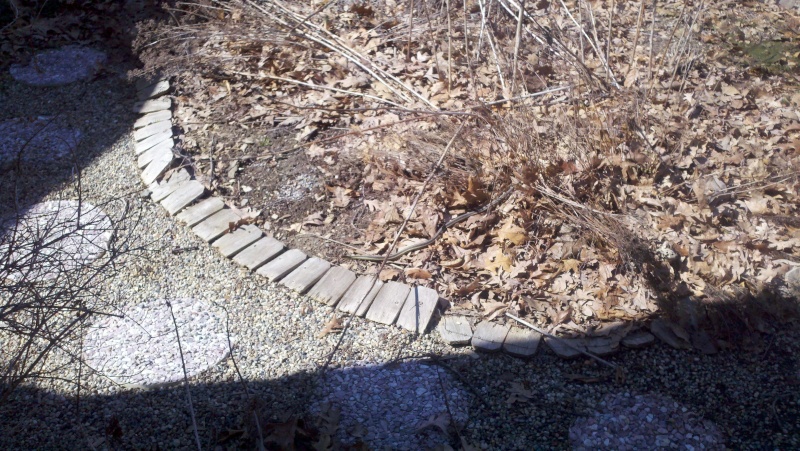 Area cleared, weed barrier layed, boxes built and placed.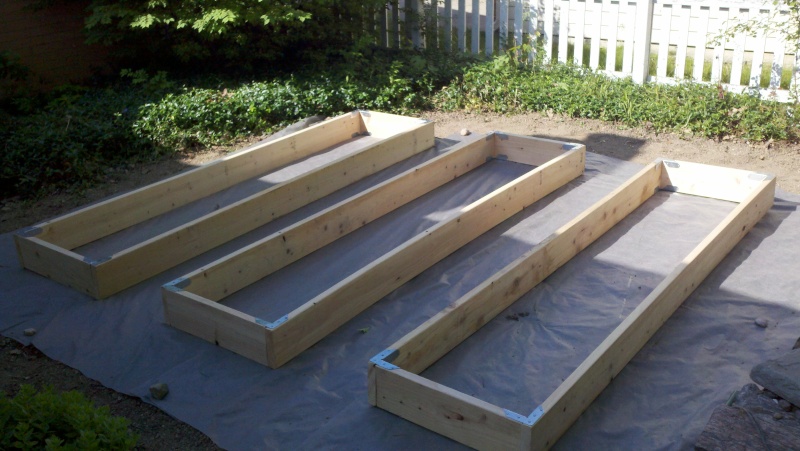 The compost tumbler we used to mix the MM, and my handsome hubby.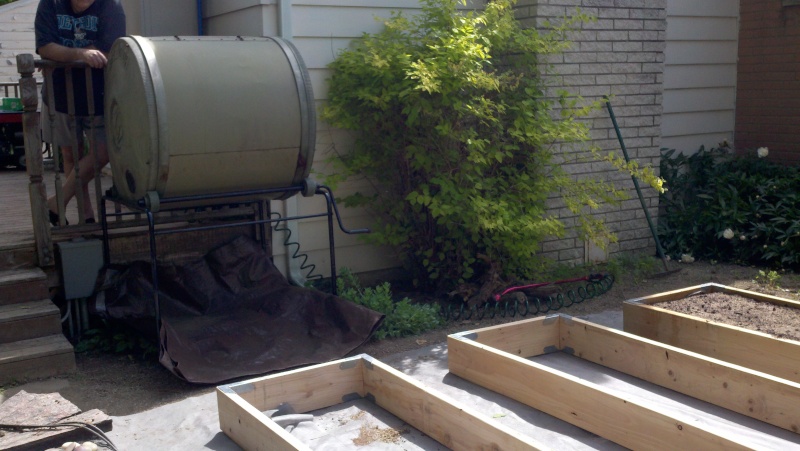 First box filled! (Almost... we added a little more to reach the top.)
My boxes are just off my deck next to my koi pond, which holds 5 koi ranging from 7" to 24".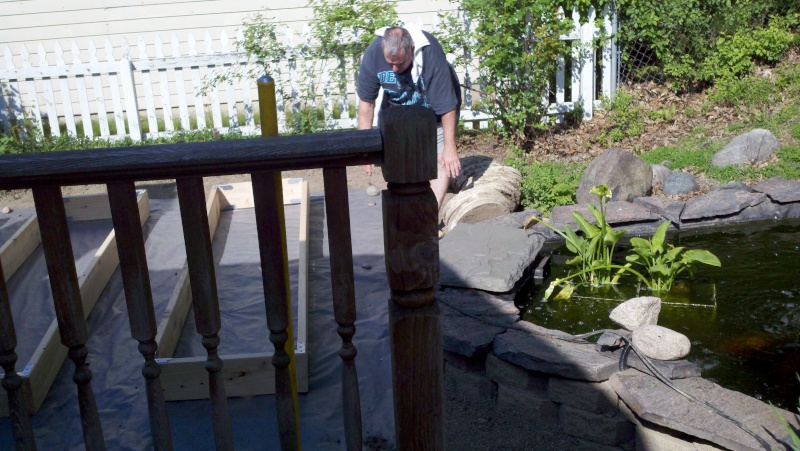 Roma Tomatoes and a couple squares of marigolds.

4 Jalapeno plants, 5 more Romas, a square of marigolds, and at the other end is where I sowed my corn.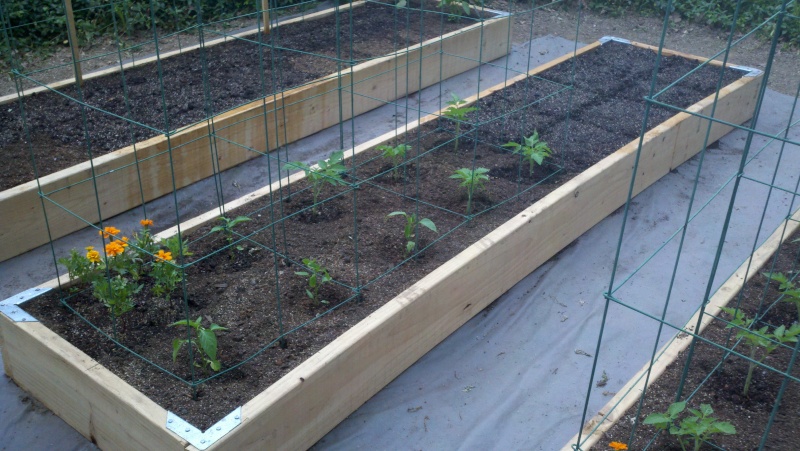 Cucumbers, a Brussel Sprout, a Basil, and the empty looking areas, contain Kentucky Blue Pole Beans, Sugar Snap Peas (an experiment), Lettuce, Spinach, and in the future Beets, Radishes, Japanese Long Onions (Naga Negi), and whatever else my little brain comes up with!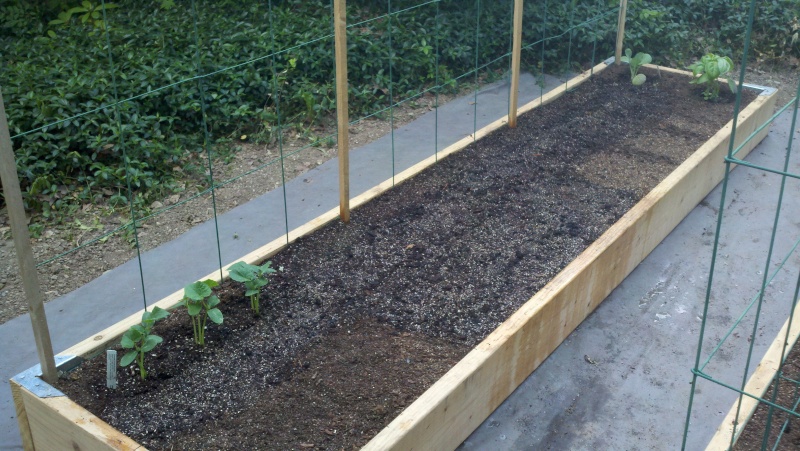 Next 4 pictures are close ups.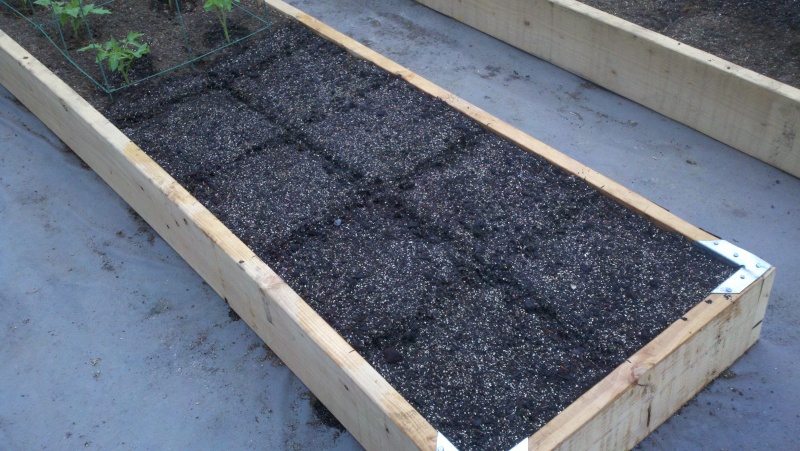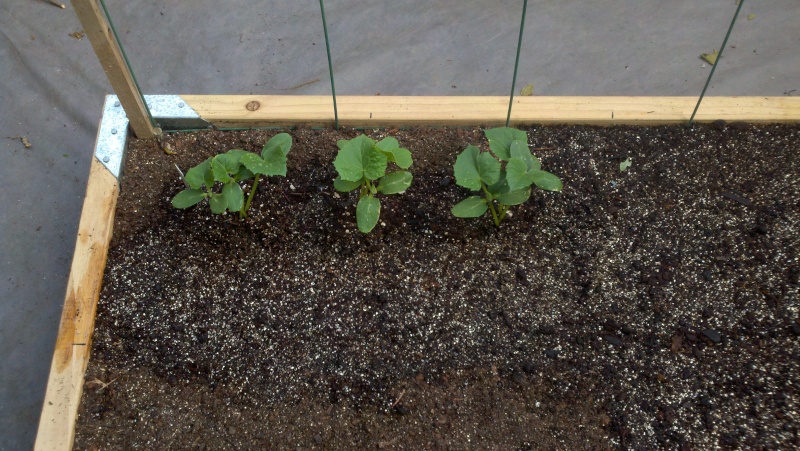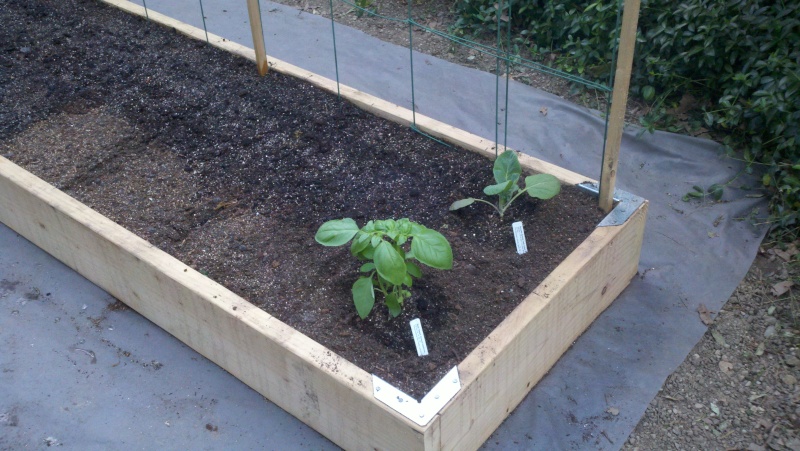 I'm really happy with how everything looks. Just hope it continues looking good and weed free. With the old method, I would be pulling weeds in the boxes already. Yay for MM!!


Happy Gardening!
Denese

Looks beautiful, Denise,

I like those brackets on the top corners of the boxes. Mine are on the inside.

Naturally you will show more pictures in a couple of weeks?



Posts

: 5065


Join date

: 2011-04-24


Age

: 83


Location

: Castlegar, British Columbia



Yes, I'll post as things "pop through".

Hopefully, I'll have my grids by that time, as well. Still haven't decided what I'm gonna use. Just couldn't wait to plant!

Happy Gardening!
Denese

Awesome looking design! Thanks for sharing. I swear I'm seeing some great gardens this year.



Posts

: 2727


Join date

: 2010-12-25


Age

: 44


Location

: St. Louis, MO



Beautiful! Everytime I see photos of these gardens, I want one just like it. Ha.

Did you start those plants from seeds, or buy transplants? They sure are green and healthy looking!



Posts

: 2298


Join date

: 2011-02-25


Age

: 57


Location

: Southern New Hampshire



Thank you all for the compliments. I'm very pleased with them as well. I wish I could say I grew the plants from seed, but I can't. Hubby's been out of work on disability since Oct. and I wasn't sure he would be able to help me this year. He had surgery the first of May, and is now doing great! Hopefully, he'll be back to work next month.

Long story short, I purchased them from our local farmer's market. The guy I purchased them from said they were organically started. I hope to be able to start my own in the future.

I'm happy your DH is on the mend. Your garden looks great.



Posts

: 1697


Join date

: 2011-03-31


Location

: zone 9a St.Johns county FL



Thought I'd update my pics. I'm really happy with my SFG! I love to stand on the deck and watch my koi and admire my SFG.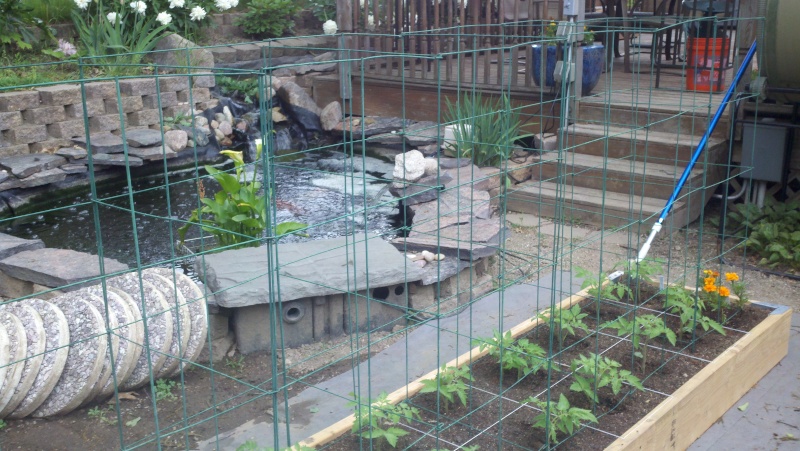 My corn was peeking through on Thursday! Yay!
My corn today!

As you can see, I finally got my grids in. Nylon string attached with a staple gun. Works great!
Pole Beans on Thursday!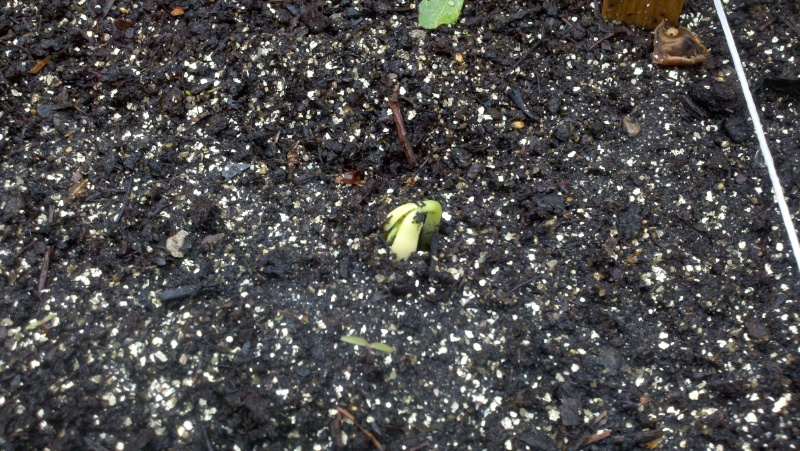 Pole Beans today!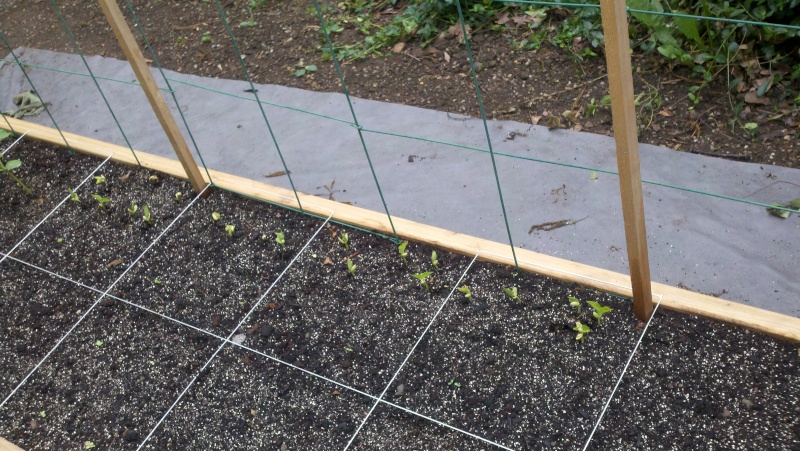 My garden worm. He stands guard faithfully.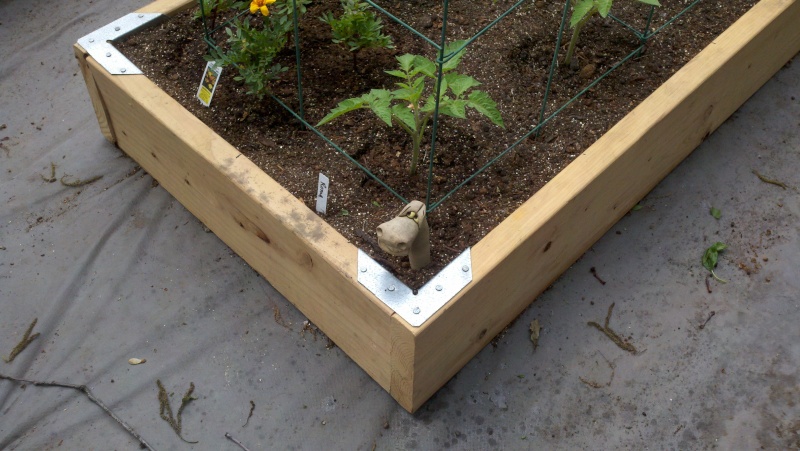 I planted a Sweet Million Tomato in my hibachi pot surrounded by marigolds.Three of my koi in the background.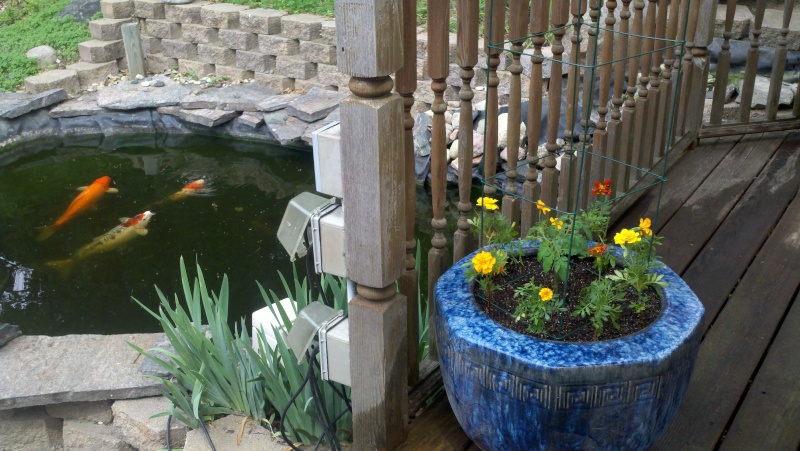 Cucumbers are growing nicely. I finally broke down and pinched out the extras. That is so hard to do.

But I know it's for the best.
Jalapenos don't seem to be doing much. Hopefully they'll start perking up soon.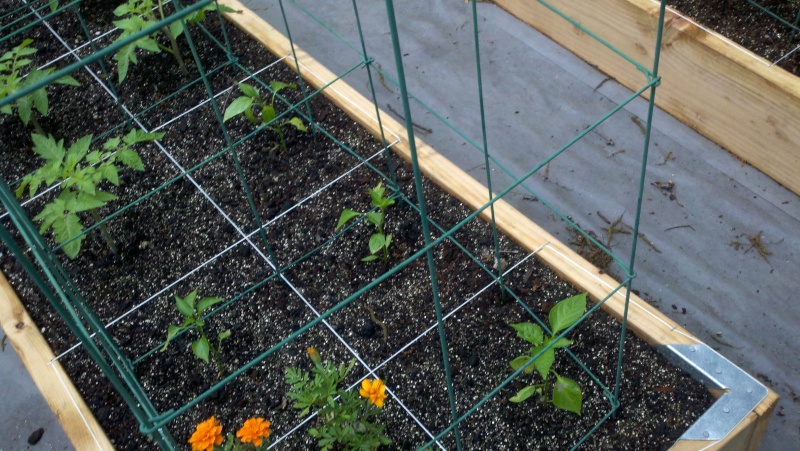 Romas are growing happily!


---
Permissions in this forum:
You
cannot
reply to topics in this forum