I have something eating the leaves on my green beans and leaving what I think is a distinctive pattern. Does anyone know what pest is causing this? You can see the leaf has been cut or bitten and some of the cutting is still on the leaf and it is curled up toward the camera.
I am also trying to find out what is happening to the leaf below with the brown spots. Can this be caused by leaf miners? How do I get rid of leaf miners or do I just ignore them?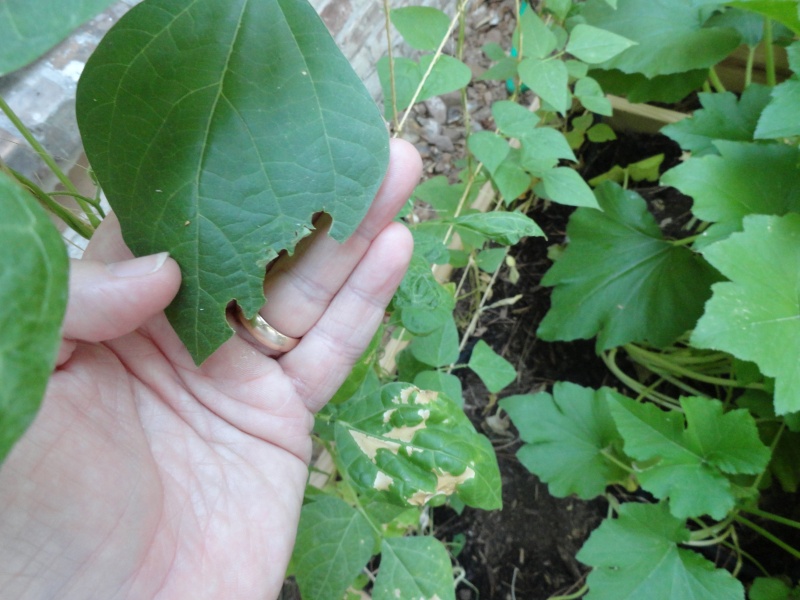 Posts

: 25


Join date

: 2011-05-31


Location

: Houston, TX (Zone 9a)



The cut ones look like mine did. The good folks on here said it was cutworms, so I got some Bt (Dipel dust) and used that. No more cuts in the leaves.

The brown spots I can't help you with, other than to say they don't look like leaf miners. The leaf miners I've had tunnel squiggly lines into the leaves.



Posts

: 343


Join date

: 2011-03-08


Location

: Zone 8b, Coastal & Tropical South



H_TX, the brown spots look more like water damage than bug damage.

Beans hate to have their leaves stay wet.

If it is just one or two leaves, cut them off, the plant will be fine.



Posts

: 3141


Join date

: 2010-06-10


Age

: 71


Location

: Coastal Oregon, Zone 9a, Heat Zone 2 :(



How mature are your beans? Mine had just sprouted and had 2-4 leaves per plant on them. Last week, we had unseasonable hot weather. It was very sunny too. My bean leaves turned brown and some curled up like the wicked witch of the wests feet. They looked like the brown spots on your leaves. This happened in one day. I covered them with shade clothe, but that didn't help much. This week, we're having rain (6-8 inches in our county in a few days) and cooler temps. The beans have come back and the new leaves are looking great.

I'd try the Bt and maybe some shade if it's really hot and sunny.



Posts

: 291


Join date

: 2011-03-28


Location

: SE Iowa



The insect damage looks like what mine get from tiny baby grasshoppers. I caught them in the act. The browning does not look like leaf miners. I snip off any leaves that look like that from all my plants. I have been acused of being snipper happy.




Posts

: 1697


Join date

: 2011-03-31


Location

: zone 9a St.Johns county FL




---
Permissions in this forum:
You
cannot
reply to topics in this forum