Am wishing I had read closely the squash posting. A couple of questions:

My squash plants have lots and lots of blooms and little squashs, but they are shriviling up and not maturing. Just can't figure out what's going on. The leaves are big and green. It's been so hot and dry here, but I am watering.

Also, I saw some red 'eggs' on several of the leaves tonight. I sprayed with soap insecticide. Help!

On a positive note, I have a cucumber and a few beans and the cabbage is almost ready to cut.



Posts

: 56


Join date

: 2011-03-21


Location

: Franklin, TN



Arggghhhh.....my reply just disappeared!
I tried to find a photo of spider mites, which I suspect is the red bugs you have. Well, it's easy to find photos, but I wanted one that wasn't blown up. I imagine that Camprn has posted a link at some point - she is great at resource info.
Two things that will help - one is a 25% hydrogen peroxide solution sprayed on the undersides of the leaves.
The other is diatomaceous earth, but I don't know how to apply it for spider mites, since it would be different than using it for slugs or earwigs.
I was doing a search to find out, but apparently spider mites are very common on pot plants. No, not potted plants! I am afraid of what I'll get in my e-mail in-box - I did accidentally open one site....

....
...
So far other than a few cucumber beetles my biggest problem is that I am still waiting for my male flowers to open. I have several female blossoms open, and will hand pollinate for insurance if the male flowers ever cooperate.



Posts

: 88


Join date

: 2011-05-30


Location

: Southeastern Ohio



And not at all on point, but I love the cat photo!
This is my first year gardening and my squash are doing the same thing. I
searched and I think I found the reason. This is due to poor
pollination.
From another member on another thread about shriveled squash. Thus the connection that was so obvious in my head but no one else's (I get that a lot

). I don't want my squash to shrivel due to poor pollination.
Yeah, the cat is a trip. She was so bad off when I adopted her that I named her Scruffy. Those who didn't know her back then call her Diva... I wish they wouldn't encourage her.




Posts

: 88


Join date

: 2011-05-30


Location

: Southeastern Ohio



Oh, goodness, yes! We have one like that too! Her name is Lily, but we call her Offendakitty, because she gets offended so easily! She was humble all the way up until the moment we opened the door, and said, okay, you can live here!
The little red eggs may be squash bug eggs. If so you are going to want to scrape those things off and spray with something that will get rid of the egg layers.
I had a big problem with them last year on my pumpkins but didn't know what they were at first. I personally have no problem using Sevin spray to get rid of pests I can't eliminate organically. I invest far too much time in my garden to let these and any other little critters get my harvest.
I don't know what an organic control would be, but if you are able to scrape off all the eggs it will greatly reduce the infestation.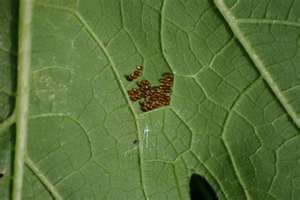 Posts

: 232


Join date

: 2011-03-25


Location

: St Louis MO Zone 6a



The top photo with the little red eggs is exactly what was on my squash leaves. I did spray them heavily with soap insecticide and I thinned out my squash plants. I think I had them planted too closely. I still haven't gotten a good squash but the plant is full of blooms. Am still hoping!! Thanks for your replies!



Posts

: 56


Join date

: 2011-03-21


Location

: Franklin, TN



---
Permissions in this forum:
You
cannot
reply to topics in this forum