how much space do zucchini need? and what is the best way to plant in my boxes and how many per box?
thank you



Posts

: 5


Join date

: 2011-06-08


Location

: maine



Hi,
You can plant zucchini is a 4x4 box. It needs 9 squarefoot per plant. You might cheat and get 2 plants per box. It can get really big!

Patty from Yorktown



Posts

: 350


Join date

: 2010-03-05


Location

: Yorktown, Virginia



Yes, you can, but like mentioned, it takes up 9 sq ft of space.
Here's mine mid-July 2009. You can see how much room it needs and this wasn't fully-grown yet.



Posts

: 4646


Join date

: 2010-03-21


Age

: 75


Location

: Southwestern Maine Zone 5A



Just build a 3x3 box for one zuchinni then it will not interfere with other plants.
I might try that next year.

What is the recommended type of plant? Are there small and large types?
Or should I say large and less large?



Posts

: 4827


Join date

: 2011-04-24


Age

: 82


Location

: Castlegar, British Columbia



If you're willing to prune and stake, you can do one per square. At least that's what I've been told, and what I've been success with this year. I actually have mine leaning over, and growing toward just sprawling outside of the box. If you have room for sprawl, you don't need to take up that many squares. The leaves are big greedy buggers, but not the roots. They would only need one square. Correct me if I'm wrong y'all, but that's what I'm experiencing thus far. I actually planted 2 plants in a corner, in a total of about 2 or 3 square feet of MM, with lots of room in front of them. So far, so good.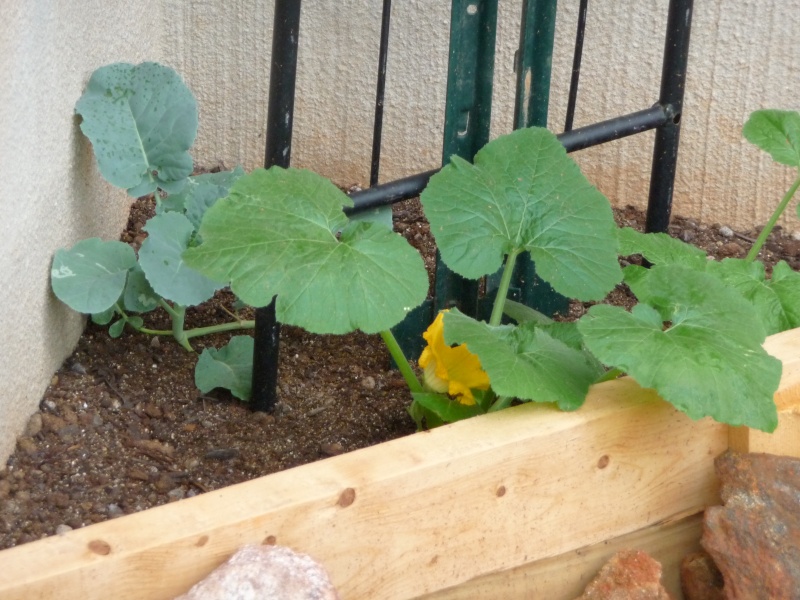 (There's also a broccoli plant back there that I just needed a spot for. It didn't live long, so it is no longer there. Nor is the trellis.)



Posts

: 309


Join date

: 2011-03-20


Age

: 42


Location

: Fort Mill, SC



I have two zuccs in one 4x4 box with a trellis and herbs around the edges of the box (dill, lemon balm, and chives). In another box, I gave two more plants, two-squares each then planted winter squash (two squares each also), beans, and cucs in the other squares. This is my first year for SFG, so I am not sure if it will work or not. I have unopened blooms on all of the zucchini plants and everything looks healthy, so I am hopeful.



Posts

: 88


Join date

: 2011-05-30


Location

: Southeastern Ohio



---
Permissions in this forum:
You
cannot
reply to topics in this forum