I've been closely monitoring my strawberries so I can cover them before they turn red and tempt the bird population.
Today I thought I'd cover them.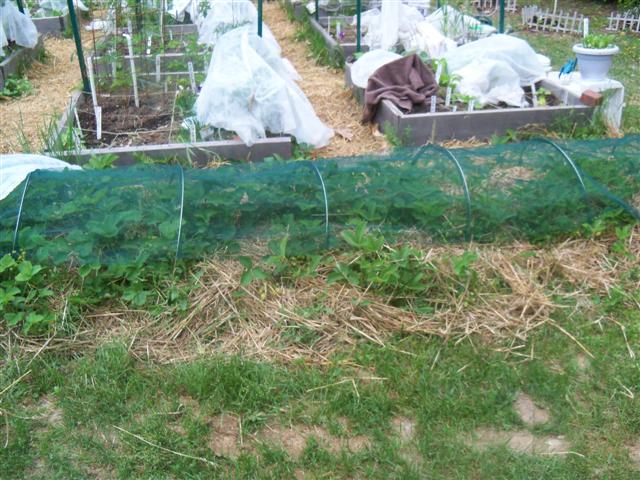 I got this 10 ft long netted tunnel from CollectionsEtc and love it. I really needed another 7 feet so I just covered the rest with insect barrier. I've got towels over my eggplants for now because our heatwave is over and nites are dropping to the 50s, a no-no for eggplant. The white insect barrier is covering my brassicas against flea beetle.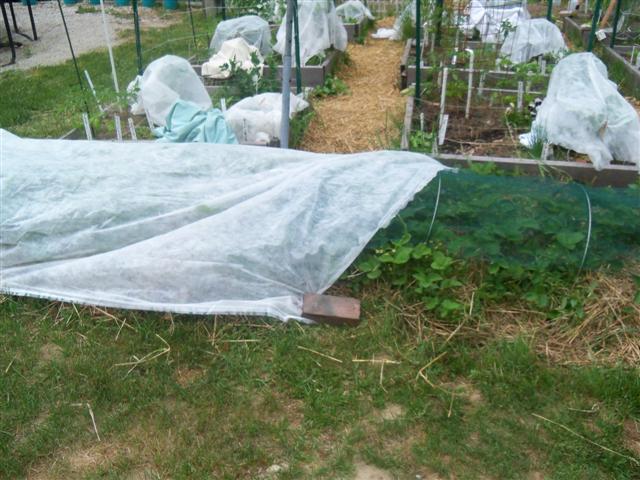 Here's the long view. I think this will work until I can order another tunnel.
Now all I need is a 6-pack of beer to make slug pubs so those critters can drown themselves.



Posts

: 4682


Join date

: 2010-03-21


Age

: 75


Location

: Southwestern Maine Zone 5A



Really quiltbea? We should be covering our eggplants on 50 degree nights?

Uh oh.

I'm going to do the beer thing too. Have you found many slugs?



Posts

: 2298


Join date

: 2011-02-25


Age

: 56


Location

: Southern New Hampshire



Would slug-pubs work for snails? After all, they are only slugs that carry their houses with them.

With this very wet weather we are having I have found snails in my garden for the first time.



Posts

: 4916


Join date

: 2011-04-24


Age

: 82


Location

: Castlegar, British Columbia



NHGardener.....
I know that eggplant likes heat and they like temps not lower than 60*F so I've covered my babies hoping to keep them in that range of warmth. If its cooler, the production will be much lower. Our days are expected in the 60s so they are OK daytimes, but need the added protection at nite when it drops in the 50s.

Of course, today will only be in the 50s so they are still covered in the rain.

Kelejan.....
I think snails and slugs are the same when it comes to the beer pubs but I'm not an expert there. I've never seen a shelled snail in my garden. I can't get out to get my beer til tomorrow but I have yeast in my fridge.
If the rain stops, I'll go out with a few yeasty pubs to see if that works as suggested.

Thank you Mother Nature for the rain. So far nearly a half inch since yesterday and showering right now. Love it.



Posts

: 4682


Join date

: 2010-03-21


Age

: 75


Location

: Southwestern Maine Zone 5A



---
Permissions in this forum:
You
cannot
reply to topics in this forum