A couple of holes have turned up in my SFG. Here's a picture of one of them under my onions: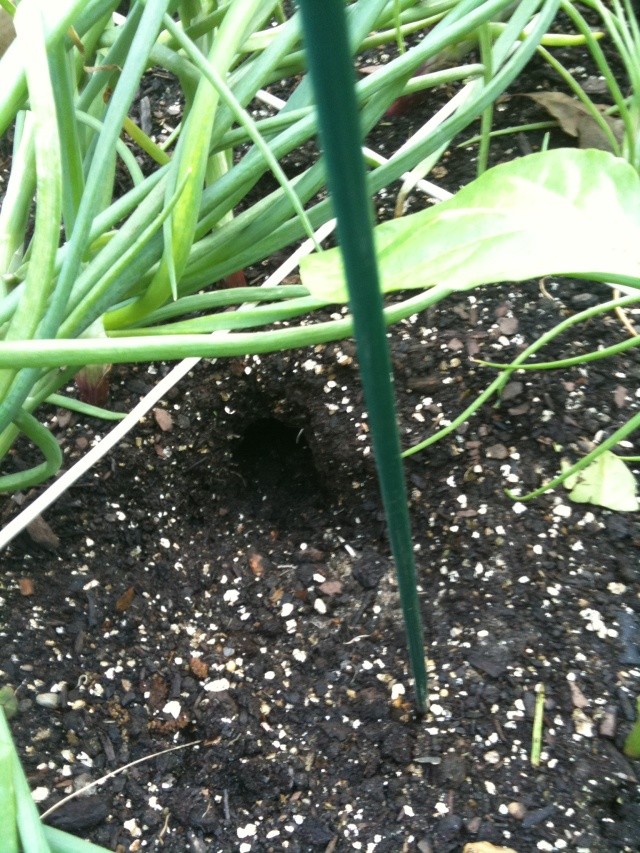 I had no idea what took up residence but I was tolerant because there was no damage to the veggies... that is until Monday this week. I've been happy with the way my strawberries have been growing this year (last year was horrible) and watching them fill out and become brilliantly red. Then I happened to spy a rustling and found that the couple of berries coming due were history by the time I got there.
I caught a glance at this very fast rodent and think it may have been a vole. It had a short stubby tail but it went by in a blur.
So... no more Mr. Nice Guy.
First, I tried to catch with mouse traps baited with peanut butter on Monday night. Alas... on Tuesday morning, the traps where tripped but empty with one exactly where I had put it. The other was 10 feet away outside of my garden. The critter was playing with me.
Wednesday morning I trekked to Lowes and got some rat traps. Big and awesome looking black things that would break a human finger. Set them up Wednesday night and guess what? This morning they were all tripped, no critter(s). Not even a sign of anything being grabbed. I now feel like Wile E Coyote!
My next thought is to go to one of the larger live traps, but those are pricey.
Any tips on how I can economically evicted this guy or guys?
Thanks for any advice!
Last edited by marc-in-pa on 6/16/2011, 4:54 pm; edited 1 time in total



Posts

: 90


Join date

: 2010-06-02


Location

: Pittsburgh, Zone 6a



I have a chipmunk doing this to me. Maybe the same critter.



Posts

: 2727


Join date

: 2010-12-25


Age

: 43


Location

: St. Louis, MO



Thanks for the links!

Good news.... good news for me anyway. As of this morning, the vole population has been reduced by one!

Hoping that my SFG is now critter-free but I'll be keeping the traps out for a while.

Thanks for your assistance!



Posts

: 90


Join date

: 2010-06-02


Location

: Pittsburgh, Zone 6a



---
Permissions in this forum:
You
cannot
reply to topics in this forum