Okay folks....have not posted for a while. As a teacher, been busy as a bee finishing up the school year. Found the time a few weeks ago though for my two trellises and wanted to share.
Got my cukes and toms in MUCH later than last year but they are all doing great, even though my neighbor is already pulling ripe ones. Lucky he shares with me though !!!
Looked around online for an idea to do the tomato stringing thing and came up with this (on the right). Its a kinda small pergola idea. I was going to go for 9 in the bed but I did go for 16 in the end: 1 per sq ft as Mel suggests but it might be a little tight in there. I am suckering and training each to a single vine and so that will help out immensely. If I have to, I will take the plants at the four corners and train them to the four support posts, essentially "staking" them to grow up the posts. That should open up some more room also. If I have to, I can cut and sacrifice a few but I have plenty of room to go up (8 feet) and I think I'll be okay. You wrap the vine around the string as it grows. Great idea and really keeps them protected in winds (boy have we had some) and will also be strong enough to support heavy fruiting.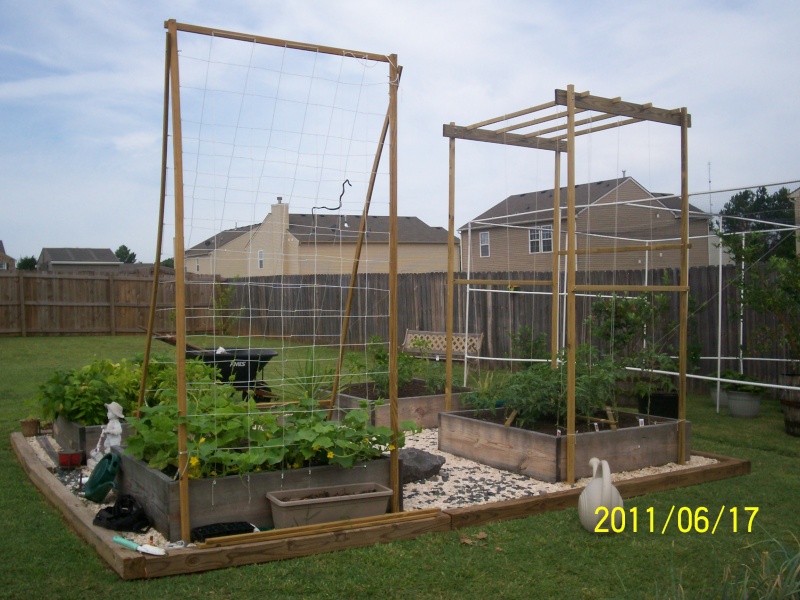 The cukes are getting trained up the North side of this trellis and the pole beans are loving the south side. Being much thinner, they won't shade out the cukes as much. I like the idea of double trellis using more available space.
Here is a better angle....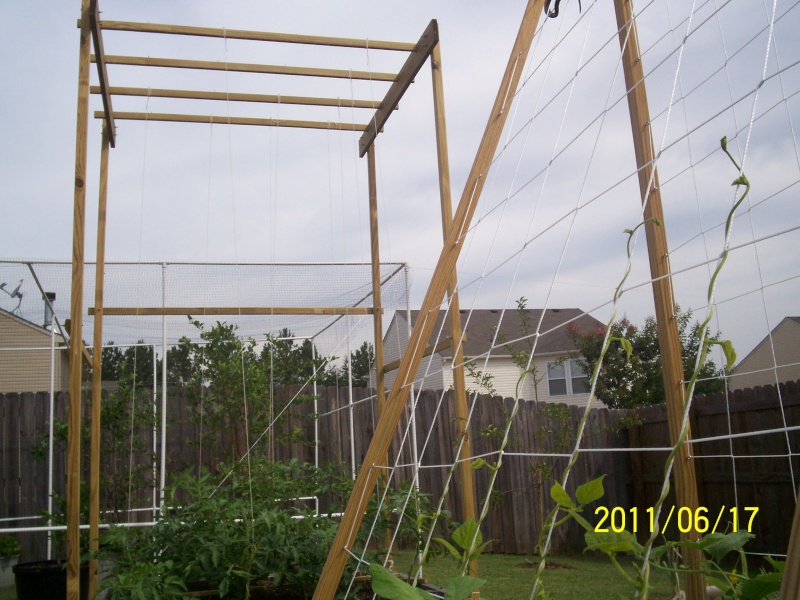 You can spot my blueberry "enclosure" to foil the birds in the background. I was losing too many ripened beauties to my feathered friends. Took the drastic action of building this over two days. Its all in rebar and surprisingly sturdy and has no wind resistance. Had pints of berries so far. HAHA.....I win birdies !!!!! (this time anyway)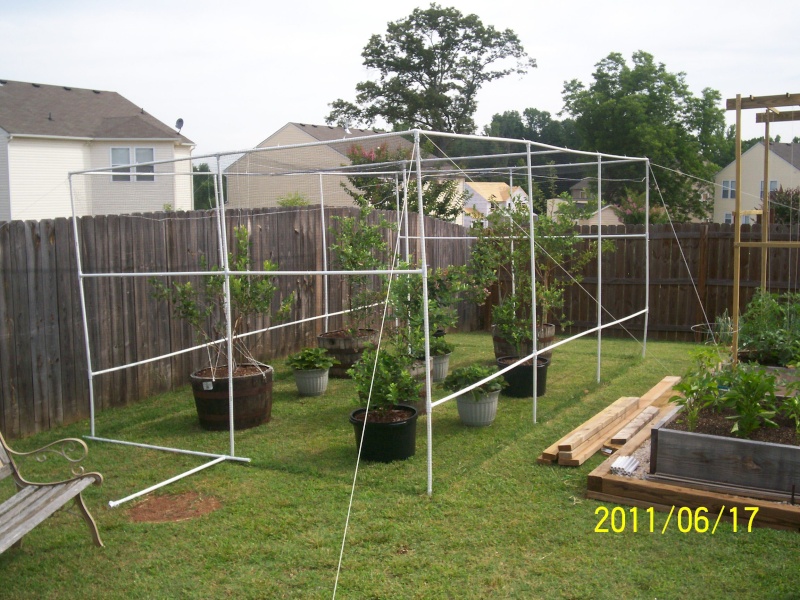 Awesome looking trellis! I love it!



Posts

: 668


Join date

: 2011-01-26


Location

: WNC 6b




How tall are you?






Posts

: 2260


Join date

: 2010-04-25


Age

: 39


Location

: Post Falls Idaho and LOVING it



This is a HIGHlarious thread. Love it. Nice trellis by the way...
Next year I am NOT doing indeterminate toms. TOO much trouble. darn things...




Posts

: 78


Join date

: 2010-03-29


Age

: 47


Location

: Clarksburg, Maryland (Monkey County)



Nice engineering, Staf. But, next time shotguns are a quicker fix.




Posts

: 2727


Join date

: 2010-12-25


Age

: 43


Location

: St. Louis, MO



lol midmam....
5'10 plus step-stool plus arm reach = Exactly 8ft. Perfect !!!
BBG - Shotgun

.... somebody arrest this imposter !!!! The bird loving BBG has been kidnapped.
Nothing like solid trellises! They look like part Jungle Gym, part Confidence Course, and part high-tech looking thing that I wouldn't dare to touch for fear of getting electrocuted!
I'd hate to see the creation that you and acara could make if you got your heads together!




Posts

: 7392


Join date

: 2010-02-26


Age

: 64


Location

: yelm, wa, usa



Beautiful! I'd have to stand on a tall ladder to reach the top of THOSE trellises!



Posts

: 324


Join date

: 2011-05-31


Age

: 62


Location

: Southeast Michigan



I wouldn't dare to touch for fear of getting electrocuted!
Now Boff, there's an idea. Replace the string with electrical wire to get birds and vermin from stealing my toms....

As much as Acara and I could get up to all sorts of mischief, I think you would be a fantastic additional to our disfunctional picnic
with all your feats of engineering.
My expresion upon first sight was "Oh shoot (not exact wording) that's cool. You also have the option of covering the mater box with plastic in the fall to extend your growing season. You should have enough room if you are trimming branches below fruit, then in late summer early fall allow a few bottom suckers to grow to keep getting fruit (per acara's suggestions, not mine), just add string, or train to existing string. AWESOME set up. Now, if I could just get to the store to get some string.......



Posts

: 1611


Join date

: 2011-01-29


Age

: 50


Location

: NE Texas, 75501, Zone 8a



Staf74, can you give us follow up on how your tomatoes did on the trellis? I'm looking to do string trellis tomatoes, too, this year, and am building an 8x2' box to minimize the shading, but your overhead trellis looks very functional. How did your tomatoes do?



Posts

: 188


Join date

: 2011-05-04


Location

: 7a (Northern middle Tennessee)



---
Permissions in this forum:
You
cannot
reply to topics in this forum