Thought it would be fun to share pictures of things in our gardens that surprise us and makes us happy to see

Im shocked at how well my crook neck squash is growing in my topsey turvey tree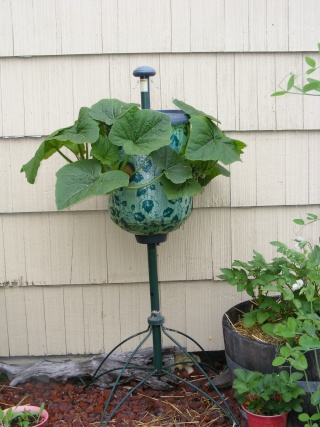 who doesnt love finding clusters of strawberries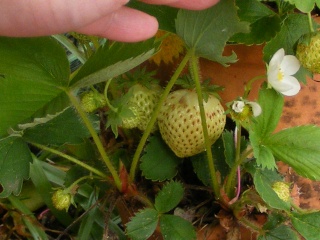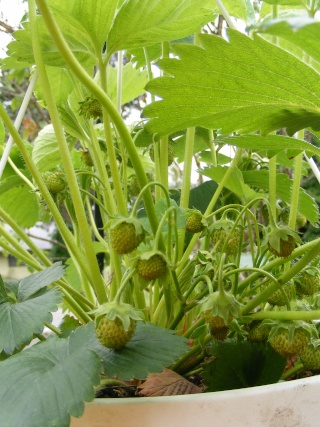 corn that wouldnt grow for the longest time is knee high and its not the 4th of july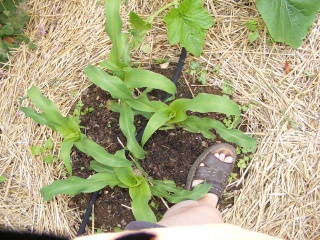 finding 4 peppers on a ugly pepper plant that almost died from being attacked by two cats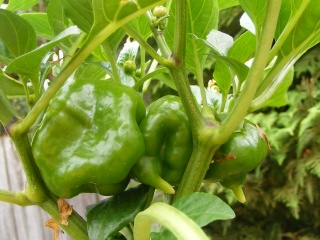 first bloom of a rose bush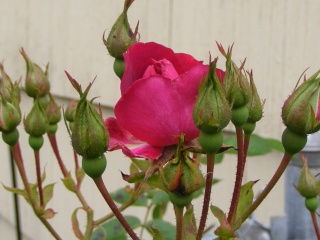 having to reach up as high as you can to capture the top of a sunflower starting to show a little bit of flower bloom to come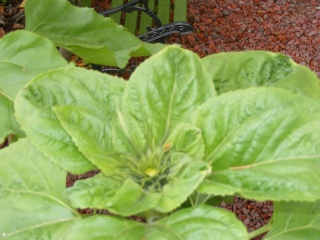 last but least.....out on the night watch for slugs at 11pm..... finding snap peas that have required a third trellis after breaking their 2nd trellis because the peas keep growing and are almost 7ft tall!....who knew they would get so tall!

hugs
rose....who is finding joy in her garden!
Everything looks tremendous and indeed, I did smile.

What kind of peas did you plant?

Forum Moderator Certified SFG Teacher




Posts

: 14165


Join date

: 2010-03-06


Age

: 54


Location

: Keene, NH, USA ~ Zone 5a



How bout finding those Ladybugs on the march near your pepper plants?

The first tomato blossom setting fruit?

A child of yours coming in the house with handfuls of peas and telling you she ate more than she brought in?

A 6yo coming inside with MM all over his hands because he just wanted to tell you the carrots and radishes are ready?

Those happened in the past two weeks here.



Posts

: 2727


Join date

: 2010-12-25


Age

: 43


Location

: St. Louis, MO



awww.....love to hear stories of little ones coming in with MM on their hands!....checking the carrots and such......
one funny thing hubby said last night as he was fixing the trellis at 11pm....he said...*at least the kids cant reach the top of the peas*

*maybe we will get some this year*....LOL....its so true too...the kids last year fought over the peas....so this year we planted a lot more of them....

the peas are sugar star snap peas
hugs
rose
The first blush of red on a tomato and the first lettuce salad are some of my favorites. My son explaining to a reluctant neighbor kid that snap peas taste like sunshine (happened a few weeks ago.) I also enjoy giving my neighbor some radishes, usually my plants are quicker and nicer looking than his row garden. For some reason that I cannot fathom he enjoys radish heartburn. Looking forward to hear what others write in.

Patty from Yorktown



Posts

: 350


Join date

: 2010-03-05


Location

: Yorktown, Virginia



It is all so beautiful. That crook neck squash has the greenest leaves ever, what's your secret?



Posts

: 1697


Join date

: 2011-04-01


Location

: zone 9a St.Johns county FL



Nice work and nice photos.

So many things to choose from but yesterday, which was aptly "Father's Day", we enjoyed watching the male blackbird feeding his baby sitting on our wall.



Posts

: 306


Join date

: 2011-03-25


Location

: Wales, Uk. Last frost May



Beautiful, FamilyGarden

I was so happy to harvest my first artichoke on Thursday.

I was delighted to share an abundance of lettuce ( and make salad for 20 people) with my grandson's other grandparents when we celebrated his first birthday this past weekend in Sequim, WA.

(that's why I have been gone from the forum for several days)



Posts

: 3141


Join date

: 2010-06-10


Age

: 70


Location

: Coastal Oregon, Zone 9a, Heat Zone 2 :(



@Furbalsmom

wrote:I was so happy to harvest my first artichoke on Thursday.

WOW... that is so cool FB! I have 4 little arti's planted and growing. They are so NOT supposed to grow in my climate but someone said this particular type will, but it will be annual not come back the next year like most do.
I am happy to see they are still alive, LOL, if I got an actual artichoke on one I would be jumping up and down making my neighbors fairly certain I had lost it.

LOL and for the record.....just having a garden makes me happy!






Posts

: 2260


Join date

: 2010-04-25


Age

: 39


Location

: Post Falls Idaho and LOVING it



shannon
the secret to the crook neck squash....im not sure...LOL
I do make compost tea that i use......i put compost made with worm castings that i purchase from a local nursery in a old pare of panty hose and let it soak over night in a five gallon bucket....sometimes depending on what color the leaves are in the veggies i planted i will add fish em or organic mircle grow......( i have only done this a couple of times) most of the time its just the compost tea......
we planted the crook neck squash into the topsey turvey tree in hopes we will be able to share the harvest with the racoons this year instead of them eating ALL the crook necks like they did last year when i had them in the SFG

the crook necks seem to really love the topsey turvey.....they are growing so much larger then they did last year......i think with our local PNW weather....they are staying warmer in the topsey turvey.......we also filled it with MM

hugs
rose.....
---
Permissions in this forum:
You
cannot
reply to topics in this forum