I was given a dwarf determinate tomato plant that had about 5 green tomatoes. Those tomatoes ripened and although I lost a few to the birds, the remaining ones were very tasty. The plant now sits. It appears happy and healthy. Is there a chance it will bloom again? If not, and I bring it indoors for the winter, will it bloom and fruit next year? Or, has this plant completed its life cycle? If I successfully root cuttings/suckers, will they bloom?



Posts

: 156


Join date

: 2011-05-25


Location

: Cincinnati, Ohio



I'd take a chance and see what happens.
Last year my 3 Oregon Spring toms (determinates) harvested and I just left the plants in the spaces. In Oct they were fruiting again.
If my season had been longer, I think I would have harvested more red tomatoes.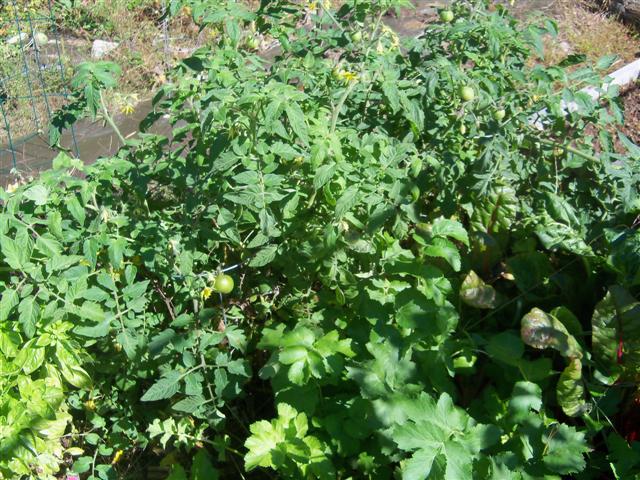 This photo shows green fruits in October last year.



Posts

: 4688


Join date

: 2010-03-21


Age

: 75


Location

: Southwestern Maine Zone 5A



I agree with quiltbea, just leave them for awhile and see what happens. And yes, if you take one of the side shoots and place it in a small container with some damp MM, it should root and produce another plant for you. I've done that with determinate Roma's. Just be sure to keep the MM moist. Once it roots, move to your garden.




Posts

: 324


Join date

: 2011-05-31


Age

: 62


Location

: Southeast Michigan



Thanks to both of you for convincing me to just leave the little guy alone and see what happens. Today I saw three new blossums on it!



Posts

: 156


Join date

: 2011-05-25


Location

: Cincinnati, Ohio



---
Permissions in this forum:
You
cannot
reply to topics in this forum