[youtube][/youtube]
This is an update from about a week ago. We are finally getting quite a bit of rain so I expect things to really take off.



Posts

: 16


Join date

: 2011-04-05


Location

: Franklin, TN



Everything looks so good !! You have done really well making every spot count in your garden and yard, I love it

I am doing potatoes like you as well. They were fine and bushy until I started adding straw and boxes on top of boxes. I have not watered them at all, leaving that to natural rain now. I cant see the soil so I never knew if it was dry or wet. I am going to just wait it out for the potatoes and learn from my "large" experiment. I like your videos

Ha-v-v



Posts

: 1123


Join date

: 2010-03-12


Age

: 57


Location

: Southwest Ms. Zone 8A (I like to think I get a little bit of Zone 9 too )



Stacie what a great video and your garden is doing so well. I have to admit, it was kind of funny though, here's a squash, and there's another squash, this is another squash,well, here's another squash. I lost track of counting, but I guess your family loves squash just as much as mine does.

You mentioned you were not sure about your sugar snap peas and snow peas. You can eat the pod of both and all the seeds.
Snow peas are flat and you can see the seeds inside the pod. They are so good for stir fries. Don't let the seeds fatten up or they get a bit mealy.
Sugar snap peas are very rounded and my family loves to eat them straight off the vine or just blanched for 1 minute, then cool them in ice water. They are great just like that or with a ranch or asian style dip. We often take the sugar snap peas, cook them in boiling water for no more than two minutes and serve them as a side dish with butter and salt.

My sugar snap peas are blooming like crazy and the first peas are forming. I can hardly wait.

Keep us posted on your progress.



Posts

: 3141


Join date

: 2010-06-10


Age

: 70


Location

: Coastal Oregon, Zone 9a, Heat Zone 2 :(



Holy Hannah Stacie. I can't get over how much you have and how fast you seem to get to harvest stuff. I think you're garden qualifies as a farm.

My carrots have been in the ground more than a month and they're just starting to make a showing. I am soooo jealous it's not even funny.

About the pineapple sage, I had that last year and I found it made a nice tea with honey and lemon.

Something we have in common: Our next door neighbours lost a beautiful willow tree this year. I have to say I did quite a bit of complaining about that tree and it's ever spreading roots. It was sad to see it go though. But my garden will get a lot more sun now.

I love that you do garden videos; so do I. Do you have a youtube channel? I'd love to connect to you.



Posts

: 141


Join date

: 2010-05-26


Age

: 55


Location

: South Eastern Ontario, Canada



Thanks. Yes there has been a lot of squash because we love it. The container squash aren't doing so well anymore and I've "pruned" the squash plants in two of my SFG. I need to do a video just on the squash. I would be so sad if my plants stopped producing so much. I have also harvested all but one square of carrots, and replaced all of my sugar snap peas with Kentucky pole beans. I do have a You Tube Channel. Our Freedom Garden is the name of the channel. I would love to watch some videos of yours. I've learned as much from You Tube videos as I have from all of the books I've bought. This is my first year to do this whole gardening thing so there has been much to learn.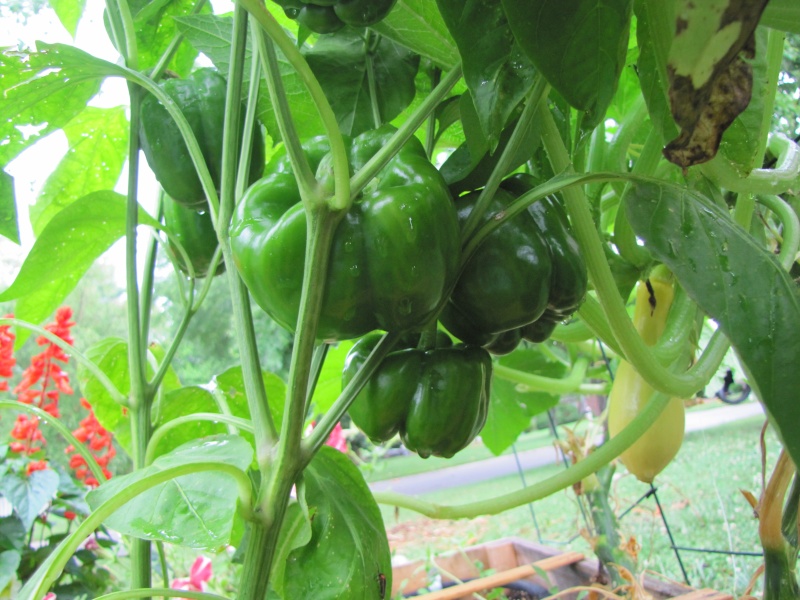 Here is a photo I took yesterday agter a good rain of some green bell peppers and a squash.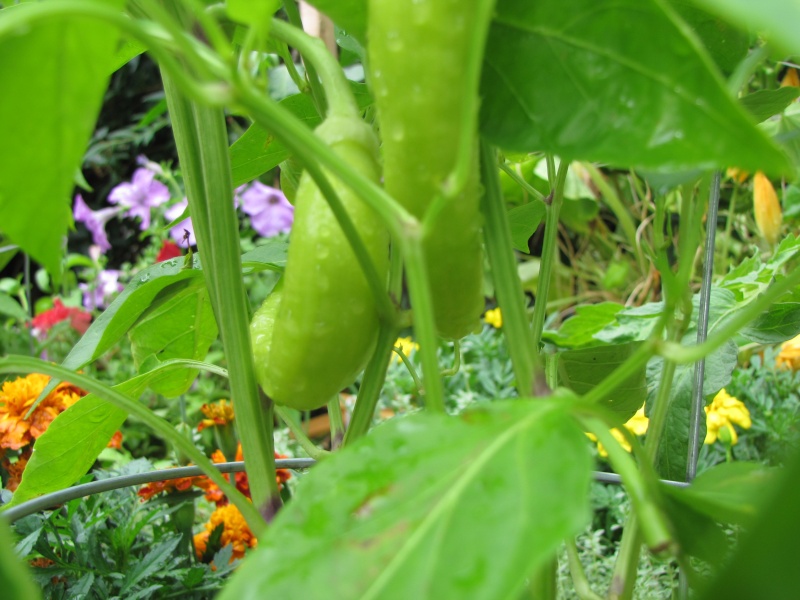 Here is one of some banana peppers.
Blessings,
Stacie



Posts

: 16


Join date

: 2011-04-05


Location

: Franklin, TN



Stacie,

Love your garden! Great video too. Did you plant all of the same kind of squash or did you do different types? Did you have one kind that produced more than the others?

Thanks!

Margarita



Posts

: 96


Join date

: 2011-04-08


Age

: 44


Location

: Arlington TX



wow

what a great video!!
your garden is so lush and pretty!!

thanks for sharing with us!
hugs
rose



Posts

: 2424


Join date

: 2011-05-10


Location

: Western WA



This is my first year to do this whole gardening thing so there has been much to learn.
OMG,

I forgot this was your FIRST year! You have gone into gardeining in such a
huge
way. And look at all your successes.

I am even more amazed.



Posts

: 3141


Join date

: 2010-06-10


Age

: 70


Location

: Coastal Oregon, Zone 9a, Heat Zone 2 :(



Awesome garden...((LOVE IT)).





Posts

: 219


Join date

: 2011-06-30


Age

: 43


Location

: Zone 7b



Stacie you've learned good and quick. Almost wish I hadn't watched your vid as you have much better weather for growing peppers and tomatoes than I can ever hope for but I enjoyed it really. This is always the thing with gardens peppers like to sunbathe but that sort of weather makes potatoes look all hot and bothered. I'll send some of our spare British rain over to you.



Posts

: 306


Join date

: 2011-03-25


Location

: Wales, Uk. Last frost May



---
Permissions in this forum:
You
cannot
reply to topics in this forum