This whole project started because I wanted to grow melons. Rented the SFG book at the library, then bought it. Then started planning, all fall and winter. Being attentive to detail, or as my wife would claim, anal, I started by researching everything I could, my zone, pests, diseases I could encounter, companion plants, etc. I planned everything on Exel, drew up my garden beds on Sketchup. Finally started starting seeds in late February.
Here's the strawberry bed. My family is a strawberry scarfing family. We grocery shop, bring home pounds of strawberries, apples, and bananas, and everything is gone before a week is out. So, in this bed, I have 75 strawberry plants. 25 earliglow, 25 honeyoye, and 25 Quinalt. Also I have 8 lettuce plants, some zinnias, marigolds, lupine and borage, several caraway plants. And obviously 2 sunflowers, which my wife loves. these pics are 2 weeks old, the sunflowers are now taller than me.
We also like peppers, particularly myself and my daughter. So this is the Tomato bed, 5 tomato plants, 3 purple beauty bell peppers, 2 nonspecific bell peppers, 2 hot peppers, chamomile, onions, horehound, petunia, marigold and echinacea. Recently the tomato plants have put on a burst of growth and are now spilling out of the top of the cages.
During my seed starting, I sowed much too many tomato plants, and after giving away a dozen, still had about 5 left. So I built some of the self watering buckets that were linked here from instructables.com. Every morning my 6yr old son likes to come out and count the tomatoes, he's always so very happy when he finds new ones. This morning the count was 36. The tomatoes are Green Zebra, Black from Tula, and Amish Paste.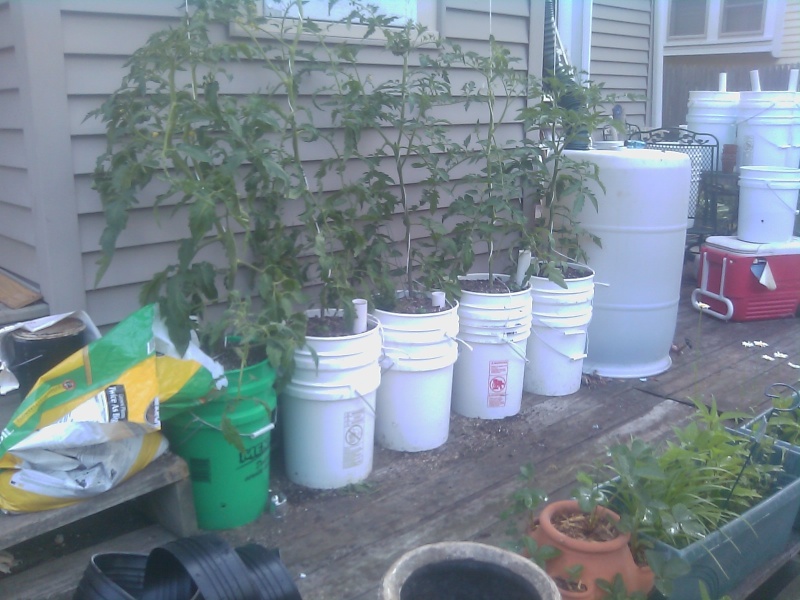 My wife loves butterfly gardens, so the south end of the yard is for her. Have seen hummingbirds for the first time in the backyard! consists of:
Butterfly Weed
Butterfly flowers
Butterfly bush
Petunias
Borage
Sunflowers
Johnny Jump ups
Salvia
Hyssop
Lavender
Asters
Lemon Balm
Several ornamental gourds
Lupine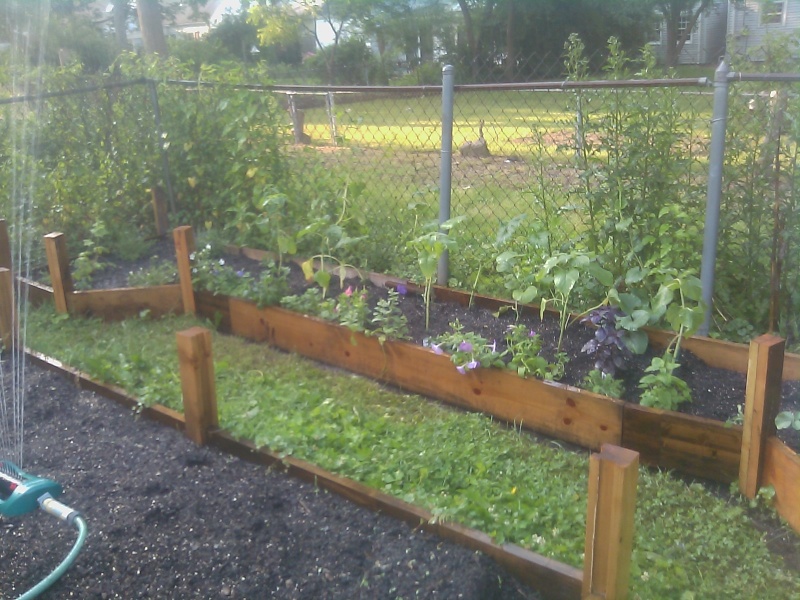 Have you noticed? No Melons.
@Injun

wrote:Have you noticed? No Melons.
Sometimes it just works that way! Congrats on the BEAUTIFUL garden!
GG



Posts

: 3412


Join date

: 2011-02-16


Age

: 52


Location

: Zone 4A - NE SD




Too funny! Sometimes I get so involved in something with so many details, that I also lose track of the original purpose. Your garden is absolutely great! Love to see pics! Now you'll have to create a box, just for the melons you'll plant next year!! You know this box thing is addictive, don't you?




Posts

: 324


Join date

: 2011-05-31


Age

: 62


Location

: Southeast Michigan



your garden looks great!
i love hearing how the kids are getting involved

my children are loving the garden too!
thanks for sharing pic's with us and welcome to the forum!
hugs
rose



Posts

: 2424


Join date

: 2011-05-10


Location

: Western WA



Injunb,
Poor Injun, no melons. There is always next year.

The butterfly bed is gorgeous and certainly will bring pollinators to your garden. The tomato and pepper bed is really nice too. Is the first bed 6 ft X 10 ft? Beautiful but I am afraid I would not be able to reach in to harvest and nurture. I also started most of my tomato plants from seeds and ended up with almost all my tomatoes in 5 gallon buckets.
Please keep us updated on your progress, we really enjoy seeing pictures,
Again, Welcome!



Posts

: 3141


Join date

: 2010-06-10


Age

: 70


Location

: Coastal Oregon, Zone 9a, Heat Zone 2 :(



---
Permissions in this forum:
You
cannot
reply to topics in this forum