Latest topics
»
Bryan Greenbeard of Minnesota's 2017 Plans
by
Greenbeard
Today at 8:51 am
»
Comfrey
by
CapeCoddess
Today at 7:29 am
»
GF Books
by
CapeCoddess
Today at 7:16 am
»
How's the Weather Where You're At?
by
bigdogrock
Today at 6:59 am
»
Rolling Boxes
by
sanderson
Today at 4:36 am
»
Need another type of compost.
by
ralitaco
Yesterday at 8:56 pm
»
Ground Cherries
by
countrynaturals
Yesterday at 8:42 pm
»
Other Gardening Books!
by
Scorpio Rising
Yesterday at 8:25 pm
»
Dragon Fruit!
by
Scorpio Rising
Yesterday at 8:19 pm
»
N & C Midwest: March 2017 Brink of Spring
by
Scorpio Rising
Yesterday at 8:05 pm
»
It's Fertilizer Time; Fruit Trees Down South!
by
reynajrainwater
Yesterday at 7:37 pm
»
Tomato Mystery Mix
by
Ginger Blue
Yesterday at 7:15 pm
»
Carrot Week 2017!
by
donnainzone5
Yesterday at 5:14 pm
»
California's Drought
by
sanderson
Yesterday at 4:10 pm
»
Third Year SFG in Canada
by
sanderson
Yesterday at 3:25 pm
»
Squares under siege... by grass!
by
has55
Yesterday at 1:05 pm
»
What are you eating from your garden today?
by
CapeCoddess
Yesterday at 12:32 pm
»
Anyone in SE Idaho or near by?
by
mlpii66
Yesterday at 11:25 am
»
Mary Mary quite contrary, how does your garlic grow?
by
CitizenKate
Yesterday at 12:19 am
»
New England March 2017
by
Scorpio Rising
3/24/2017, 10:15 pm
»
2017: First full year of SFGing in ND
by
mlpii66
3/24/2017, 8:33 pm
»
Northern California & Coastal Valleys - What are you doing this month?
by
countrynaturals
3/24/2017, 7:54 pm
»
CANADIAN REGION: What are you doing in March 2017
by
sanderson
3/24/2017, 5:00 pm
»
Hello from Southern Illinois
by
MrBooker
3/24/2017, 4:23 am
»
Terrible News: Bumblebees In Trouble
by
audrey.jeanne.roberts
3/23/2017, 9:41 pm
»
New from OK City
by
Scorpio Rising
3/23/2017, 9:34 pm
»
Butterfly Junction
by
countrynaturals
3/23/2017, 11:56 am
»
New to SFG!
by
TCgardening
3/22/2017, 9:39 pm
»
North Texas - Square Foot Garden
by
Scorpio Rising
3/22/2017, 8:34 pm
»
How can we save this tree?
by
countrynaturals
3/22/2017, 2:30 pm
This is our first year with SFG and we have four boxes. Three of them have hinged lids to protect from the heavy local deer & rabbit population.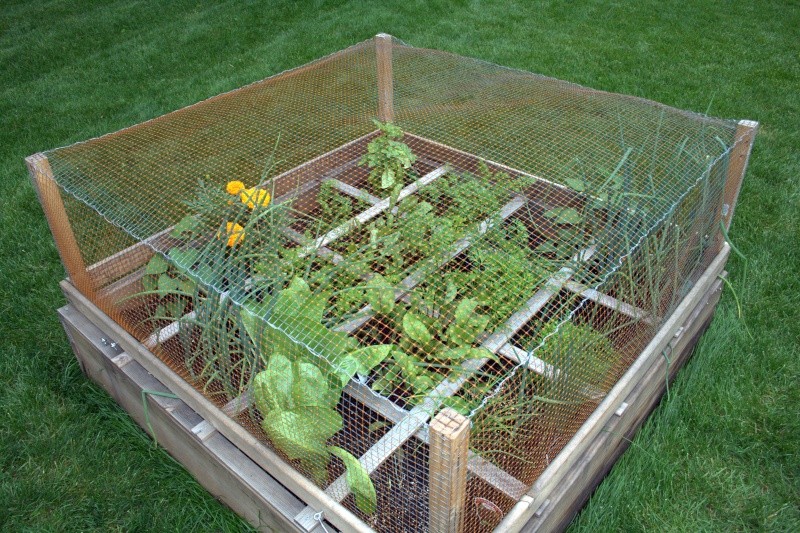 The fourth has mesh "screened" doors. (Well, at least it has a screened door. The other three are still in the making.)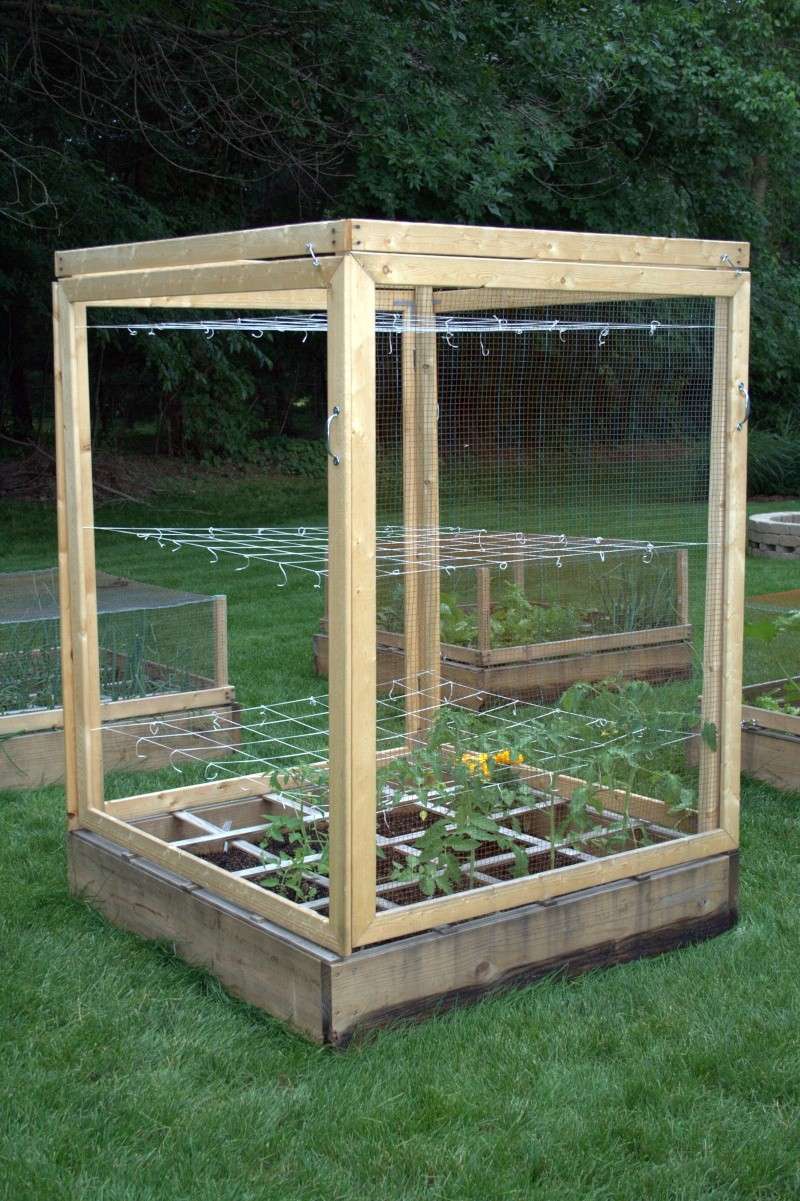 I hadn't planned to have this many tomato plants (11) and didn't realize how tall zucchini plants grew. Also have pepper plants in my hinged lid boxes and they're about at the limit height-wise (about 22 inches from dirt to the top of the lid.
DH has agreed to add a couple more boxes for next year. Trying to figure out the best configuration. Should I continue to grow tomatoes in the majority of the squares in a 4' x 4'? Or would it be better to add a long box, maybe a 8' x 2'? And how much do deer & rabbits usually bother tomato plants and peppers? Would I need to screen in the long box if it just had tomatoes & peppers?
Please let me learn from your experience! TIA!
Those are some serious beautiful boxes!



Posts

: 107


Join date

: 2010-06-09


Location

: SE Wisconsin



Thanks! DH is a bit of a perfectionist. Maybe me too. Maybe if we were more relaxed we could handle adding more boxes yet this summer.

VERY nice boxes. I will be upgrading my fencing soon. I have a cheap plastic fence, and a rabbit chewed his way in the other day. The only thing he ate was a bell pepper plant, but he did a number on it. It will live, but he only left a quarter of the leaves.



Posts

: 440


Join date

: 2010-05-25


Location

: Beaver Dam, Kentucky, zone 6a



Your DH is very talented. The boxes look great. Your plants also look very happy. Gosh, I'm jealous. If I had a guy that could build boxes like that, I'd keep him busy, lol.

This is my experience with 2x8 boxes-my first year. I love them. Reaching into the middle of a 4x4 is not hard, but if it's full of tomato plants, it might not be as easy to pick off or see the side shoots. Plus, when they are really tall, it might not be as easy to reach into the middle. Also, I'd think air flow would not be as good, which might lead to increased disease-moisture wouldn't dry as well. On the other hand, I've seen beautiful 4x4 boxes with huge tomatoes that have done just fine. You will know by the end of the growing season how much you like your set up and can change it next year if you want. I'm keeping a journal and writing down what is working and what isn't.

Deer will eat any thing if they are lean. They will also eat about any thing in their path and go for the easiest thing they can get to. On the other hand, I use to row garden and never had a deer or rabbit eat pepper or tomato plants. Probably, they had plenty of other things to eat, since we live in the middle of a field. Looks like you live close to a wooded area. The safest bet, would be to build a deer screen around the new beds. I'd hate to have my garden growing like crazy and then have it eaten one night by some rascal.



Posts

: 291


Join date

: 2011-03-28


Location

: SE Iowa



Deer definitely eat tomato plants....and strawberries, lettuce, beans, honeyberries, even leavees off fig trees! Which explains the industrial-strength fence installed this past winter around our garden. The chicken wire enclosures you have around and over your beds look like they'll keep out the critters. Beautiful work, BTW. Nonna



Posts

: 1437


Join date

: 2011-02-07


Location

: In hills west of St. Helens, OR



Thanks! Just trying to figure out if we can do the same fencing around a longer box. Each side of the tall box is a door that I can open to access that side. I guess with a 2' deep box, I'd only need access from one side. I'm sure DH doesn't want to build doors all around if he doesn't have to. Also, we only have three sides on this one and the plants have done alright. Just had a very small pepper plant that got a bit nibbled. I guess we should be getting the other three sides done asap. It would be so disappointing to lose them now!

Will have to look at the cost of covering additional boxes too. At $50/roll, that fencing doesn't come cheap. If anyone knows of a place to get something similar cheaper, please let me know. Also a bit disappointed that it rusted so quickly (about 2 weeks outside). Didn't think galvanized wire should do that.
There is a cheaper alternative to wire fencing, I'm using it to surround two areas outside the industrial-strength horse fencing around the main garden. This stuff (picture below): http://www.homedepot.com/buy/outdoors/fencing/tenax/3-ft-x-25-ft-green-poultry-fence-22362.html Then I cut a section of the vinyl chicken fencing in half to go around the base of my 4 X 4 strawberry beds to keep the chipmunks out, and draped it with bird net to keep birds out. Whew! Stuff works well, but we have only a year's experience with it. Appears to be durable.



Posts

: 1437


Join date

: 2011-02-07


Location

: In hills west of St. Helens, OR



@Nonna.PapaVino

wrote: Appears to be durable.
This is the stuff I made my 2 compost bins out of this year - got a roll of it at Menards for $19.95. Working very well so far.



Posts

: 3408


Join date

: 2011-02-16


Age

: 52


Location

: Zone 4A - NE SD



I bought a squared version at Lowes that had 1" openings. I used scissors to cut out the middle of 4 squares to make 4" openings and am using on my trellis. Was cheaper and easier to work with than wire and sturdier than the nylon trellis material.

Kay
____________________________
A WEED IS A FLOWER GROWING IN THE WRONG PLACE
Elizabeth City, NC
Click for weather forecast

Certified SFG Instructor




Posts

: 4334


Join date

: 2010-10-17


Age

: 74


Location

: wilmington, nc zone 8



Thanks for the suggestions. Maybe we'll try some of that vinyl fencing on the new boxes once we get them put together. DH says not to even think about it until next year, but I'm hoping he'll be up for it once he finishes the new patio and spends a few days relaxing on it.

---
Permissions in this forum:
You
cannot
reply to topics in this forum