Hello everyone. I'm about to start planting and wanted to get some last minute feedback on any changes before I get going.
I originally had these elevated with plywood bottoms but I started having visions of coming out one morning in August with the bottoms having fallen out, so I decided to put them on the ground. Because my garden location is sloped, I thought I'd dig out the high side (which I did on the bed on the far right). But, that turned out to be a lot of work. I decided with other two to just add another 2x4 box on top so that even if the boxes themselves may be slightly sloped, the soil could actually be level (although a couple of inches deeper at one end, which I thought would be good for carrots anyway).
Then I built my trellises (sp?). When I started looking at the design in the book and pricing out the parts at Lowes, I almost fell over at the price of the conduit elbows so I decided to borrow a conduit bender and just put a joint in the top of each trellis (this saved about $25). I also decided to make the trellises tall. I figure the rebar will support them fine and if I have a tomato, snap pea, bean, or cucumber that really wants to grow, I don't have to worry about out-growing my trellis.
I used twine for the grids. I couldn't find lath in my area and twine is cheap and easily replaceable.
I just made a big order for a drip irrigation system as well and will post more about that once I have the parts and start installing next weekend.
Any thoughts or suggestions?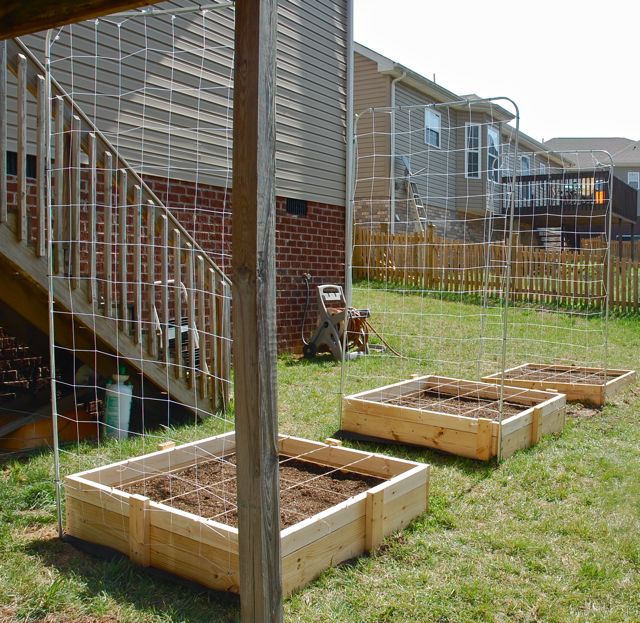 Posts

: 6


Join date

: 2010-03-17


Location

: Springfield, TN



Joe,
Everything looks really nice! I'm anxious to see it as it grows! I'm also very interested in seeing and reading about your drip irrigation system!


FOUNDER SFG forum 2009

certified SFG instructor




Posts

: 211


Join date

: 2010-02-26


Age

: 63


Location

: Illinois Z6



Very, very nice -- and classy. Please keep us updated on your progress.



Posts

: 904


Join date

: 2010-03-03


Location

: USA



Joe that looks great. Water source near your boxes and I see a down spout there as well so that could be the future location of a rain barrel. A little storage under those stairs. Right at the bottom of the stairs so it is easy to pop down for 5 minutes and tend the beds. I bet you even have some windows back there that over look your new garden. I give it a big thumbs up.



Posts

: 99


Join date

: 2010-03-05


Location

: Smyrna, TN



Looks great!

Please post some pics once the plants start growing.
(and why are conduit elbows so expensive compared to the conduit?) :confused:

Certified SFG Instructor




Posts

: 778


Join date

: 2010-03-02


Location

: Frisco, Texas



Looks great Joe. I bought conduit elbows at Lowe's for $3.28 a piece. It would have been nice to bend the conduit but we didn't know anyone with a bender. You were lucky. Can't wait to see pictures.



Posts

: 89


Join date

: 2010-03-26


Location

: Sierra Nevada Foothills, California | Sunset Zone 7



I can't see any pics on this post and, I don't know what is wrong...



Posts

: 18


Join date

: 2010-03-16


Location

: Southwest Missouri



Momstitch, sometimes it takes a second or two for the pic to "come in" (download). Especially if you have a slow connection. Go back and look at it again after you scroll down and see if the pic is there.

Certified SFG Instructor




Posts

: 765


Join date

: 2010-03-05


Age

: 77


Location

: Cleveland Heights, Ohio (5b)



I have DSL and have brought the page up left and came back and hour or two later, still no pic. I have also refreshed the page and waited with no success. In some topics (very few) I have been able to get a pic. It is frustrating, I want to see Joe's set up




Posts

: 18


Join date

: 2010-03-16


Location

: Southwest Missouri



Thanks for the feedback everyone. I planted 4 types of lettuce, 2 types of onion sets, broccoli, and carrots this afternoon after a trip to Lowes.

As far as the conduit elbows go, they were nearly $4.75 each (I would have needed six) at our Lowes versus about $1.50 for a three pack of the joints (a 95% savings).

I got the idea for building the trellises this way from a thread on this forum, but I can't find it again for some reason. If you have access to a conduit bender I believe this a hands down superior design.

If you are having trouble accessing my photos, you can also access a similar post on my wife's blog. The link is: http://tuckerstaketennessee.blogspot.com/

Also, MidTNJasonF - I'm just up I-24 from you in Springfield. My wife and I moved to Middle TN from FL almost 4 years ago and almost moved to Smyrna.

Thanks again everyone, if anyone has any other questions about the trellises, let me know. I'll continue to post updates along the way and I'm looking forward to sharing my drip irrigation experience with everyone.



Posts

: 6


Join date

: 2010-03-17


Location

: Springfield, TN



Joe, my Wife's family is near Springfield. Her Father has a small cattle ranch in Coopertown. She grew up around there and in Goodlettsville. We only moved down to Smyrna and Rutherford County From Goodlettsville about 5 years ago to eliminate a long commute.



Posts

: 99


Join date

: 2010-03-05


Location

: Smyrna, TN



---
Permissions in this forum:
You
cannot
reply to topics in this forum