What is up with this? There were 3 stalks in one of my garlic squares that have a small explosion on them. Why did that happen? What do I do with it?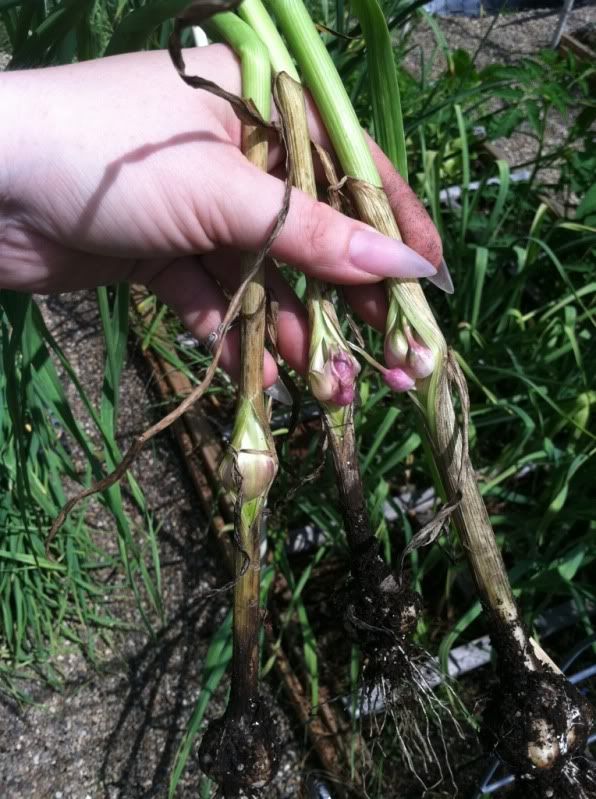 Posts

: 283


Join date

: 2010-08-07


Age

: 36


Location

: Central Illinois (near Peoria) 5a



Apparently this is not uncommon with some softneck varieties of garlic. They don't send up a flower stem like hardnecks, so it's like a survival mechanism kicking in. You can cure them along with your big bulbs and plant them in the Fall.

pattipan



Posts

: 807


Join date

: 2010-03-04


Location

: WV -- Zone 6a



Aub, Some Artichoke types of garlic will produce bulbils like your plant shows. Here's a description from Fillaree Garlic Farms, an excellent grower and sales of garlic for our gardens: "While Artichokes normally do not produce a seed head, they may produce large bulbils that protrude from the lower third of the stem. When stressed, Artichokes can produce hard necks and seed heads. Cloves planted from these bulbs will usually revert to soft necks the following season."

Do you know the name of the variety that produced the big bulbils? If no, you might enjoy perusing Fillaree Farms' descriptions of various types of garlics: http://www.filareefarm.com/arti.html I don't dare spend too much time on their site, I find too many garlics I didn't know I needed!



Posts

: 1437


Join date

: 2011-02-07


Location

: In hills west of St. Helens, OR



I think those were just plain old white garlic from Burpee or Gurney's. They don't look any different from the others except for the explosion. The heads were pretty small.



Posts

: 283


Join date

: 2010-08-07


Age

: 36


Location

: Central Illinois (near Peoria) 5a



---
Permissions in this forum:
You
cannot
reply to topics in this forum