Latest topics
»
Hello from Ann Arbor, Michigan!
by
smilingplum
Today at 2:23 pm
»
Fall garden push
by
Cajun Cappy
Today at 1:27 pm
»
New England October, 2016
by
CapeCoddess
Today at 1:17 pm
»
Can i just mix up the Mel's mix right in the garden box?
by
donnainzone5
Today at 11:50 am
»
Second Year SFG in Canada
by
CapeCoddess
Today at 11:49 am
»
The Research Journey:Back to Eden Organic Gardening 101 Method with Wood Chips VS Leaves Composting Garden Soil
by
Robbomb116
Today at 11:22 am
»
The Research Journey:Composting Leaves Only
by
has55
Today at 11:01 am
»
Microbes...you gotta see this one !!!
by
has55
Today at 10:57 am
»
CANADIAN REGION:What are you doing in October 2016
by
trolleydriver
Today at 8:34 am
»
California's Drought
by
sanderson
Today at 2:24 am
»
Testing MM Calculator
by
pforrester1
Yesterday at 5:09 pm
»
Sweet Potatoes
by
sanderson
Yesterday at 4:40 pm
»
Tomato Tuesday 2016
by
countrynaturals
Yesterday at 4:06 pm
»
When do I prep potted raspberries for winter?
by
trolleydriver
Yesterday at 1:19 pm
»
Please Welcome Our Newest Forum Moderator!
by
CapeCoddess
Yesterday at 12:07 pm
»
who has chickens
by
bigdogrock
Yesterday at 7:12 am
»
N&C Midwest: October Happenings!
by
MrBooker
Yesterday at 7:05 am
»
Sanderson's experiments with Bio-Flora Ag Products
by
dstack
Yesterday at 6:13 am
»
Flowers that easily reseeded
by
yolos
Yesterday at 12:07 am
»
Jade Plant
by
Scorpio Rising
10/25/2016, 11:21 pm
»
Fun Spider addition to Home Page
by
Scorpio Rising
10/25/2016, 9:49 pm
»
The Research Journey:Growing in a Raised Wood Chip Organic Gardening Bed
by
has55
10/25/2016, 7:16 am
»
The Research Journey:Building Healthy Soil
by
has55
10/25/2016, 7:13 am
»
the Research Journey:How to Grow Large Healthy Organic Tomatoes
by
has55
10/25/2016, 7:07 am
»
Bountea Compost Tea - Got it!!!
by
sanderson
10/25/2016, 3:23 am
»
Northern California & Coastal Valleys - What are you doing this month?
by
sanderson
10/25/2016, 1:28 am
»
Straw Bales with Seeds?
by
donnainzone5
10/24/2016, 11:50 pm
»
TrolleyDriver's Compost Thermometer
by
jimmy cee
10/24/2016, 10:44 pm
»
Notice: Gluten-free Recipes Sub-Forum- Up and running!
by
BeetlesPerSqFt
10/24/2016, 9:20 pm
»
Our Newest Regional Hosts!
by
Scorpio Rising
10/24/2016, 8:56 pm
So, after endless questions and hemming and hawing, I got my SFG going. I then ended up buying plants (got too overwhelmed and confused with seeds) and my garden is growing like crazy!
I have a few questions now. First of all, I have white spots (powder mold) on my squash leaves: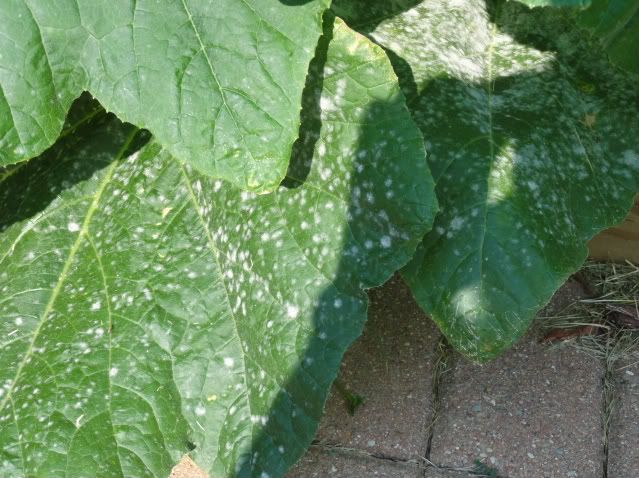 What's the fastest easiest way to get rid of this?
Speaking of my squash leaves...they are taking over my SFG! I probably went a little too squash heavy and the leaves are gigantic and blocking the sun from my other plants. I'm assuming if I cut any of the leaves it will kill the plants. What do I do?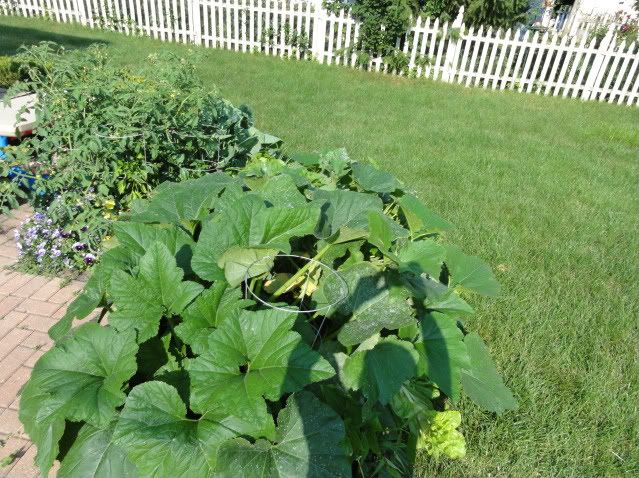 Finally, I'm confused by my strawberries. Shortly after I planted them I had a few strawberries growing nicely on each plant and then they shriveled up and disappeared (I'm watering daily if it's not raining) while everything else in my garden is thriving. The plants seem to be coming back now, but I don't see any strawberries yet
Thanks in advance for any help.
A very green SFG

Howdy BHMama:

Many strawberries produce their best in years 2 to 5. The first year they will put most of their energy into getting their roots established. Also the high heat of summer will stop fruit set very quickly. If you do not see blooms you will not get fruit. As the temps drop in early fall you may get some fruit set. Out of 200 + plants that we have we are getting only a handful of fruit each day where in the spring we were getting bags full. The most fruit we got this year was on 2nd year plants. Even the transplants from last years rootings produced only small amounts of fruit. Look out next year!

God Bless, Ward and Mary.

Certified SFG Instructor




Posts

: 935


Join date

: 2010-02-26


Age

: 66


Location

: Wake, VA



As for the squash, mine got the spots too, I think mine was caused by water spray, but it does not seem to bother the plants. You can cut the leaves out of the way,just don't cut too many at a time. I do it all the time! Mine is now growing out of the box and into the isle, but still bearing.

In SC the Strawberry farmers replant in the late Summer, so plants can get roots set before winter. The plants green-up and bloom the following spring, making it seem to the plant that it is their 2nd yr. growing, plant psycology? But, this yr. mother nature got everyone by surprise, and failed to give us a spring, last yr. we did not get a fall either, summer, then winter, including snow 3 times.

My Strawberries are blooming now, so, will see if we get any berries.



Posts

: 1528


Join date

: 2011-05-04


Age

: 62


Location

: Cottageville SC 8b



POWDERY MILDEW

The above link has good info on preventing and controlling powdery mildew



Posts

: 3141


Join date

: 2010-06-10


Age

: 69


Location

: Coastal Oregon, Zone 9a, Heat Zone 2 :(



Thank you and everyone for their advice!
I used cornmeal (just plain, yellow, grocery store cornmeal) to control powdery mildew on my roses in FL. Worked great! I sprinkled the plants and the ground around them, but I have seen directions mentioning sprinkling it just on the ground. I don't know. It did work.
Another thing I saw was a 1:9 solution of milk:water, and spraying that on the plants.
For squash taking over, you can actually stake them, tying them to the stake every 6 inches or so, and you can cut the leaves that are below the currently developing fruit. Even if you don't stake them, you can do the cutting, and you can encourage the plant to spill outside of the garden, so that it isn't shading anything.

I can't help you with the strawberries.



Posts

: 343


Join date

: 2011-03-08


Location

: Zone 8b, Coastal & Tropical South



---
Permissions in this forum:
You
cannot
reply to topics in this forum