Latest topics
»
Hello from Ann Arbor, Michigan!
by
smilingplum
Today at 2:23 pm
»
Fall garden push
by
Cajun Cappy
Today at 1:27 pm
»
New England October, 2016
by
CapeCoddess
Today at 1:17 pm
»
Can i just mix up the Mel's mix right in the garden box?
by
donnainzone5
Today at 11:50 am
»
Second Year SFG in Canada
by
CapeCoddess
Today at 11:49 am
»
The Research Journey:Back to Eden Organic Gardening 101 Method with Wood Chips VS Leaves Composting Garden Soil
by
Robbomb116
Today at 11:22 am
»
The Research Journey:Composting Leaves Only
by
has55
Today at 11:01 am
»
Microbes...you gotta see this one !!!
by
has55
Today at 10:57 am
»
CANADIAN REGION:What are you doing in October 2016
by
trolleydriver
Today at 8:34 am
»
California's Drought
by
sanderson
Today at 2:24 am
»
Testing MM Calculator
by
pforrester1
Yesterday at 5:09 pm
»
Sweet Potatoes
by
sanderson
Yesterday at 4:40 pm
»
Tomato Tuesday 2016
by
countrynaturals
Yesterday at 4:06 pm
»
When do I prep potted raspberries for winter?
by
trolleydriver
Yesterday at 1:19 pm
»
Please Welcome Our Newest Forum Moderator!
by
CapeCoddess
Yesterday at 12:07 pm
»
who has chickens
by
bigdogrock
Yesterday at 7:12 am
»
N&C Midwest: October Happenings!
by
MrBooker
Yesterday at 7:05 am
»
Sanderson's experiments with Bio-Flora Ag Products
by
dstack
Yesterday at 6:13 am
»
Flowers that easily reseeded
by
yolos
Yesterday at 12:07 am
»
Jade Plant
by
Scorpio Rising
10/25/2016, 11:21 pm
»
Fun Spider addition to Home Page
by
Scorpio Rising
10/25/2016, 9:49 pm
»
The Research Journey:Growing in a Raised Wood Chip Organic Gardening Bed
by
has55
10/25/2016, 7:16 am
»
The Research Journey:Building Healthy Soil
by
has55
10/25/2016, 7:13 am
»
the Research Journey:How to Grow Large Healthy Organic Tomatoes
by
has55
10/25/2016, 7:07 am
»
Bountea Compost Tea - Got it!!!
by
sanderson
10/25/2016, 3:23 am
»
Northern California & Coastal Valleys - What are you doing this month?
by
sanderson
10/25/2016, 1:28 am
»
Straw Bales with Seeds?
by
donnainzone5
10/24/2016, 11:50 pm
»
TrolleyDriver's Compost Thermometer
by
jimmy cee
10/24/2016, 10:44 pm
»
Notice: Gluten-free Recipes Sub-Forum- Up and running!
by
BeetlesPerSqFt
10/24/2016, 9:20 pm
»
Our Newest Regional Hosts!
by
Scorpio Rising
10/24/2016, 8:56 pm
Despite using thick layers of cardboard (on 3 of my beds) and Weed barrier cloth on the other 3, I am battling bermuda. It just pops up through the barriers. It is so discouraging.

I tried pulling it all up but I know it is probably feudal this season. I had planned to start thinking about fall but I don't think I can take care of the problem in time. I will still have some summer stuff still in while I overlap fall plantings.

Here are my concerns. If I pull out mel's mix and replace barrier with old carpet, am I still going to be able to use the "old" mel's mix? Do I need to wait for Bermuda to "wake up" next spring so that I can start a spraying routine before plantings? (this would essentially mean no spring plants). Is there a way to jump start the grass that might still be in the boxes?

Also, will old carpet have chemicals in it that would affect our health? I have read in another post to soak rolled up carpet to rinse out cleaning materials which is definitely a good idea but what about other chemicals like formaldahyde?

Is there anything else I could use instead of carpet, weed cloth, or cardboard?

Sorry for all the questions. After pulling grass for 3 hours tonight and still have 2 boxes to go I need a little bit of hope to get through it tomorrow.

Heidi



Posts

: 120


Join date

: 2011-02-14


Location

: 7b (Angier, NC)



Heidi, I don't have any answers for you but just wanted to say thank you for the cautionary tale -- I have Bermuda grass invading my garden bed and making it's way toward the SFG box and your story is helping me feel a greater sense of urgency about fighting off the advance.

Good luck and I hope someone else can help you w/ the carpet questions!



Posts

: 62


Join date

: 2011-04-16


Location

: Atlanta area






Posts

: 169


Join date

: 2010-05-28


Location

: Chandler, AZ USDA Zone 9A



Yes, I have read thru this thread but it doesn't really address my questions. I was hoping someone would answer who had this problem in the past and has had successful results in the present.


Heidi



Posts

: 120


Join date

: 2011-02-14


Location

: 7b (Angier, NC)



HP,
I'm not sure if this will help you but it seems like you are ready to kinda start over and this is how I have pretty much successfully kept it at bay.
This is a pic of when I pretty much started my SFG.
It is TOTALLY surrounded by the dreaded Bermuda grass.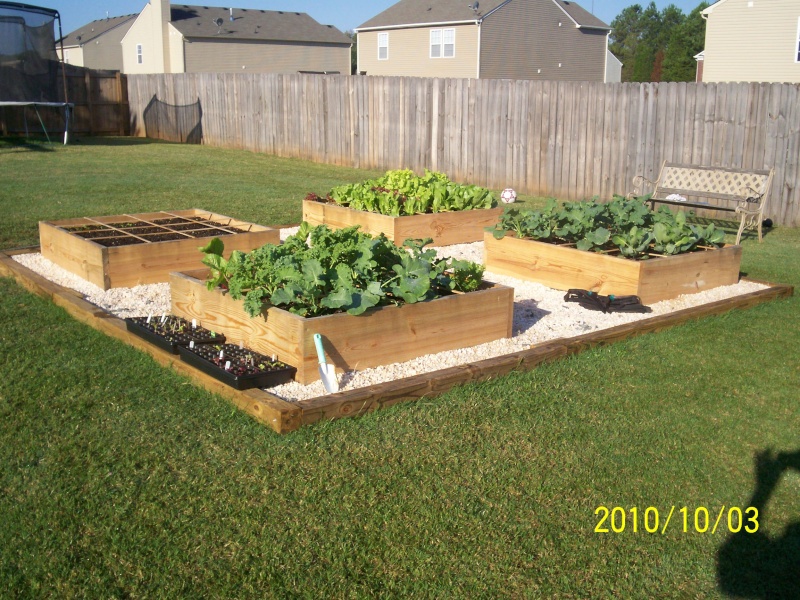 To prep the area, I mowed it down to the ground by scalping it and using a rake to pry up some of the other roots and mowed again. I did NOT use any chemicals, just a personal choice. I guess excavating down a few inches might have helped more but I've read their roots can go as deep as two feet and that would have been over kill. Then I laid overlapping strips (by at least a foot to encourage any growth to go sideways and NOT upwards) of weed block and pinned down at regular intervals with cheap spikes to keep it taught to the ground. I'm not sure what weed block you bought but I used DuPonts premium brand. It is supposed to be better against Bermuda. Some of the others are not strong enough to keep Bermuda grass at bay and break down fast. This has a 15 year lifetime. Then I laid down about 2 inches of coarser grave and then a couple of inches of pea-stone on top. The gravel was free from our subdivision. It had piles left over dumped in the back where development is still taking place.
Then I spread another couple of inches of sand on top of that below the four spots where you see the boxes. Then I placed my boxes over the sand with another layer of the same weed block at the bottom which was cut slightly bigger than the boxes to overlap each side by about 2 inches all the way around. This would again stop any stray roots from working INSIDE.
As of now, almost a year later. I have only a few stray roots that have made it up through the gravel and this is only because I believe that as I have walked in between the beds, I have forced some of the coarse gravel to perhaps split the block in areas. I do fight the perimeters but that is only a 5 minute hand pull every week or so. I can handle that and expected that fight.
However, the good news is that I have not had a SINGLE strand of grass in my boxes. The point of these measures !!!! I know this as I completely turn over the beds every season to take out roots and add fresh compost. So far I've checked all 4 boxes at the end of last fall, before this spring and just before this summer and not a hint of grass INSIDE. I have a little grass on the perimeters of the boxes but the overlapping weed block has kept that growing outwards and is easy to pull.
Long winded reply and perhaps it still does not answer your questions but might help in your planning (type of weed block, prep etc).....hopefully

Direct questions......
I would not try to fight grass already in boxes. Its too invasive and hand pulling will encourage more growth. I would lift up the box (put MM in a wheelbarrow or something set aside) and reapply a better weed block. Search for a tougher weed block for sure.
Consider a non-toxic carpet company, google the term for suppliers. I would personally NOT use a carpet treated with chemicals, esp.. Formaldehyde. It might sound expensive but you are only buying a few sq. ft.
In my now FIRST-HAND experience, you cannot entirely win the war but you can do enough to have it out of your MM at least.



Posts

: 554


Join date

: 2010-11-24


Age

: 42


Location

: York, SC



The only issue with bermuda is the runners. Those can go 2 feet away from the plant. Of course they go just under the surface, too.

I would suggest, much like Staf, a decent border of mulch/gravel/etc around your beds. That area you can keep sprayed in the future to keep the problem down.

Another thing to think about is how you put the carpet in from the beginning. Did you cover more area of the ground than your boxes? Meaning, did the carpet overlap (extend out farther than) the boxes? If not, there is no way to ensure a perfect fit underneath the MM. And, that ever-so-small gap will allow bermuda underneath to come up and through. Is your bermuda coming up mostly around the edges of your bed or in the middle?

Either way, it's a battle. I wish I could offer more, but I'm a tad too far north to really have bermuda issues like you guys. It's a pretty easy fix for us up here.



Posts

: 2727


Join date

: 2010-12-25


Age

: 42


Location

: St. Louis, MO



@BackyardBirdGardner

wrote:The only issue with bermuda is the runners. Those can go 2 feet away from the plant. Of course they go just under the surface, too.
I tell ya, I've pulled runners up to 4 feet. Just read back my last post and for the most part, I mean "runners" when I state roots. Thanks for the reminder BBG.
Its a crazy plant, so invasive and will steal your MM nutrients to feed its own voracious appetite on a whim. Death to Bermuda I say !!!!
Its one of those occasions where I have used a weed killer to keep it at bay on the perimeter at times. I really don't like to, if you happen to stumble upon my posts, you'll notice the trend towards organic methods at every turn......
but this stuff.......SHEEESH !!!!
As long as you get a carpet piece big enough to cover the area in one shot, you'll be almost home free when it comes to Bermuda and the perimeter battle will be your only worry.



Posts

: 554


Join date

: 2010-11-24


Age

: 42


Location

: York, SC



I've used carpet for quite some time, both to protect the EPDM pond liners (from roots and grass) and now for SFG. Today's carpets are made from harmless materials found in clothing and other everyday fabrics, like polyester, nylon and olefin fibers. As far as residual chemicals in the carpet leaching upward into your crops ...... probably not, and it would probably be insignificant compared to any other air/water/soil contaminant your getting already.

If its of concern though, check with your local HD/Lowe's/carpet place & either get their samples (they clear out their inventory every year & sell the 2 x 4 samples for something ridiculous like a buck) or purchase an off size remnant (I've recently seen it as cheap as $.50/sf). The newer styles of carpet are more eco-freindly & you won't have to worry about what someone cleaned their carpet with, if you purchase the new stuff.

Also, if you have one of those new/trendy carpet places in your area, there are 100% corn-derivative carpet options available .... so scraps/drops/remnants of that may relieve/minimize yr concerns.



Posts

: 1012


Join date

: 2010-08-27


Age

: 47


Location

: Wesley Chapel, Florida (Zone 9)



Hi, I know I'm not the original poster with the questions but I really appreciate all the info shared here -- I am seeing that I may need to apply some of this in the future. So far none of it in evidence in my beds but I'm beginning to think it's inevitable as I have not taken any of the measures described beyond a weed barrier and trying to keep the grass away from the box.



Posts

: 62


Join date

: 2011-04-16


Location

: Atlanta area



There should be a bumper sticker that reads.....

Bermuda is like my ex-wife/husband.



Posts

: 2727


Join date

: 2010-12-25


Age

: 42


Location

: St. Louis, MO



---
Permissions in this forum:
You
cannot
reply to topics in this forum