Among the thousands of Ladybugs that are carniverous and eat those pesky little insects that destroy our crops, there are two that are vegetarians.
Yes, those are the two that you want to destroy in your garden.
Mexican Bean Beetle
This little critter loves your beans and legumes crops.
Color is NOT a determination since some of them range from cream to red but the number of spots is the key. Sixteen black spots on their back, 8 on each wing section, is the Mexican Bean Beetle.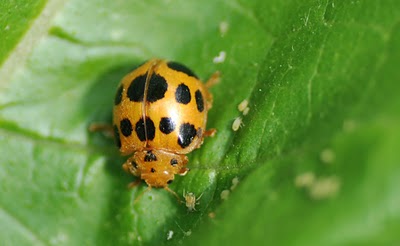 Squash Lady Beetle
This little pest loves your squash plant family crops.
Identification is easy once again because they all have fourteen black spots on their backs, seven on each side. Mission: destroy.
If you find any little soft-bodied yellow critters on your leaves with spiny bodies, they are the young larvae of these bugs.
It is wise to always check beneath the leaves of all plants looking for little clusters of eggs. Eggs can be any color for pests, from white to black. You can eradicate easily by mushing/pressing your finger and thumb against them, or in some cases its easier to just remove the leaf and put in a container to go into the trash. Do NOT compost these leaves.
Good Hunting!



Posts

: 4687


Join date

: 2010-03-21


Age

: 75


Location

: Southwestern Maine Zone 5A



Aaarrrggghhh! No fair - an imposter!

LOL. The way I've been telling them apart is that the actual ladybug has a black head - am I right about that? I'd like to be sure. I have only seen one ladybug, or what I credited with being a lady bug - thus far this year in my sfgs.
I searched and found that ladybugs have different numbers of spots, so apparently we can't tell from number of spots if it's a good bug, but knowing how many spots the bad guys have really helps. I also read that an actual good ladybug can have no spots!
Thanks, quiltbea. I love that this forum allows us to continually build our knowledge so that, hopefully, we can become better sfgarderers!




Posts

: 850


Join date

: 2011-04-03


Age

: 65


Location

: Mississippi Gulf Coast Zone 8B



Just found these in my squash. Did not know if good or bad. Thanks for taking the time to post this.



Posts

: 14


Join date

: 2010-08-02


Location

: northeast ky zone 6A



I had no idea there were ladybug imposters. Thanks for sharing!



Posts

: 168


Join date

: 2012-02-11


Age

: 52


Location

: Demotte, Indiana - zone 5b



Here is a link the misses sent me about identifing lady bugs http://www.nhm.org/site/activities-programs/community-science/lost-ladybug-project/identifying-ladybugs



Posts

: 564


Join date

: 2012-03-04


Location

: Columbus, Ga



---
Permissions in this forum:
You
cannot
reply to topics in this forum