Latest topics
»
New compost bin and 4x8 cedar bed
by
sanderson
Today at 3:46 am
»
Spaghetti Squash Recipes
by
sanderson
Today at 2:38 am
»
N&C Midwest: February 2017
by
CitizenKate
Today at 12:19 am
»
How's the Weather Where You're At?
by
Scorpio Rising
Yesterday at 11:49 pm
»
New England February 2017
by
Scorpio Rising
Yesterday at 8:50 pm
»
Senseless Banter...
by
donnainzone5
Yesterday at 8:10 pm
»
Gardening in Central Pennsylvania, 3rd year SFG
by
BeetlesPerSqFt
Yesterday at 6:54 pm
»
Third Year SFG in Canada
by
CapeCoddess
Yesterday at 4:43 pm
»
Invasive Tree Roots - Very important topic for newbies.
by
MrBooker
Yesterday at 7:39 am
»
So. California & Inland Valleys -March / April Planting Guide
by
sanderson
Yesterday at 12:47 am
»
2017 SFG Adventures in Hampstead, NC
by
ralitaco
Yesterday at 12:38 am
»
Northern California & Coastal Valleys - What are you doing this month?
by
sanderson
Yesterday at 12:31 am
»
Our 2017 garden makeover
by
CitizenKate
2/22/2017, 11:16 pm
»
Fall means apples....
by
reynajrainwater
2/22/2017, 10:43 pm
»
CANADIAN REGION: What are you doing February 2017?
by
Scorpio Rising
2/22/2017, 9:51 pm
»
California's Drought
by
sanderson
2/22/2017, 7:08 pm
»
Butterfly Junction
by
countrynaturals
2/22/2017, 6:40 pm
»
What are you eating from your garden today?
by
Mellen
2/22/2017, 6:37 pm
»
Root Knot Nematodes - PROGRESS!
by
sanderson
2/22/2017, 1:48 pm
»
Plant ID
by
No_Such_Reality
2/21/2017, 8:24 pm
»
Western Mount/High Plains: Seed Planting Dates zone 5b
by
RoOsTeR
2/21/2017, 8:58 am
»
I'll get my Texas garden right yet
by
RoOsTeR
2/21/2017, 8:57 am
»
Roots...information....
by
MrBooker
2/21/2017, 6:19 am
»
Is this wood correct for building box?
by
sanderson
2/21/2017, 4:42 am
»
Hello from IA Zone 5
by
sanderson
2/21/2017, 4:38 am
»
Feedback for my 2017 garden plan
by
sanderson
2/21/2017, 2:10 am
»
ticks
by
camprn
2/20/2017, 11:18 pm
»
Peppers with black spots
by
camprn
2/20/2017, 10:10 pm
»
February 2017 Avatar: Time to Wake Up!
by
sanderson
2/20/2017, 9:37 pm
»
broccoli stunted
by
yolos
2/20/2017, 9:34 pm
I have a small worm bin, and the peat that I am using for bedding doesn't really smell like peat anymore. I am still uncertain if it really qualifies as worm castings. Does anyone have any experience with this that you can share? Thanks in advance!



Posts

: 232


Join date

: 2011-03-25


Location

: St Louis MO Zone 6a



I'm new to this site but I have been vermicomposting for over a year (I love my worms). It takes about three months for the worms to process the stuff in the bin, and of course you have to feed them during that time. A great site to learn more is redwormcomposting.com. It has taught me a lot about this subject. There is also a lot of stuff on youtube where you can see what the worm poo is supposed to look like. Good luck! And God made the worms for a purpose!



Posts

: 1


Join date

: 2011-07-20


Location

: Moncks Corner



I started vermicomposting this spring (in rubbermaid container) and I noticed that worms eat ALOT! LOL It's a slow process but I have a good amount of black moist dirt. I need to push it to one side and start feeding from the other side to get them to migrate to just one side of the bin. I noticed a little compost tea in the bottom of my set up. WooHoo! Can't wait to put that on my garden.



Posts

: 567


Join date

: 2011-01-26


Age

: 47


Location

: zone 6, North of Cincinnati



This is my 3rd year with a worm condo and I'm loving it.
They need lots of kitchen scraps often if you want a good number of worms working for you. If you feed less, you'll have fewer worms. They won't reproduce all those little babies unless well fed. If you're short of kitchen scraps, tear up newspaper into narrow strips. Be sure its been sitting around a couple of weeks to be sure the ink isn't a problem.
You'll know when you have worm castings because it'll look like rich dark soil.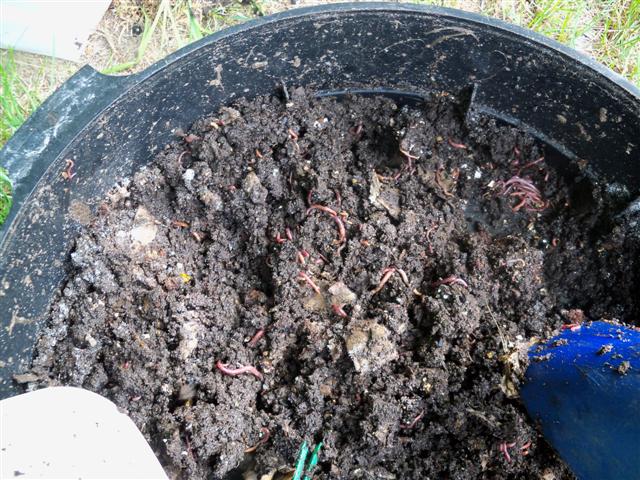 Here's my condo with lots of worm castings in it. I had stopped adding newspaper so I could clean it out.
To clean, I moved my worms onto dry newspaper during the event and scooped the castings in a bucket. This is what I got.
Its so rich and dark and doesn't smell at all. Lovely.
Tips: Sprinkle with water, the bin contents every once in a while. They like it damp, but not sopping wet.
Don't feed a lot of lettuce at once. It can kill your worms. A worm rancher reported this disaster online. He fed lots of lettuce and all his worms died. Mix your lettuce scraps in with other veggie scraps.
Worms don't care for root crops, so limit the amount of potato and carrot peelings you give them or mix them in well with other scraps.
Crush your dried eggshells for them. They lay their eggs in the hollows of the tiny bits of eggshells. I place my washed, dry shells in a plastic margarine tub and mash them down with the head of a wooden meat mallet.
They don't like it too hot so if you keep them outside place their home the shade. If its reaching 90*F, make sure they are well shaded or bring them inside.
In the winter, they need to be inside; your bathroom, heated garage or heated workshop. You don't want them to freeze. Don't worry. I keep mine in the bathroom and there's no odor if you care for them properly.
Remember, no meat or dairy for worms.
Good luck and enjoy your wonderful castings harvest.



Posts

: 4618


Join date

: 2010-03-21


Age

: 74


Location

: Southwestern Maine Zone 5A



---
Permissions in this forum:
You
cannot
reply to topics in this forum