Posts

: 108


Join date

: 2011-07-06


Location

: East Weymouth- Zone 6B



It all looks great! I really like the cold frame cover!
to the SFG Forum!!!

Forum Moderator Certified SFG Teacher




Posts

: 14165


Join date

: 2010-03-06


Age

: 55


Location

: Keene, NH, USA ~ Zone 5a



it all looks awesome!!!
im really enterested in that cold frame

hugs
rose



Posts

: 2424


Join date

: 2011-05-10


Location

: Western WA



Thanks for the kind words people. This is my second year square-foot gardening and I so enjoy it! s
The two newer beds seem to be off to a slower start, but things are growing.

Trying corn and potatoes this year. The potatoes are stealing my corns sun though. The corn should soon be taller than my Yukon golds however.

The cold frame worked really well, I plan on growing well into the fall with it. I used a bit of technology inside the cold frame this year. I was using a Oregon scientific satellite so I could monitor heat and humidity from inside. Also, by using a HOBO data logger I was able to track and record humidity, lumens of sun, high and low temp and get it onto a graph. Dorky I know, but I'm a science teacher and its all about the data! Data will be used for next years crops.



Posts

: 108


Join date

: 2011-07-06


Location

: East Weymouth- Zone 6B



I like your coldframe. That glass top is terrific.
Its a good way to start cool-weather crops that can grow into the early winter months without freezing and putting greens on your table. You might try mizuna, claytonia, arugula, even spinach.
Its also a good place to start lettuces in the spring and then transplant some of them beneath leafy veggies like broccoli, cauliflower, and others that can provide some shade.
While in the coldframe, just cover the top with a layer of cheesecloth and when it gets hotter and sunnier, double the layer. It'll keep your lettuces going.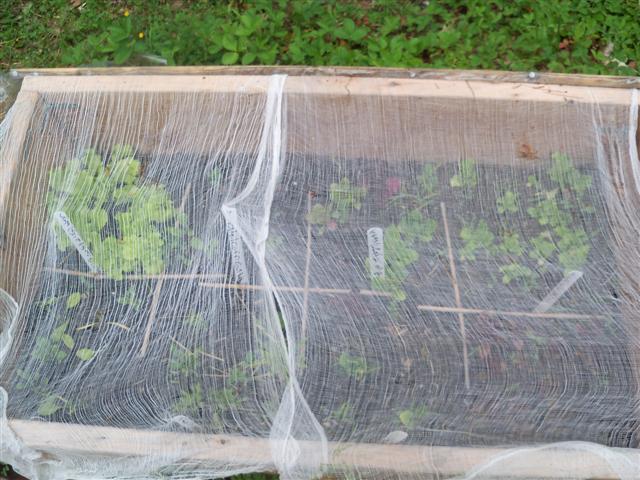 The cheesecloth really helps a lot as seen here over my smaller and simpler coldframe.
Good luck.



Posts

: 4690


Join date

: 2010-03-21


Age

: 75


Location

: Southwestern Maine Zone 5A



Love your coldframe and the ideas of cheesecloth! Thank you!



Posts

: 567


Join date

: 2011-01-26


Age

: 48


Location

: zone 6, North of Cincinnati



---
Permissions in this forum:
You
cannot
reply to topics in this forum