I know several of us will be planting for a fall and early winter harvest and some hope to hoophouse and coldframe crops right into winter this year.
Mizuna.....Its considered one of the wintering type crops because it can take the cold so well. I planted some for spring and I'm still harvesting it because its doing well beneath a double layer of cheesecloth along with my lettuces.
As for flavor......its so bland I'd say it has no flavor at all.
Maybe it improves when it gets cold in the winter.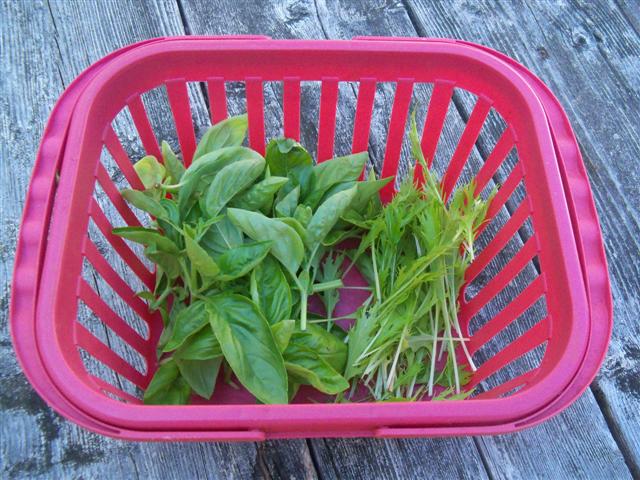 This is Basil on the left and Mizuna on the right.
Does anyone know if its flavor improves with a couple of freezes?



Posts

: 4629


Join date

: 2010-03-21


Age

: 75


Location

: Southwestern Maine Zone 5A



Hope it does improve with cold weather or frost. Mine like yours is without taste where it was described as a mustard like flavor. Planted it quite early and a couple more times after that all tastes the same, flat. Had high hopes of something exotic and mustardly. Have enough seeds left for another year of trying. Could not really find any info on it except it is a great green, ha. A guy on youtube puts it in scrambled eggs. Since it is bland wonder if running it thru the juicer is a good option. It looks to be extremely cold tolerant so I hate to think about giving up on it but really need some winter greens to grow. I tried cress for the first time and really like its mild peppery flavor in salads.



Posts

: 512


Join date

: 2011-03-22


Age

: 75


Location

: West Union, Iowa



Westie, thanks for the response.
I've got Claytonia, Mache, Arugula and Toykyo Bekana seeds to try as well so that will go in for fall.
I'll give the Mizuna a cold chance and hope for the best.
Thanks for the update on cress. I'll have to put that on my list.



Posts

: 4629


Join date

: 2010-03-21


Age

: 75


Location

: Southwestern Maine Zone 5A



Used to hate arugula but decided I eat far too few greens for my own good so spent last winter looking for new ideas to get my intake of greens significantly higher. My list was actual what you listed here except for the bekana which will get studied yet today. Slowly I have gotten the arugula to be actually enjoyed in my salads. Find myself waiting for it's distinct flavor to hit me just like the cress or a chunk of mint or greek oregano do in salads. That was to be mizunas job too but guess will have to stick with mustard for that distinct hit of flavor. So all things considered my greens intake has been upped significantly. Adding three kinds of Choi has been very helpful too and less I forget some Italian dandelions have been a new hit. Most of that stuff came from Johnnies seeds but will seriously look at http://www.nickys-nursery.co.uk/garden-shop/seeds/ from the UK closely because they have an endlessly enticing list of herbs and organics.



Posts

: 512


Join date

: 2011-03-22


Age

: 75


Location

: West Union, Iowa



In my ignorance, I didn't realize that mizuna was a cool season crop and planted it around the frost-free date. The flavor was great - it reminds me of deviled eggs as far as mustard strength. It did bolt fairly fast when I planted it that late, but it didn't seem to go bitter when it started flowering. It did attract little beetles and harlequin bugs like crazy at that point, and I pulled it to get rid of the bugs. I will try growing the plain mizuna this year for the first time. In the past, I have grown red-streak/ruby-streak mizuna because it looked interesting in with other greens. Maybe the temperature changes the flavor? I'll try some early and late this year along with my May-June crop.



Posts

: 1


Join date

: 2013-03-22


Location

: Longmont, CO



---
Permissions in this forum:
You
cannot
reply to topics in this forum