Latest topics
»
compost thermometer
by
trolleydriver
Today at 9:23 am
»
Home grown duh maters... I lack'em reel gud.. lol
by
MrBooker
Today at 8:58 am
»
The Research Journey:free-The Gardener's Guide TO PERFECT GARDEN SOIL
by
jimmy cee
Today at 8:48 am
»
parsnips in square foot garden?
by
MrBooker
Today at 8:47 am
»
Newbie composting questions
by
jimmy cee
Today at 8:17 am
»
CANADIAN REGION: What are you doing in September 2016
by
Mimi2
Today at 7:56 am
»
SFG Adventure of a first time gardener in ND
by
MrBooker
Today at 6:47 am
»
Plantoid' s going into hospital ....
by
plantoid
Today at 6:22 am
»
Senseless Banter...
by
sanderson
Today at 1:47 am
»
Hello from San Antonio, Tx.
by
sanderson
Today at 12:53 am
»
Northern California & Coastal Valleys - What are you doing this month?
by
sanderson
Today at 12:40 am
»
17 Everyday Things You've Been Doing Wrong
by
has55
Yesterday at 11:28 pm
»
What are you eating from your garden today?
by
donnainzone5
Yesterday at 9:23 pm
»
Second Year SFG in Canada
by
Scorpio Rising
Yesterday at 7:51 pm
»
N&C Midwest: September 2016
by
Scorpio Rising
Yesterday at 7:43 pm
»
What's a good type of lettuce to try for some one who doesn't like lettuce?
by
CapeCoddess
Yesterday at 11:59 am
»
Mid-South: October 2016
by
yolos
Yesterday at 10:36 am
»
In between
by
Scorpio Rising
9/28/2016, 8:33 pm
»
Tomato Mystery Mix
by
sanderson
9/28/2016, 11:26 am
»
Easy and Fabulous Crockpot Marinara
by
trolleydriver
9/28/2016, 11:03 am
»
newbeone
by
Cajun Cappy
9/28/2016, 8:59 am
»
The SFG Journey-Cover crops
by
jimmy cee
9/27/2016, 9:45 pm
»
Oh no! My hibiscus moscheutos plant has some roots exposed!
by
RJARPCGP
9/27/2016, 9:37 pm
»
Tryst with my first DIY SFG
by
Mimi2
9/27/2016, 8:12 pm
»
New England September 2016
by
sanderson
9/27/2016, 7:50 pm
»
Soil Blocks: Tutorial In Photos
by
sanderson
9/27/2016, 2:57 pm
»
Compost
by
camprn
9/27/2016, 8:13 am
»
Hand Pollination ?
by
camprn
9/27/2016, 8:11 am
»
The Research Journey:SELF-WATERING SALAD GARDEN COURSE
by
has55
9/26/2016, 6:58 pm
»
Admin back! Classic cars
by
AtlantaMarie
9/26/2016, 5:38 pm
In my 2 organic community garden rows, where I have lots of room and also where I hoe my rows into hills and add compost to each spot as I plant something, I have melons starting to appear. Its the closest I can get to SFG because they shut down the garden each fall and plow it up to add cow manure.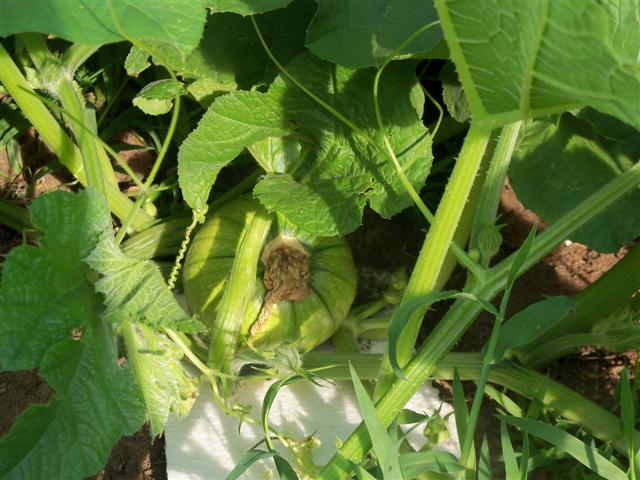 This is one of 2 New England Pie Pumpkins I found under the leaves. There may be more because my 3 plants are getting huge.
A view of my three pie pumpkin hills.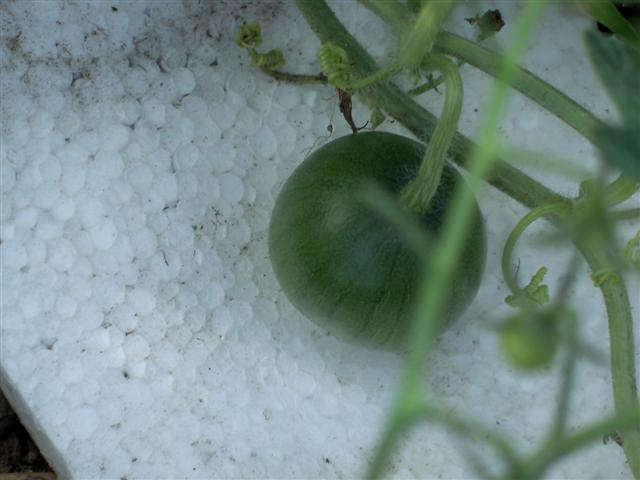 Here's my very first Sugar Baby watermelon on the vine today. I hope this is the first of at least a few. I have 4 watermelon plants, 2 from seedlings where the new baby is growing, and 2 vines from seeds that I planted later. Blossoms on those but no babies yet that I could find. They were ideally sweet last year and the family loved the few I got from this garden then.
I place foam insulation boards under the melons to keep them off the ground, away from water and mud and also to find more easily among the thick leaves.
Last edited by quiltbea on 7/21/2011, 12:30 pm; edited 1 time in total (Reason for editing : spelling)
Lookin' GREAT! I am jealous. All my melons were destroyed by the stoopid striped cucumber beetle


Forum Moderator Certified SFG Teacher




Posts

: 13981


Join date

: 2010-03-06


Age

: 54


Location

: Keene, NH, USA ~ Zone 5a



camprn....
I worried about that but as soon as my plants started to grow I loosely covered them with light-weight row covers and just put piles of soil on a few of the edges to hold them in place. It was enough to keep most of the bugs away.
Those white things in the garden are my row covers over the pumpkins.
When the blossoms started, the plants were big enough to uncover and fend for themselves, with the bugs having moved on to greener pastures. The few I find I pick off when I water them.
I did the same with the cukes and the watermelons and all are thriving right now with tons of blossoms and lots of bees.
For my cucumbers, I wrapped the row cover around the outside of the cages until the blossoms appeared.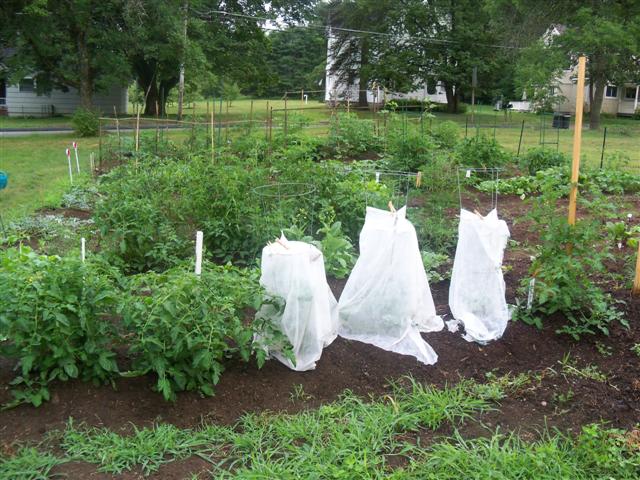 This is how my 3 Bushy cuke cages looked on July 9th, mummy-wrapped.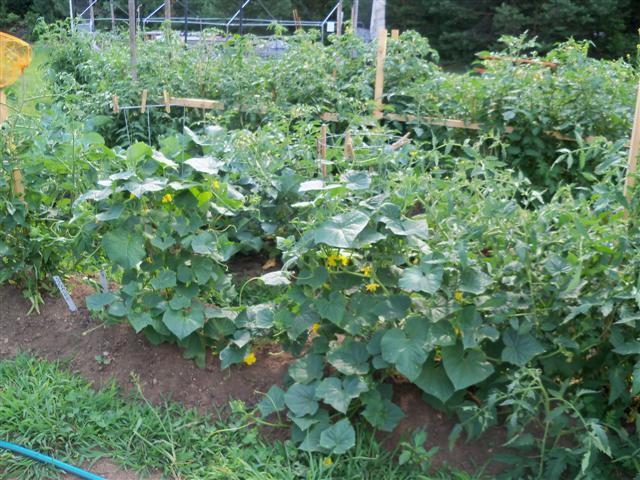 Here's my 2 cages of Homemade Pickling cukes today, unwrapped and blossoming and with little itty bitty babies under those leaves.
I highly recommend any gardener to stock up on light-weight row cover for pest prevention. I use it in my SFG as well and it saved my cabbages from flea beetle last year.
I'm really impressed, it looks so good!

I am doing 1 bushing cucumber this year, should I be putting them in a cage? It's still really small compared to my vining cucumbers.



Posts

: 298


Join date

: 2011-03-19


Location

: Central Washington Zone 7a



Krazikan....
This is my first year with Bushy cukes (that's the variety name but its supposed to be a bush-type variety) and I cage all my cukes, so this one also got caged.
If you have yours in SFG beds, you want some kind of trellising or cages so they don't take up too much space.
In my SFG beds I have my other cukes with a straw mulch and concrete reinforcing wire for their climbing towers.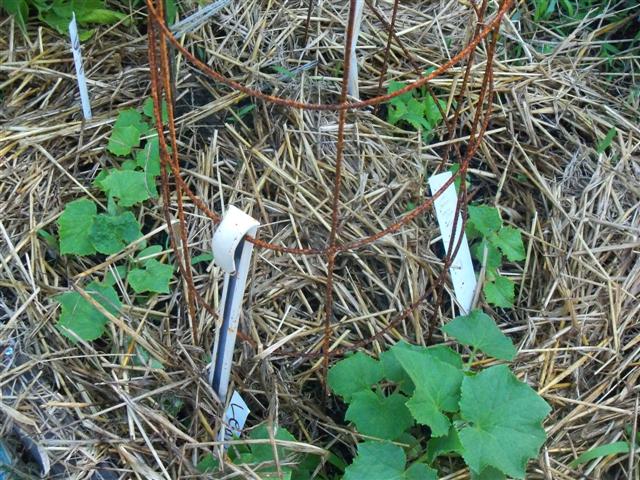 Here's one of my SFG beds. These are Burpless Beuaty, Lemon and Summer Dance, all started later than those in the community garden so I wouldn't be harvesting them all at one time.
---
Permissions in this forum:
You
cannot
reply to topics in this forum