I'm trying to figure out what my mystery tomato plant is...I thought it was a Federle, but the fruit is too round for that. They are also still green, which doesn't help any!
The other varieties I got with my order (the labels for each plant did not stay in the little pot they came with and some plants didn't stay in their pot thru shipping!

) are: Pink Berkeley Tie Dye; Matt's Wild Cherry; Black Cherry and Hawaiian Current.
I don't think it is the hawaiian current or matt's wild as the fruit is already at least an inch across. Any ideas? Is anyone growing the above varieties that could show me pics?
I'll add a pic when I get home from work today...



Posts

: 107


Join date

: 2010-04-05


Age

: 38


Location

: Hastings, MN (zone 4a)



I have a black cherry that I grew from seed. I do not think I can provide a photograph, but I will try to explain how it looks. It is not a potato leaf, so it has the regular tomato sytle leaves. The fruit will grow to just smaller than a golf ball and will stay green and firm until ripening. Mine turn a medium to dark brown. I assume they are ready because they are no longer firm. They taste good, but so far, I prefer the Sweet 100 Cherry Tomato. However, this one is a little larger and has more pulp.



Posts

: 156


Join date

: 2011-05-25


Location

: Cincinnati, Ohio



Matt's Wild Cherry are very small red fruits and tart but delicious.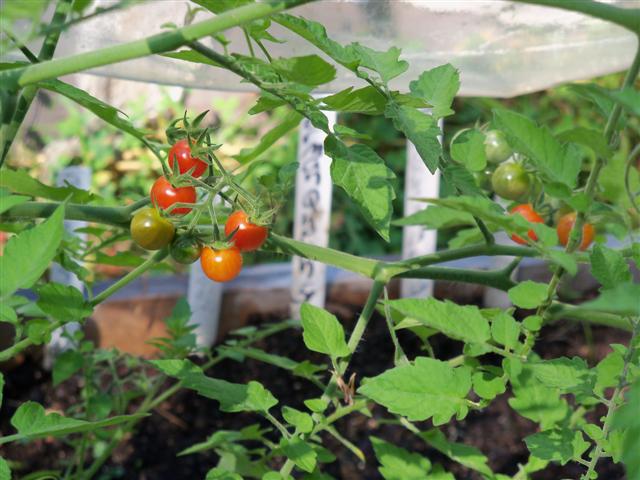 Here's Matt's on the vine.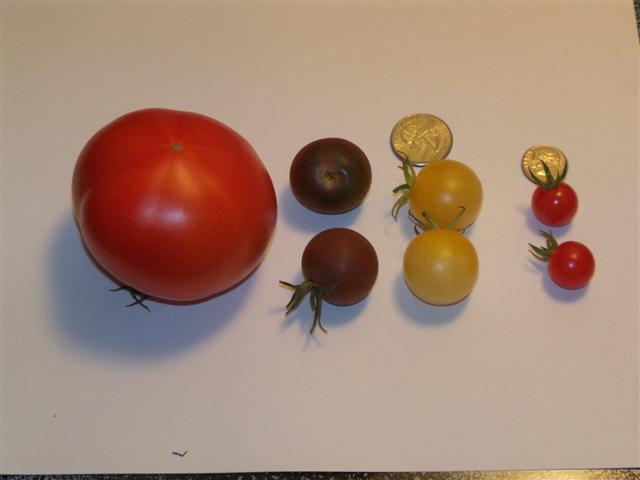 Here's L to R: Moskvich, Black Cherry, White Cherry, and Matt's Wild Cherry
I found Black Cherry very tasty and when roasted and frozen, it was terrific added to tomato sauces or chilis later. The fruits sort of have a dark green tinge on the top and very dark wine-red bodies when ripe.
Here's lots of Black Cherry harvested. Even those with the green tinge were ripe and very tasty.
Black Cherry before ripened.



Posts

: 4683


Join date

: 2010-03-21


Age

: 75


Location

: Southwestern Maine Zone 5A



Thanks mijejo and quiltbea!! From your descriptions and pics, I think mine is a black cherry! I bought one of those when I thought the one I ordered didn't make it...hopefully I'll like them!
Here is a pic from just now:




Posts

: 107


Join date

: 2010-04-05


Age

: 38


Location

: Hastings, MN (zone 4a)



---
Permissions in this forum:
You
cannot
reply to topics in this forum