This moring I saw something white in one of my SFG beds and discovered a cat sitting there among the celery watching a bird's nest on the side of my house.



He/she was sitting on a square that I had jsut replanted with bush beans so it was a nice comfy spot and well-hidden from the parent birds attempting to rear their lone chick.



So now after chasing her away, I have filled all my vacant or just re-seeded squares with chicken wire cages.



I like cats but not their hunting habits when they are really well-fed by humans.



Posts

: 4918


Join date

: 2011-04-24


Age

: 82


Location

: Castlegar, British Columbia



You might also consider something as simple as plastic forks, placed in the Mel's Mix, tines up
It keeps the cats from settling down in the MM. I had to protect my round foot garden from the cat we fostered this winter when her Mommy and Daddy went to AZ for 5 months.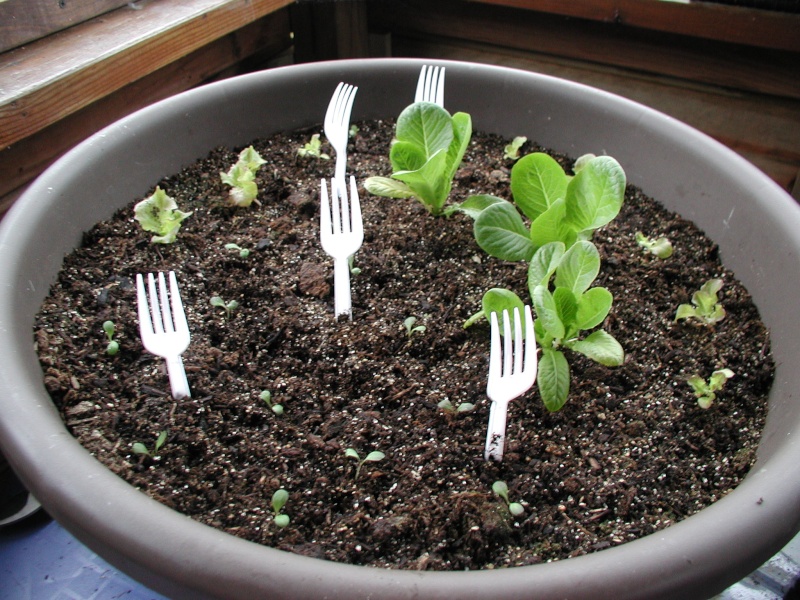 Posts

: 3141


Join date

: 2010-06-10


Age

: 70


Location

: Coastal Oregon, Zone 9a, Heat Zone 2 :(



for the tip, Furballsmom.



Posts

: 4918


Join date

: 2011-04-24


Age

: 82


Location

: Castlegar, British Columbia



I got the fork suggestion from my friend when a neighborhood cat kept using my boxes as litterboxes (and digging up my plants in the process!). The cat was super stubborn, though, and it took a TON of forks to dissuade him. Eventually I put up a two foot ring of bird netting around the two boxes he liked using, and he hasn't been back yet. Plus, it keeps the rabbits out! But not the deer




Posts

: 826


Join date

: 2010-04-08


Age

: 32


Location

: Jamestown, NY (Zone 5a)



---
Permissions in this forum:
You
cannot
reply to topics in this forum