I planted two squash plants. This is my first time SFG. I wasnt sure how the squash would grow....but they grew, and they grew big! I'm assuming I should have used a trellis with the squash? Any pointers would be great! I have many squash growing, but the leaves are huge and it is so hard to get to the squash to harvest. The leaves are very prickly too.



Thank you!

Wendy



Posts

: 4


Join date

: 2011-04-29


Location

: Fargo, ND: Zone 4



I have success with Zucchini and yellow crockneck in 3x3 foot squares......I get enough for myself and friends......I harvest every morning...with a large bread knife ..it makes it easier to get to them......be careful some can hide because they look like a stalk......the smaller ones are nicer....they have a tendency for mildew....be careful not to get the leaves wet......you can still save the plant by cutting off the old leaves as the new ones look healthy....never did the trellis style....Ruth



Posts

: 235


Join date

: 2011-02-19


Age

: 92


Location

: Chula Vista,Ca



This year I planted two Zucchini plants in my SFG and they are huge and growing.
I have been harvesting zucchinis for quite a few weeks.
I made chocolate chip zucchini muffins, brought some to DC son and wife and froze the rest at home.
I am going to also make chocolate chip zucchini mini loaves this Fri. and freeze them.
I also cook some up for dinner various ways.
I have also shredded some zucchini and froze them in freezer bags.
When they come, they come in droves.
Enjoy.




Posts

: 675


Join date

: 2010-05-05


Age

: 62


Location

: Central NJ - From 6A to 7A 2012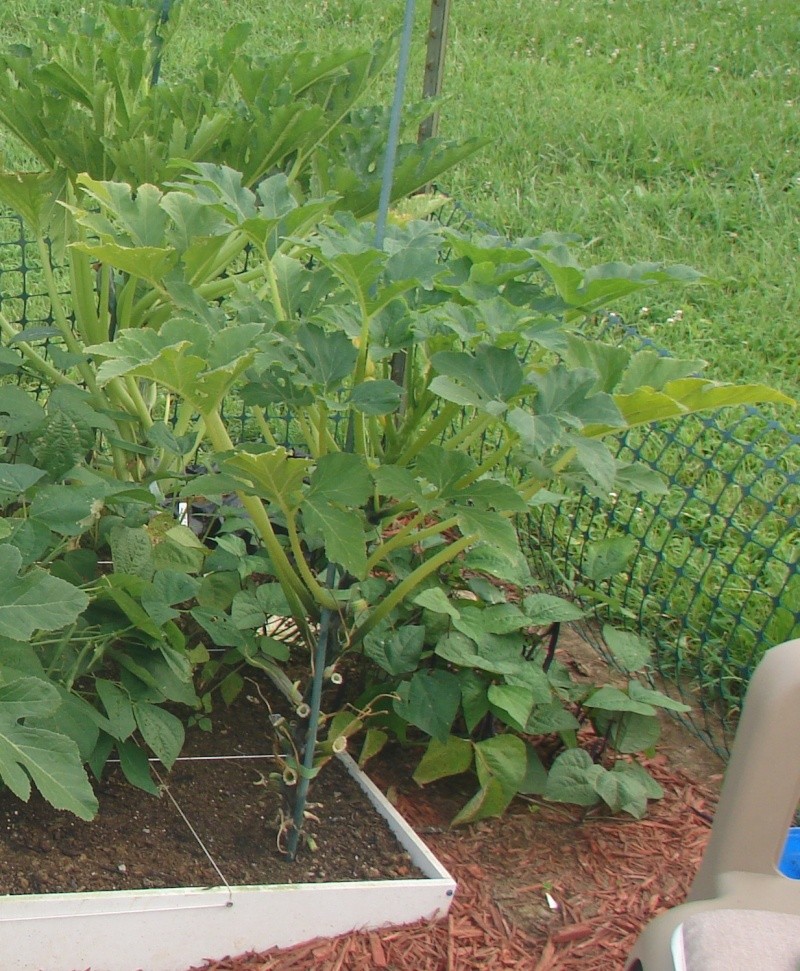 I had luck this year pruning and staking my squash and Zukes. You have to keep up, I had a burst of growth the other day, and they are sprawling a bit... This picture is from 2 weeks ago, when I was keeping up.



Posts

: 440


Join date

: 2010-05-25


Location

: Beaver Dam, Kentucky, zone 6a



I have dedicated boxes for squash away from the main part of the garden. I also tend the plants frequently, looking for squash bugs and their eggs and rubbing the base of the stalk to disrupt any possible SVB eggs. I prune the larger older leaves so I can see what I am doing and hopefully to ward off the powdery mildew by allowing for better ventilation around the plant.

Forum Moderator Certified SFG Teacher




Posts

: 14144


Join date

: 2010-03-06


Age

: 54


Location

: Keene, NH, USA ~ Zone 5a



Johnson, that is a pretty and nice squash plant.



Posts

: 778


Join date

: 2010-09-06


Age

: 47


Location

: Alabama Zone 7a



---
Permissions in this forum:
You
cannot
reply to topics in this forum