Latest topics
»
Weight Watchers Turkey, Bean and Vegetable Chili
by
sanderson
Yesterday at 11:30 pm
»
Appetizer Recipes by SQWIB
by
sanderson
Yesterday at 11:19 pm
»
Meat Lover's Recipes by SQWIB
by
sanderson
Yesterday at 11:18 pm
»
Too Many Red Wiggler Worms in Raised Beds??
by
sanderson
Yesterday at 11:13 pm
»
Newspapers vs Weed Cloth
by
yolos
Yesterday at 10:03 pm
»
1st Seed Catalog Arrived :)
by
trolleydriver
Yesterday at 9:45 pm
»
What is this? Plant identification?
by
Scorpio Rising
Yesterday at 8:08 pm
»
SUGA 2017
by
SQWIB
Yesterday at 4:55 pm
»
My first Attempt
by
21Actual
Yesterday at 4:25 pm
»
Biochar?
by
SQWIB
Yesterday at 3:24 pm
»
Senseless Banter...
by
sanderson
Yesterday at 3:19 pm
»
Spring Fever Anyone?
by
sanderson
Yesterday at 2:37 pm
»
CANADIAN REGION: What are you doing in January 2018
by
Kelejan
Yesterday at 2:36 pm
»
2018 - First Annual Seed Exchange Week - January 20-28 (Edited)
by
sanderson
Yesterday at 2:23 pm
»
Is there ever enough compost?
by
Kelejan
Yesterday at 1:15 pm
»
Areogardening
by
sanderson
Yesterday at 2:38 am
»
January 2018 Avatar: Surprise Us
by
sanderson
1/21/2018, 4:51 pm
»
My Shreveport Garden 2018
by
sanderson
1/21/2018, 4:47 pm
»
Are vegetables hurt by too much light?
by
BeetlesPerSqFt
1/20/2018, 8:38 am
»
Seed Starting!!
by
brianj555
1/19/2018, 9:14 pm
»
How's the Weather Where You're At?
by
sanderson
1/19/2018, 2:56 pm
»
Sow True Seeds
by
AtlantaMarie
1/19/2018, 8:00 am
»
Colored Mulch
by
No_Such_Reality
1/18/2018, 7:12 pm
»
Taking on 4 Season Gardening
by
Roseinarosecity
1/18/2018, 5:19 pm
»
Fourth Year SFG in Canada
by
trolleydriver
1/18/2018, 3:53 pm
»
Butternut squash, turkey Italian sausage, cannelini bean soup
by
yolos
1/17/2018, 9:25 pm
»
Happy Birthday!!
by
yolos
1/17/2018, 9:12 pm
»
N&C Midwest—January 2018!!!
by
Scorpio Rising
1/17/2018, 7:08 pm
»
What are you eating from your garden today?
by
Scorpio Rising
1/16/2018, 9:10 pm
»
Gophers
by
countrynaturals
1/16/2018, 12:32 pm
Page 2 of 2 •

1, 2
Should be fun now!
Yahoooooooooooo!!!!!!!!!! The great potato race is on!!!!!! Ooops, I forgot BBG said:


I'm not much for tater-competitions though, so we can stick to the educational part instead of whipping out tape measures and standing on the roof, right?



Still, I can't wait to see how this turns out! I kept wishing I could try fall potatoes here, but don't think they get the seed potatoes in the fall. Might try it next year if this works for you guys!



Posts

: 850


Join date

: 2011-04-03


Age

: 66


Location

: Mississippi Gulf Coast Zone 8B



I found my bag of seed taters in July, I think. I guarantee you they were ordered by the store in spring. So, if you just pick some up next season, don't throw away/give away what you don't immediately use. They will possibly hold over. Once they sprout, I don't see why they wouldn't produce. I think the only thing stopping us is pending weather.

If anyone remembers, I mentioned harvesting potatoes earlier this spring. I did nothing with them because for awhile I thought they were a weed. I didn't even add soil/mulch/straw. I just left them in their 6" of MM. I got a meal's worth out of the one square. And, the "starter seed" was the nastiest, smelliest, rottenest, mushiest, store-bought potato left in the pantry...still in it's bag....you have ever seen. He was one heck of a trooper. Even though, these seeds were old and a bit raggedy looking, they were in far better shape than the one I eventually ate...lol.
It has only been five days since my itty bitty sprouts broke ground and now they are now about 4 inches tall. I guess that means I will have to add MM in just a couple days when they get to six inches. So far they look pretty healthy.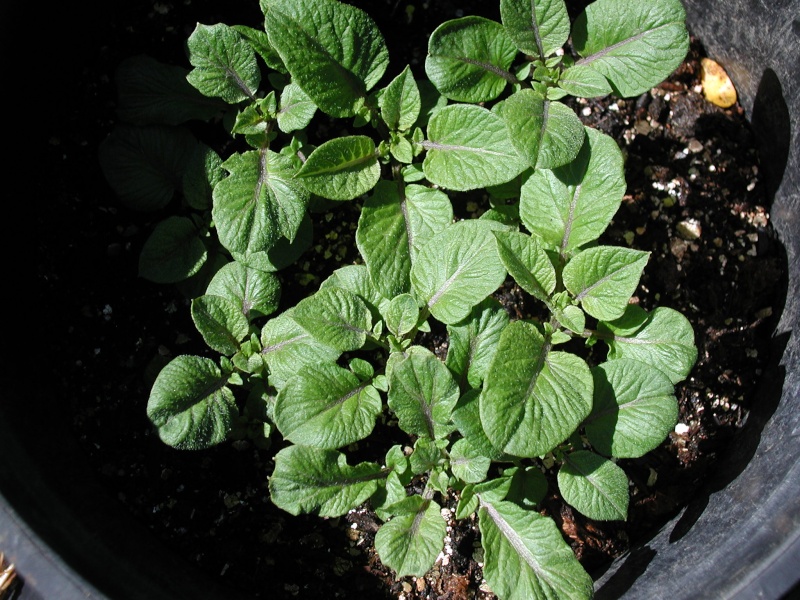 I have done a little more research and late summer planting for fall harvest just isn't mentioned anywhere. They do mention fall plantings for earlier spring harvests. There are also some instructions about using your own small Spring grown potatoes to use in a Fall planting. Here are a couple of links
Potatoes in the Fall Garden
Fall Potatoes
AGGIE Horticulture - Potatoes



Posts

: 3141


Join date

: 2010-06-10


Age

: 70


Location

: Coastal Oregon, Zone 9a, Heat Zone 2 :(



Thanks for sharing those.

FYI, mine are almost a foot tall now. I have added another few inches of leaf mulch and they are about 6 inches above that! I think we're on to something here.
Did you harvest yet, FBMom? I got mine out this weekend. Not really big, but very successful. I am curing them now for Turkey Day. I think they will feed a few people.

I think this proves it can be done in the fall. I just need to dedicate more space next year and deeper boxes. And, the kids had TONS of fun digging them out. It was like a treasure hunt for them.
Dredging this up after quite some time. I'm planting some potatoes right now, but have some seed potatoes left, and I'm wondering if I can hang on to them and plant them for fall. How did your little experiment work for you? Anyone else doing this?

What is the best way to preserve my taters? I read somewhere that you can keep them dormant in the fridge. Thoughts?



Posts

: 309


Join date

: 2011-03-20


Age

: 43


Location

: Fort Mill, SC



They will still lose moisture in a fridge due to air currents inside it when you open & close the door.

But putting them in clean vermiculite in a carboard box ( not plastic or a poly bag ) that should insulate them from the air currents that dry them out .

Try it .....you have two out comes both of which might please you .. if it fails the compost heap gets fed.



Posts

: 3772


Join date

: 2011-11-09


Age

: 67



Page 2 of 2 •

1, 2
---
Permissions in this forum:
You
cannot
reply to topics in this forum