Latest topics
»
How's the Weather Where You're At?
by
sanderson
Today at 2:02 am
»
Cucumber Plants on the Ground! :-(
by
brianj555
Yesterday at 9:27 pm
»
Today's Harvest
by
trolleydriver
Yesterday at 8:51 pm
»
New England September 2017
by
Scorpio Rising
Yesterday at 7:59 pm
»
N&C Midwest - September 2017
by
Scorpio Rising
Yesterday at 7:56 pm
»
What are you eating from your garden today?
by
stealthmayhem
Yesterday at 5:19 pm
»
Spotted Lanternfly: invasive pest "new" to the US
by
sanderson
Yesterday at 1:41 pm
»
First red kidney bean harvest....now what?
by
AtlantaMarie
Yesterday at 6:28 am
»
Fall Garden?
by
sanderson
Yesterday at 3:28 am
»
Bug/Pest Identification....Help!
by
Scorpio Rising
9/20/2017, 7:12 pm
»
question about Garlic and winter
by
Scorpio Rising
9/20/2017, 6:38 pm
»
Ginger
by
has55
9/20/2017, 2:38 pm
»
CANADIAN REGION: What are you doing in September 2017
by
Kelejan
9/20/2017, 2:29 pm
»
Senseless Banter...
by
AtlantaMarie
9/20/2017, 9:08 am
»
harvesting wood chips
by
Kelejan
9/19/2017, 9:55 pm
»
Tomato Tuesday 2017
by
brianj555
9/19/2017, 7:18 pm
»
leeks again
by
donnainzone5
9/19/2017, 12:17 pm
»
WANTED: Pictures of Compost Bins
by
has55
9/19/2017, 9:03 am
»
My SFG Journey:Returning to the Original Square Foot Garden Method
by
has55
9/19/2017, 3:05 am
»
Monarch Supporter
by
CitizenKate
9/19/2017, 1:43 am
»
Any Strange and Wonderful Visitors? Photos please!
by
trolleydriver
9/18/2017, 5:08 pm
»
Amaranth
by
trolleydriver
9/18/2017, 12:06 pm
»
Birds of the Garden
by
countrynaturals
9/18/2017, 11:29 am
»
Tomatoes in New England
by
Scorpio Rising
9/17/2017, 9:02 pm
»
Ground Cherries
by
Ginger Blue
9/17/2017, 5:39 pm
»
Butterfly Junction
by
countrynaturals
9/17/2017, 11:20 am
»
Skinny Cucumbers?
by
brianj555
9/17/2017, 11:15 am
»
Trellis
by
CapeCoddess
9/17/2017, 10:19 am
»
Garden Videos 2017
by
brianj555
9/16/2017, 9:48 pm
»
What I learned this year
by
brianj555
9/16/2017, 9:19 pm
Well, I assume it's deer I need to worry about, anyway. I had a terrible feeling last night that I needed to protect my garden, so I did the only thing I knew how, and sprayed liquid fence all around it (a gross smelling liquid made from rotten eggs).

Unfortunately, it's been so dry up here that the deer don't have any grass to eat, so they ate all the leaves off my pole beans instead, as well as my lettuce. I was upset at first, but I'm better now because I know the pole beans will recover. Bambi did this once before, and they bushed out really nicely within a week or two (plus he left all the beans, thank goodness).

But I don't want him to eat anything else. So I'm wondering, what should I do to keep him at bay? Or is it even a deer I should worry about? I'm 85% sure it's a deer because the pole beans were about 4 or 5 feet off the ground, and the lettuce are behind a 2 foot fence... but the reason I'm not completely sure is because I saw a large hole in a spot of bare Mel's mix like someone had been digging.

I'm thinking about fencing in the whole area and laying down weed blocker and mulch so I won't have to mow behind the fenced in area. What should I use to fence it in? I don't want to have to pay a lot of money, but I need it to be strong enough to keep the deer back. Anyone have any suggestions?
Little sapphire, i have successfully used deer netting. Mine happens to be wrapped around a 7 X 27 foot area that I use for my tomatoes. I used 20 ft PVC hoops to create the surround for the garden area. I also wrap each table top in deer netting using the covered wagon style hoops to support the deer netting. Deer netting is fairly inexpensive, very light weight, the posts will be more expensive than the netting. A roll of netting 7 ft high by 100 ft long was about $25.
Table Tops - Tomato and Artichoke Garden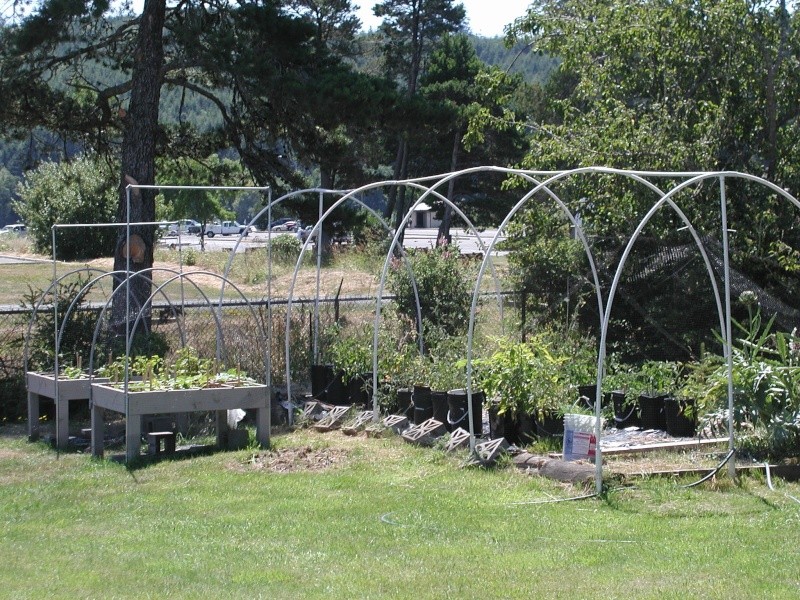 I have also covered one table top with tulle to prevent insect damage on veggies that do not require pollination such as broccoli, cauliflower, cabbages, lettuce, and beets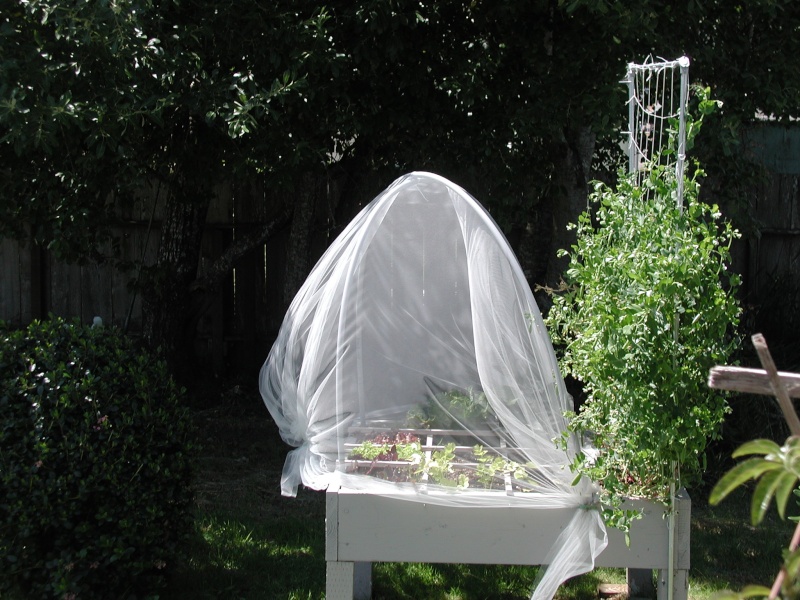 Posts

: 3141


Join date

: 2010-06-10


Age

: 70


Location

: Coastal Oregon, Zone 9a, Heat Zone 2 :(



Last edited by krazikandiland on 8/3/2011, 12:52 am; edited 2 times in total (Reason for editing : Perseverance)



Posts

: 298


Join date

: 2011-03-19


Location

: Central Washington Zone 7a



Deer frequently pass through my front and side yards. Furthermore, I often see them munching in my neighbors' gardens. So far, mine prevents too many problems for them.



I have dogs - four border collies

. On nice days, they spend much time outdoors. Therefore, the perimeter of my back yard is enclosed with 4' split rail (covered with black-mesh wire) fencing.



The garden resides in one corner with a 3' rod iron fence on the two sides open to the yard.



Although deer could easily jump either fence, I believe the smell of the canines inhibits them.



So, the combination of the fencing and the dogs appears to provide my garden's protection from Bambi and friends.



Posts

: 156


Join date

: 2011-05-25


Location

: Cincinnati, Ohio



Thanks for all the advice, guys! Krazi, I especially like the wooden hinged fence idea that you like so much! I probably won't do anything that fancy this year, but I'll certainly keep in in mind for next year.

I don't really live in the country. We're at the edge of town, lots and lots of houses around, it's jsut that the deer population is so dense here because there are no predators to keep them in check. I often see them early in the morning on my run around the local school. They have very little fear of humans. I can't really blame them because we moved into their land, but that doesn't mean I want to just let them eat my garden!

I decided I'm going to put up poles to support a deer netting fence all around my garden, with three foot clearance space between the fence and the garden itself. That way, I have room to maneuver around inside and any especially bushy plants (like my pole beans) are way out of reach of the fence. I hope that helps!
I know it sounds crazy, but if you can't afford to fence in the area with 8'-10' tall deer fencing, then I suggest hanging some anti-perspirant soaps on poles around your garden area.
Hey, it worked for me. I put in some dwarf fruit trees 3 years ago. I had fencing around them, but it was too low. In spring 2009 the deer ate several branches so that I thought I'd lost the bunch of them especially since they also chomped off the tops. I read about the soap.
I bought Irish Spring and put one in each net bag (used onion bags) and tied them to the short fencing already around the trees. Never had a nibble since. I've done this now for the next 2 years. I renew the soaps in the fall and the spring. In the fall because I don't want the winter needs of the deer to make eating my trees a joy.
My Almaden Duke dwarf cherry with one side eaten away along with the very top of the tree.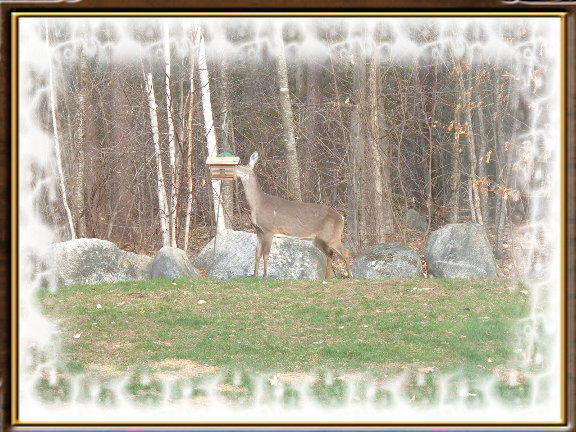 As you can see, they love to eat the bird seed from the feeders as well.
That same tree this spring, full of blossoms and with new branches. Not a nibble to be seen.
If it doesn't work, you aren't out a small fortune. All I know is it worked for me.



Posts

: 4690


Join date

: 2010-03-21


Age

: 75


Location

: Southwestern Maine Zone 5A



Quiltbea, that's an interesting idea. I've head of putting dryer sheets out there to keep the rabbits away, but not soap for deer. I'll keep it in mind!
So I got my fence up. It's super rudimentary, but I think it'll do the job. I got four 10' conduit pieces and cut them in half, staked them up around my two boxes and put some extra poles up (some bamboo and an extra conduit piece I had) in between where it needed extra support. There's a door in the front where I use a hair tie to hold a piece of bamboo against a conduit pole. The fence part is just simple deer netting. It's pretty flimsy, but I think it'll work. For safety sake, I wove some pink caution tape through the top of the netting.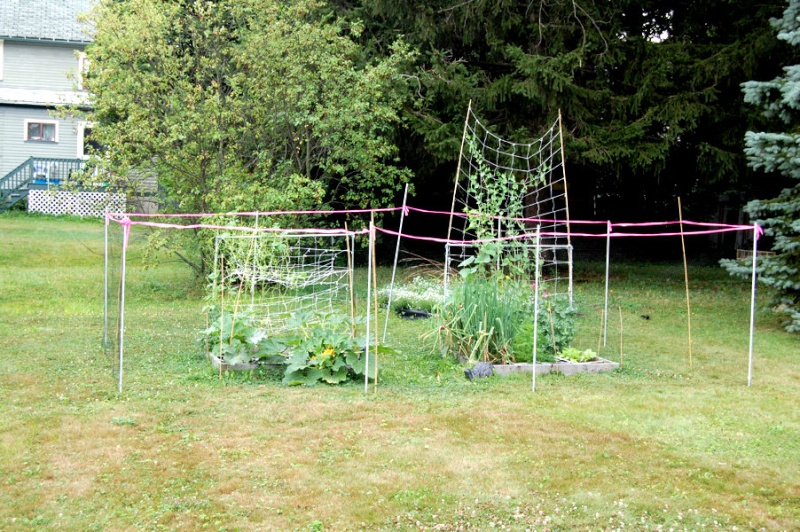 And in case you're wondering, this is the reason I put the fence up. The pole beans are just starting to get some new leaves.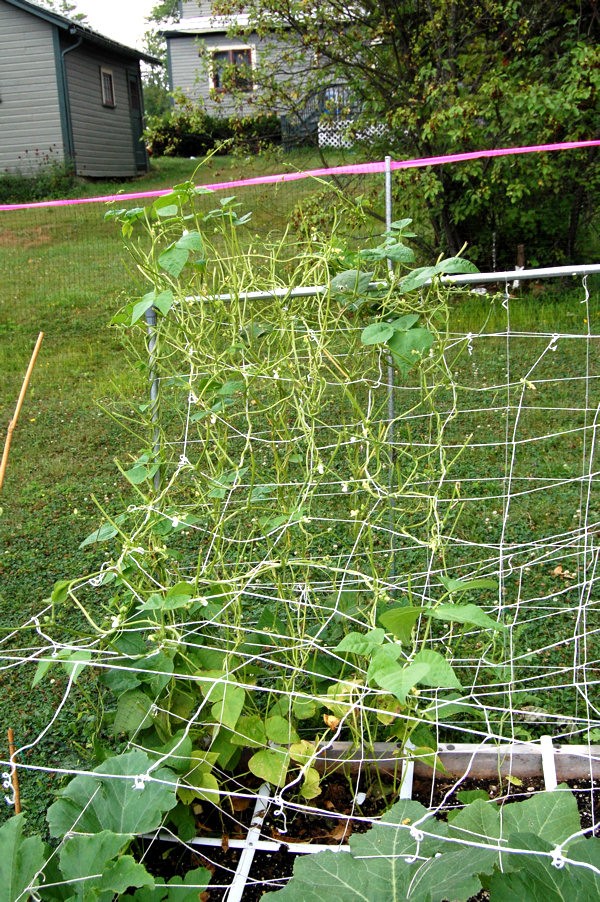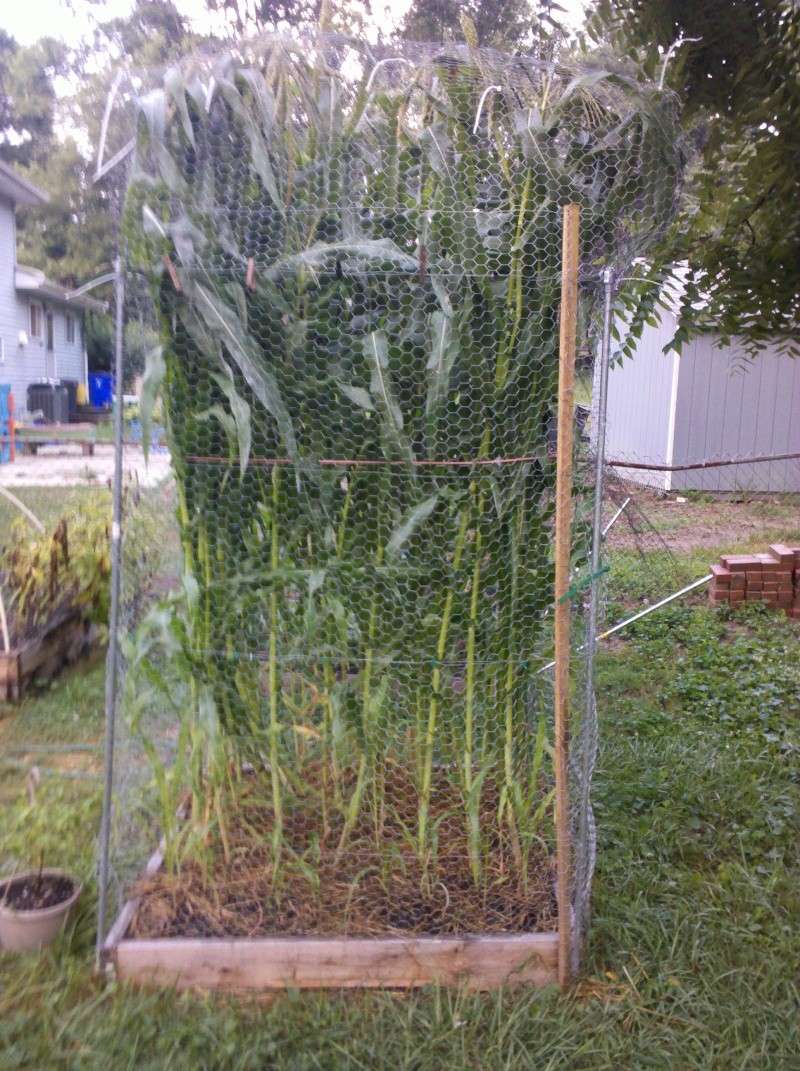 This is what I used. 8' high over the 4 x 4 square.

Certified SFG Instructor




Posts

: 87


Join date

: 2011-06-21


Age

: 62


Location

: Ellicott City, MD



Wow, bakermtb, I think you're good unless you have a sudden onslaught of giraffes feeding in your neighborhood!!!

Welcome to the forum!!!
I hope to see you post often and make yourself at home here!



Posts

: 850


Join date

: 2011-04-03


Age

: 65


Location

: Mississippi Gulf Coast Zone 8B



Motion Activaed Sprinkler

While wondering the internet yesterday I ran across the above. Pretty neat idea. There a several companies making them.



Posts

: 52


Join date

: 2011-05-27


Location

: Ellis County, Texas



Wow, that's some amazing fencing. I thought about doing something similar, but my pole beans are pretty determined to climb over everything and once they're over the fence, the deer can have at them.

The beans have gotten all their leaves back, but they didn't produce a single bean the whole time they were regrowing their leaves. They're just starting to produce beans again though! Now that they're protected, I should start getting a steady flow of beans.
---
Permissions in this forum:
You
cannot
reply to topics in this forum