What are the tomatoes that Dixie sent supposed to look like? Are they a red tomato or not? Mine is getting huge and it's kind of yellow-pink but the top is staring to split.
Suggest to ease up on the water a bit, to reduce cracking. But it may just be what that tomato does. I think it was a pale red and monstrous.

____________________________
41 years a gardener and going strong with SFG.
http://squarefoot.creatingforum.com/t3574-the-end-of-july-7-weeks-until-frost
There are certain pursuits which, if not wholly poetic and true, do at least suggest a nobler and finer relation to nature than we know. The keeping of bees, for instance. ~ Henry David Thoreau
http://squarefoot.creatingforum.com/t1306-other-gardening-books

Forum Moderator Certified SFG Teacher




Posts

: 14165


Join date

: 2010-03-06


Age

: 54


Location

: Keene, NH, USA ~ Zone 5a



Dixie's avatar shows a picture of the Dixie Sweet. Looks yellowish with red/pink on it and the following link said they grew up to 2 lbs.

.
Dixie Sweets



Posts

: 3141


Join date

: 2010-06-10


Age

: 70


Location

: Coastal Oregon, Zone 9a, Heat Zone 2 :(



Well, I guess I'd better go pick it. I might have another one ready in a few days!!
Mine are running late but I had snow cover right thru the month of April so I had to plant later than usual here in Zone 5a in Maine, like near Memorial Day in ground not very warm.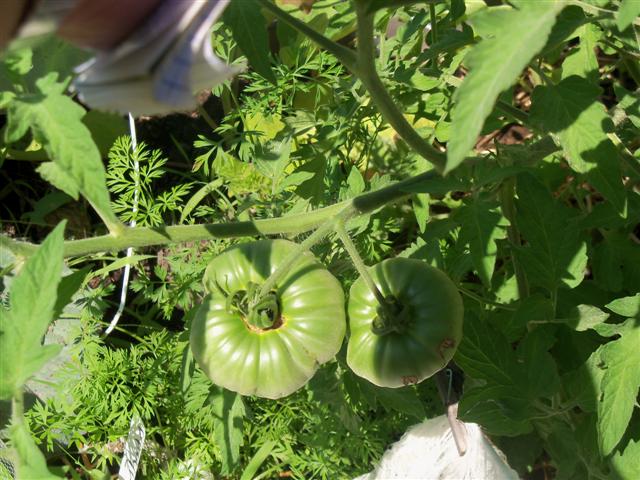 This was taken on July 30th with rather large green tomatoes and still growing. I have several earlier varieties of toms turning red and being harvested daily, but Dixie's Sweet must be a late tomato.



Posts

: 4674


Join date

: 2010-03-21


Age

: 75


Location

: Southwestern Maine Zone 5A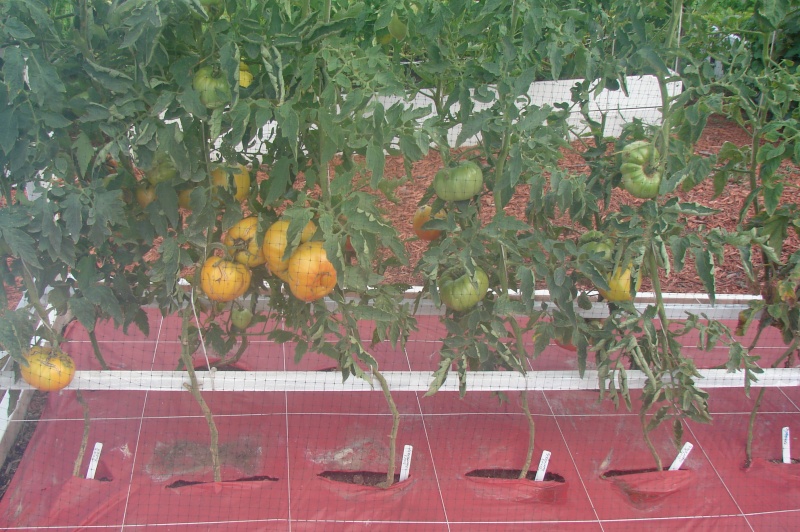 Here are my Dixie's Sweets a couple weeks ago. I had issues with splitting as well, I am now picking earlier - at first blush, and then ripening on the counter.



Posts

: 440


Join date

: 2010-05-25


Location

: Beaver Dam, Kentucky, zone 6a



Squat those look great! How do you like the red plastic mulch? Are you stringing the tomatoes up?
The short answer is yes, I do like the red plastic. Yes, I am stringing them up.

The red mulch helps hold the water. I did not have any blight issues _earlier_ but when flea beatles hatched from the dirt, they brought the blight with them. Next year, I will put another layer on top, and try to cover the holes I cut so I could put my transplants under.

I have found that I can keep the plastic sprayed off of debris, and at the first sign of hornworm, I will see tell-tale black droppings on the red plastic.



Posts

: 440


Join date

: 2010-05-25


Location

: Beaver Dam, Kentucky, zone 6a



Here my pic of Dixie's tomato.
I started some of the seeds in the little window sfg and I missed one of the seedlings, once it started growing I left it in there, it has grown as big as the window greenhouse and has came out the side, it's the biggest tomato plant I've ever grown!
There are some tomatoes on it, one is getting big.
Most of the tomatoes that we planted didn't do well this year, but I have some like Dixie's that came up from seeds late and they are all doing great.

Certified SFG Instructor




Posts

: 741


Join date

: 2010-03-05


Age

: 22


Location

: Illinois zone 6



I just ate a Dixie Sweet today! Delicious! But I was surprised that the tomatoes are veriegated - orange and yellow. Beautiful! All my tomato plants, including the Dixie Sweets, got diseased - blight I'm quite sure - but I still got, and am getting, some tomatoes.

Yours looks beautiful - plant and tomato!

Certified SFG Instructor




Posts

: 247


Join date

: 2010-03-23


Location

: Western NC - Zone 6a (mountains)



I just found a picture on Google that looks like the tomatoes that are growing on my "Dixie Sweet" tomato plants. I think they're "Old German" heirloom tomatoes! Of course, I could be wrong, but the picture looks just like my tomatoes. BTW, Thank you sooo much, Dixie, for the wonderful seeds! I LOVE the flavor of the tomatoes!!! I'm going to keep growing them for sure!

Certified SFG Instructor




Posts

: 247


Join date

: 2010-03-23


Location

: Western NC - Zone 6a (mountains)



---
Permissions in this forum:
You
cannot
reply to topics in this forum