Just a couple ideas to think about ahead of time.

Covering your boxes during winter:

I'm sure everyone has read or heard more than once, 'put your compost, amendments, or fertilizers on top of the soil around your plants, then water them in. The water will carry the nutrients down to the roots.'

If that makes sense to you, and you believe it to be true, then it's also true that rain water going into the top of your boxes, and coming out the bottom, is carrying nutrients with it. I get 30+ inches of rain in the off season trying to steal my nutrients! And that's not a good thing.

So, I cover all my boxes with plastic. First, I just laid the plastic on top of the MM; I ended up with little wading pools that over flowed the box tops. Then, I stuck a bucket under the plastic in the middle; that worked OK. Then, I tried a support beam down the middle for the plastic to drape over, it looked like a pup tent; that worked OK. Then, I did the covered wagon hoop house; it's the best because it's so versatile. I'm sure there are other ways to protect your MM; I really recommend doing one of them.

Covering the boxes also keeps out the tree debris that we get during our annual fall high winds.

First planting of 2012:

Do you know what box it will be in? Procrastinators can quit reading here! This simple tip is especially for folks who like to start planting as early as possible. Get your box ready for planting before the weather turns ugly this fall. Hopefully, you'll cover your box with plastic. If you cover it with a hoop house, you'll have a cold frame, too. That will allow you to start planting lettuces, carrots, and spinach in February. They will grow slow, how slow depends on the weather, but you'll be the first on the block to be eating out of the garden, and you'll have carrots to go with your peas.

The important part here: get your 'after harvest' compost into the squares this fall, ie have your MM ready to plant, so you don't have to be out in the ugly weather next Feb. playing in freezing dirt! It's actually a warm fuzzy, feel-good moment to just run out, plant a few squares, and be done!

You'll know the best time to start planting in the spring...about 30 days after it has come and gone! It all depends on the weather. I have had very good luck starting about the second week in February. I've been experimenting starting earlier, but I'm not sure we have enough natural sunlight at that time of year.
Boffer, this is great information - thank you so much for the time you take to educate us!

I too was thinking I didn't want the rain to wash away all the nutrients from the composts in my Mel's Mix when my squares were empty. I love that your solution does double duty: allowing you to preserve your mix during the winter and makes your spring planting easier.

Looks like I'll be building a trellis soon since my peas are sprouting, so I guess while I'm at it I'll get the parts for a hoop house. I'll need to revisit that section in Mel's book. I'd love to see pics of how other forum members have covered their boxes!

Certified SFG Instructor




Posts

: 1413


Join date

: 2011-05-11


Location

: Vancouver, WA



Since you're already thinking along those lines, here's some food for thought. I want to do a thread on hoop house versatility. But I'm still collecting pictures. Here's two that may or may not apply for your peas.
If nothing else, these trellises are good for short people! Imagine that this is a regular hoop house made of PVC. On a 4 foot wide sfg box the top is about 4 feet off the ground. In this picture the peas are grown in a 1x4 box on the north side. But see how the peas just lay down across the hoop trellis as they reach for the sun. They were a piece of cake to harvest.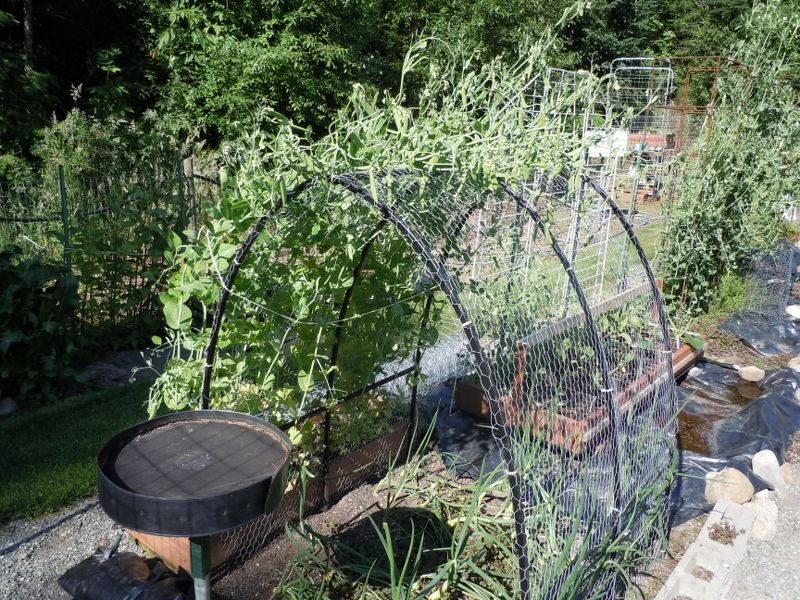 I set up this hoop house trellis as a Florida weave for tomatoes. But if your peas were planted in the box, couldn't they be trained up the weave? Or the hoops could be covered with the nylon lattice that Mel mentions. It's just an idea I thought I'd try next spring.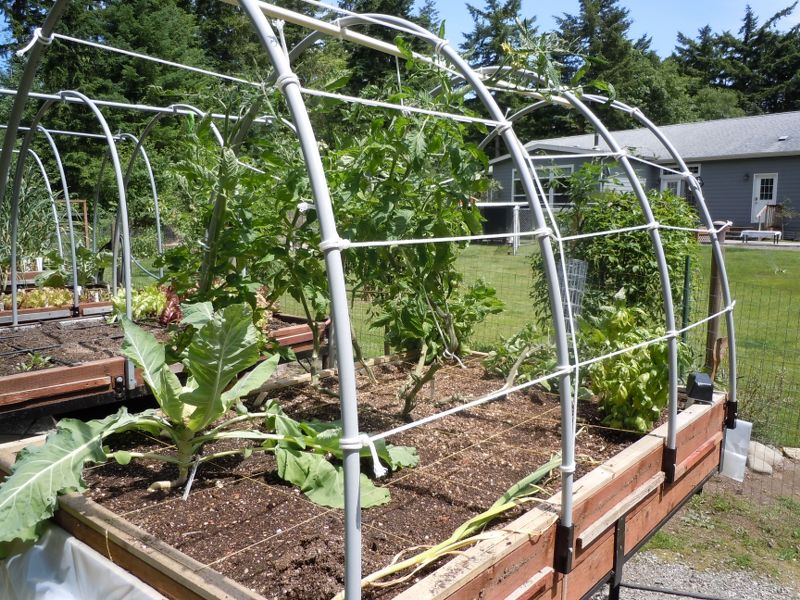 Posts

: 180


Join date

: 2011-01-26


Location

: CA



I'm going to put the trellis to the south of my peas so they can lay across it and reach for the sun Boffer. Thanks for the idea! They are growing really slowly right now, so I can likely procrastinate another weekend or two before I need to worry about it. I'll share a pic when I'm done.


Certified SFG Instructor




Posts

: 1413


Join date

: 2011-05-11


Location

: Vancouver, WA



I built up a cage over the boxes to support the trellis. It's meant to come down in the winter but maybe I'll leave it up and put the clear plastic over it all. Hopefully it will work out. I'll have to figure out a way to make it more pup tent style so the rain can fall off and not collect though. My other thought is to just disassemble the cage (PVC pipe with connectors) and lay plastic over the eyelets I used to tie strings for my box markings. I mean, I can't expect the tomatoes and peas to survive the winter right?!?
When can I plant the garlic? Isn't that supposed to be planted in the fall and picked in the spring? I LOVE garlic so I'm trying to hold back from putting garlic in every one of those squares




Posts

: 48


Join date

: 2011-02-27


Location

: Portland, Oregon



I like that trellis for short people. My runner beans this year outgrew my six-foot tall tellis by about two feet at least, and as most of the beans were above the six foot mark I had to stand on a step-ladder to oick my crop.

Rather dangerous as the ground slopes somewhat, so rather hard to find a level place to put the step-ladder.

When I finish with the beans I will build a couple for my peas and beans next year.



Posts

: 4945


Join date

: 2011-04-24


Age

: 82


Location

: Castlegar, British Columbia



@Dr.Bigfoot

wrote:When can I plant the garlic? Isn't that supposed to be planted in the fall and picked in the spring?
In the PNW, sometime in Oct or Nov. It's a crap shoot: you want to give the clove a chance to establish roots but not grow leaves, before the first freeze.
Last year, I planted in late Sep. which is early, but the cloves were sprouting on the shelf. I ended up with 6-8 inch leaves when the first freeze came along. The ends of the leaves (a couple inches) got frostbit and died, but the plant survived several single digit freezes during winter. I harvested them in early July.
---
Permissions in this forum:
You
cannot
reply to topics in this forum