Latest topics
»
A new SFG fan from Texas
by
Mastogarden
Today at 9:32 am
»
N&C Midwest: When are your starting seeds?
by
aliceingardenland
Today at 8:20 am
»
ahoy mateys from Arkansas
by
AtlantaMarie
Today at 7:42 am
»
Happy Birthday!!
by
AtlantaMarie
Today at 7:36 am
»
Floating Away and New Seeds!
by
Kate888
Today at 7:26 am
»
Sowing Experiment! Anyone Tried This?
by
Scorpio Rising
Yesterday at 8:49 pm
»
Fourth Year SFG in Canada
by
trolleydriver
Yesterday at 5:13 pm
»
Your favorite blackberries or raspberries?
by
AtlantaMarie
Yesterday at 7:07 am
»
Aerogrow by Miracle Grow
by
AtlantaMarie
Yesterday at 7:05 am
»
Seed Organizing Ideas
by
AtlantaMarie
Yesterday at 7:04 am
»
Areogardening
by
BeetlesPerSqFt
2/20/2018, 9:54 pm
»
2018 SFG in Brooks, GA
by
Scorpio Rising
2/20/2018, 9:39 pm
»
N&C Midwest: February 2018 !
by
Scorpio Rising
2/20/2018, 9:31 pm
»
has55's R & D Journey
by
sanderson
2/20/2018, 1:55 am
»
parsnips in square foot garden?
by
sanderson
2/20/2018, 1:43 am
»
WANTED: Pictures of Compost Bins
by
bigdogrock
2/19/2018, 10:28 pm
»
The New Square Foot Gardening Foundation page is now online!
by
sanderson
2/19/2018, 6:40 pm
»
February: What to plant in Northern California and Central Valley areas
by
sanderson
2/19/2018, 6:31 pm
»
How's the Weather Where You're At?
by
Scorpio Rising
2/19/2018, 6:24 pm
»
Invasive Tree Roots - Very important topic for newbies.
by
sanderson
2/19/2018, 6:23 pm
»
excited to be here!
by
Kate888
2/19/2018, 2:57 pm
»
Northern California & Coastal Valleys - What are you doing this month?
by
sanderson
2/18/2018, 2:58 pm
»
Butterfly Junction
by
sanderson
2/18/2018, 12:16 am
»
New England Feb 2018
by
sanderson
2/17/2018, 8:14 pm
»
Eggplant - (Japanese) Millionaire
by
Scorpio Rising
2/17/2018, 11:42 am
»
TrolleyDriver's Compost Thermometer
by
has55
2/17/2018, 8:17 am
»
SUGA 2018
by
SQWIB
2/16/2018, 3:15 pm
»
LED grow lights......any advice?
by
sanderson
2/15/2018, 12:08 pm
»
Mystery plant - need ID please
by
yolos
2/14/2018, 8:44 pm
»
new to the site from Arkansas
by
Scorpio Rising
2/14/2018, 8:36 pm

Cool temperatures this spring and summer have delayed the maturity of so many warm weather veggies in our region. My best harvests have been bush beans and sugar snap peas (cool crop). There are still 2 heads of cabbage that have not yet matured, but the earlier cabbage was good. So thankful I covered the broccoli, cauliflower and cabbage SFG bed with tulle. NO Cabbage worms!
Bush beans have produced well and there are still LOTS of beans and flowers left. Saturday, I harvested 1 lb 9 oz of purple, yellow, speckled and green colored beans from 8 squares. Today, from those same 8 squares, I harvested another 1 lb 5 oz.
Royal Burgundy (purple), Soliel (yellow) Nash, and Contender
I know bush beans tend to produce all at once so two later plantings should extend the harvest to later this season. But, I forgot to take my brain with me , so I have no idea when those two later plantings occured.
Even this late in the season, when other regions find their sugar snap peas have succumbed to warm weather, sugar snap peas continue to produce here in the PNW. Saturday's harvest was 1 lb 6 oz from 4 squares and today the vines are full again.
Sugar Snaps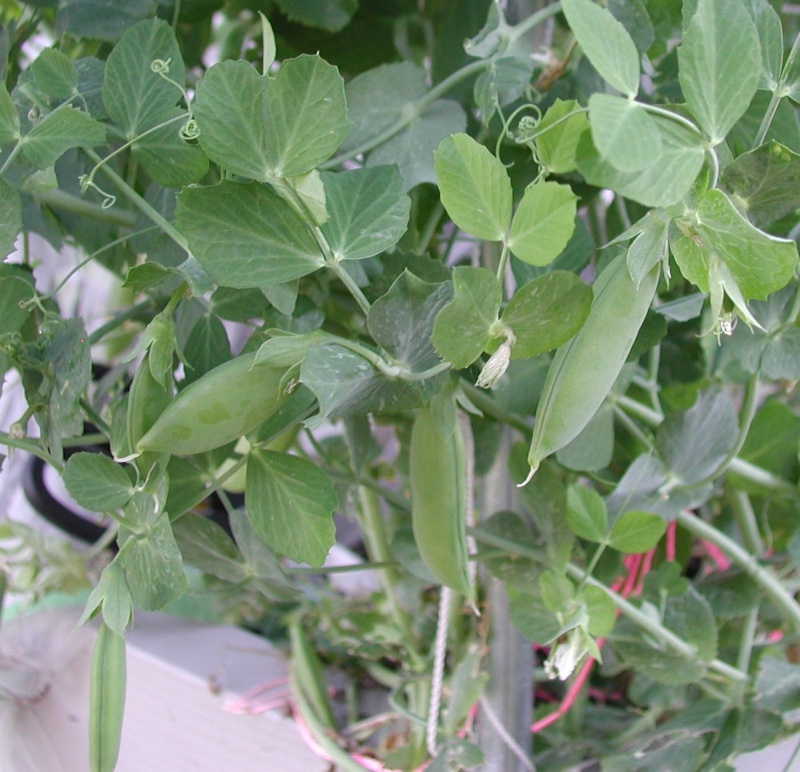 Peppers are doing amazingly well for an area where the highs are upper 60's and low 70's. Our night time lows have dropped to the upper 40's after having stayed in the upper and mid 50's for a lot of July.
Kung Pao Peppers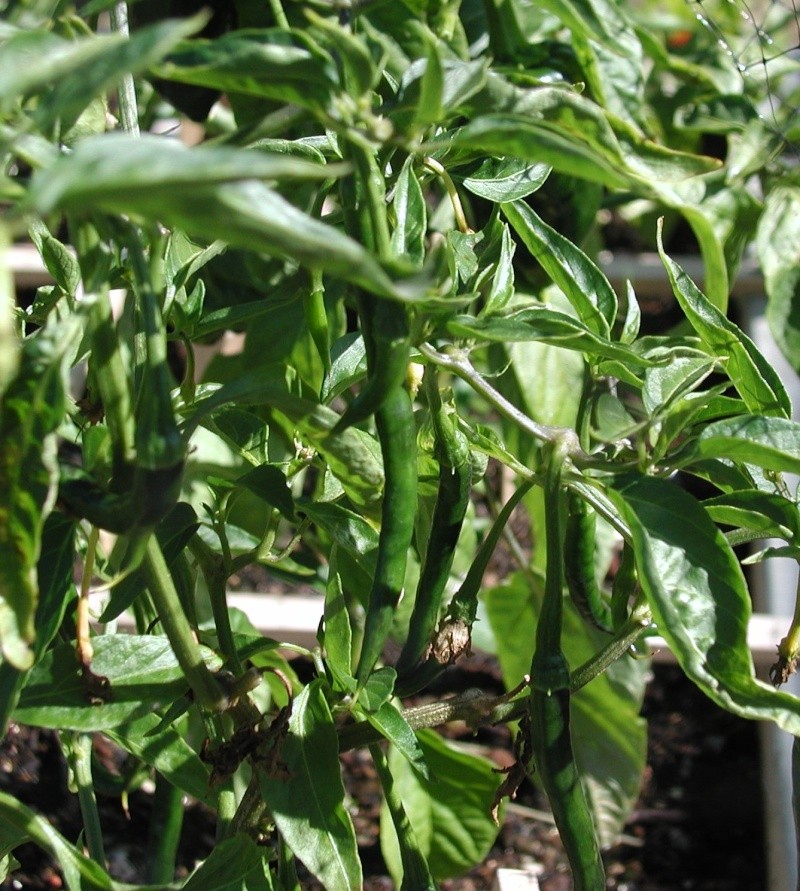 Mulato Anaheim Peppers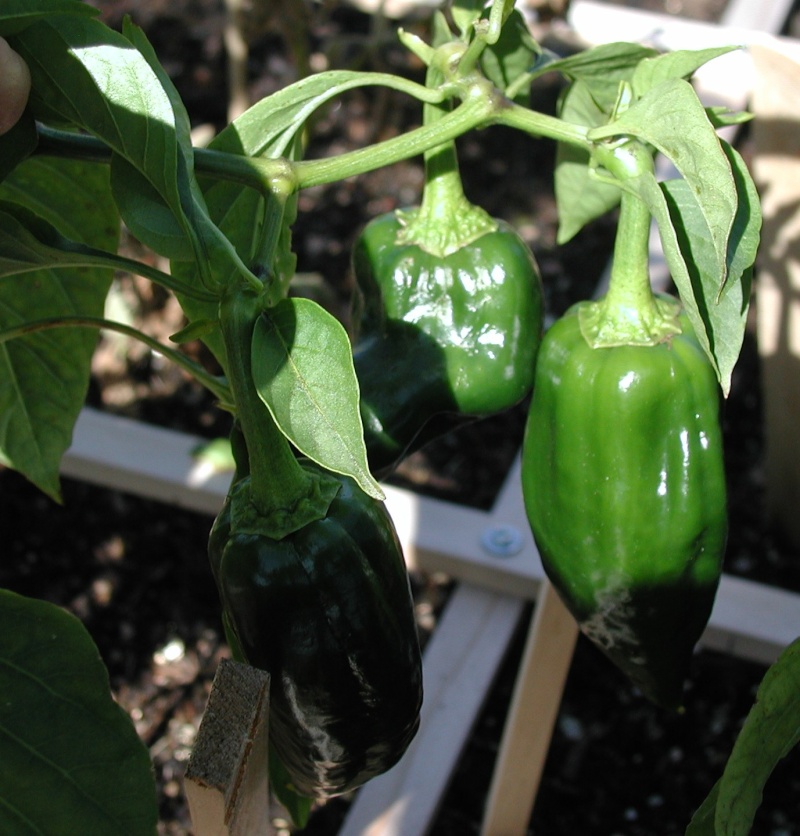 There are absolutely no fall transplants available in in this area. I did not start my own seedlings, so it is direct planting for me. One square of Parsnips (which were supposed to be planted by mid-July) and two squares of Kohlrabi in my SFG. I may be able start a few broccoli or cauliflower seedlings that will be ready to transplant when the beans finish.
More kohlrabi has been planted at the community garden, where I can make grids and use the SFG spacing, but am not allowed to use Mel's Mix. Have to admit, the soil there is not bad, lots of homemade compost helps. The cauliflower and Romanesque Broccoli are almost ready to harvest. This is the first time I have blanched cauliflower and now I know I will be doing that in the future.
Mother Earth News provided the following information
AUGUST PLANTING IN THE PNW
So, how is August shaping up for the other SFGs in the PNW?



Posts

: 3141


Join date

: 2010-06-10


Age

: 71


Location

: Coastal Oregon, Zone 9a, Heat Zone 2 :(



we are doing pretty good....the little bit of a warm spell really helped out the garden.....the sugar snap peas keep giving and i have been able to freeze a whole freezer bag full of peas.....our beans are coming in...we harvested our first just a few days ago.....dont mind the sqaush on the left hand side in the topsy turvy tree....it was really hot that day and they were wilty.....

harvested our first crookneck squash....we are finally getting some ripe tomatoes....and...we pulled up our first carrots yesterday....most were good size....some were small but we enjoyed them just as much!.....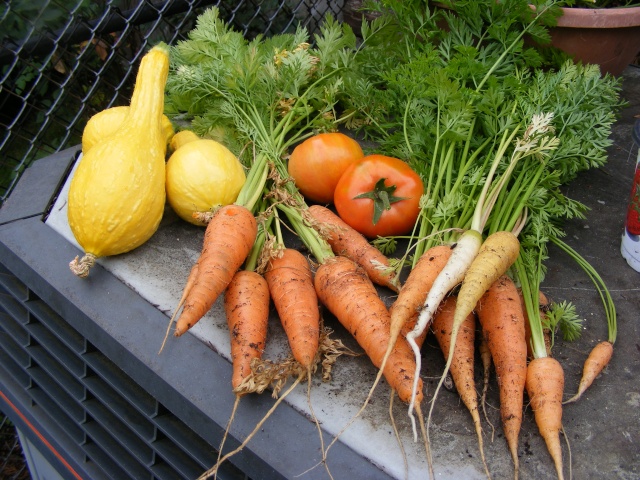 our yellow peppers are really big and we have about 4 or 5 on one plant....but it hasnt changed to its yellow color yet....is that normal for peppers to take so long?
we have one egg plant that looks like something took a bite out of it :scratch:
we have one more wine barrel to harvest red potatoes from.....we were really pleased with the other harvest we got....we learned though that waiting a few weeks longer really did make the difference in the size of the potatoes.....
we are getting baby cucumbers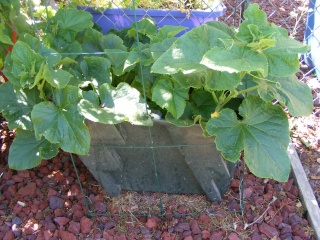 our sweet banna peppers are full of peppers

our three sisters garden is doing awesome!....the corn should be ready to harvest next week, the beans are all flowering....the squash is setting fruit and we have five pumpkins!!
our watermellon plant looks like its going to flower...but i really dont think we will have the heat it needs to do anything.....it was fun trying though

we have been drying herbs.....
we have baby broc's and cauli's sprouting....
we have planted a second run of beans...hoping we get good enough weather to get a second crop.....
our second planting of spinach is coming up....they are about two inch's high
the blueberries are ripening

along with the black berries!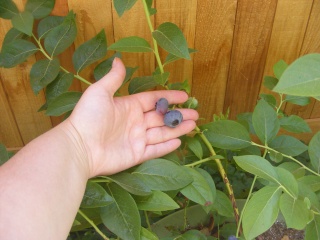 aug has been a busy month so far!
hugs
rose



Posts

: 2424


Join date

: 2011-05-10


Location

: Western WA




---
Permissions in this forum:
You
cannot
reply to topics in this forum