Hello, this noobee needs some help as to when to water tomatoes?
See my pic below, the leaves that are the closest to you just touching the pot are curled up. More like curled in on each edge, all in that cluster are curled in.
Is that telling me it's hurting for water?
When I post this pic the right half gets cut off when you do a close up, to where you can not see most of the curled up cluster. So I'm hoping that there is enough there for you to see.



Posts

: 22


Join date

: 2011-05-13


Location

: SoCa Zones 9 to 10



Welcome, Fireboy It is best to remove lower leaves to prevent desease picked up from splashing soil up on they when watering. Some of my toms normaly have curly leaves. To tell when to water stick your finger in up to the second knuckle and if not moist it is time to water. Also there is a tom desease call leaf curl. There are other causes too. Go to http://www.ehow.com and type Remedies for leaf curl in tomato plants into the search box and you will find all you need to know.

Hope this helps.



Posts

: 1697


Join date

: 2011-04-01


Location

: zone 9a St.Johns county FL



My tomatoes did this early in the season. Mine were NOT hurting for water. That much I can tell you. In fact, they are still doing it. But, they are also producing rather well compared to other years.

I clipped the curling leaves up to about 2 feet above ground and left it at that. Plenty of others curled, but I didn't care as long as I couldn't be sure there was a disease AND the tomatoes were setting fruit. I don't know what causes it, and don't know how to fix it. But, it's not costing me any fruit, so I resort to "if it ain't broke, don't fix it."

If it starts affecting production, in your opinion, ask again. But, until then, I believe it may just be no big deal.



Posts

: 2727


Join date

: 2010-12-25


Age

: 43


Location

: St. Louis, MO



There is leaf curl on some tomatoes and the reason is unknown. It just seems to be normal. I've experienced it myself with no problem with the tomato plant 2 months later so don't worry unless they get brown (then clip them off).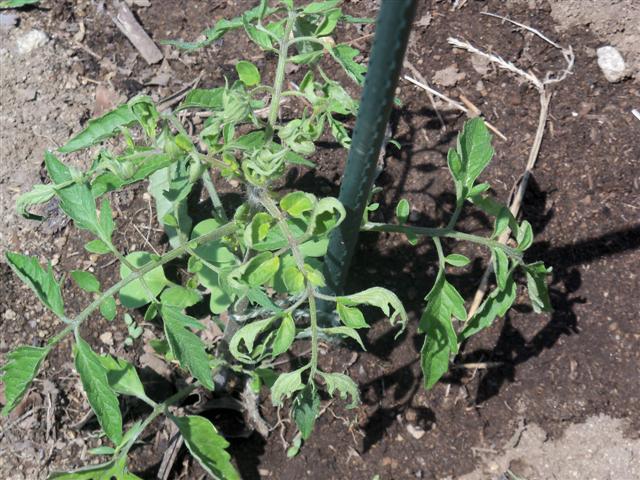 This was a Moskvich on June 15th. Today Its still healthy and producing today.
Same Moskvich last week.
The water test given is perfect. Tomatoes in pots need more watering than those in the ground. You just have to watch your plant and see what it needs. With my pottod toms, sometimes I can go 2 days without watering and other times need watering every day. Just check the moisture levels around the root of the plant.
Enjoy your toms and welcome to the forum.



Posts

: 4682


Join date

: 2010-03-21


Age

: 75


Location

: Southwestern Maine Zone 5A



shannon1, BackyardBirdGardner, quiltbea Thank you, I feel much better now.
So, I'll just wait and see how they do. Again Thank you for the help.




Posts

: 22


Join date

: 2011-05-13


Location

: SoCa Zones 9 to 10



---
Permissions in this forum:
You
cannot
reply to topics in this forum