I'm guessing that most people are harvesting their carrots around now, if not before.
How did the Carrot Day work out for you?
Despite terrible weather I put in two squares on April 14th. The rest I sowed on May 15th, by which time the weather was a bit better.
I think that germination rate was worse for the early carrots (though that doesn't really matter if you sow in two's or three's and then thin). I think that some of the Carrot Day ones are bigger than the later ones but others aren't.
I might give early sowing another go next year; we had a very cold June which may have given the CD carrots a bit of a shock.
Here are samples of my carrots: Carrot Day on the right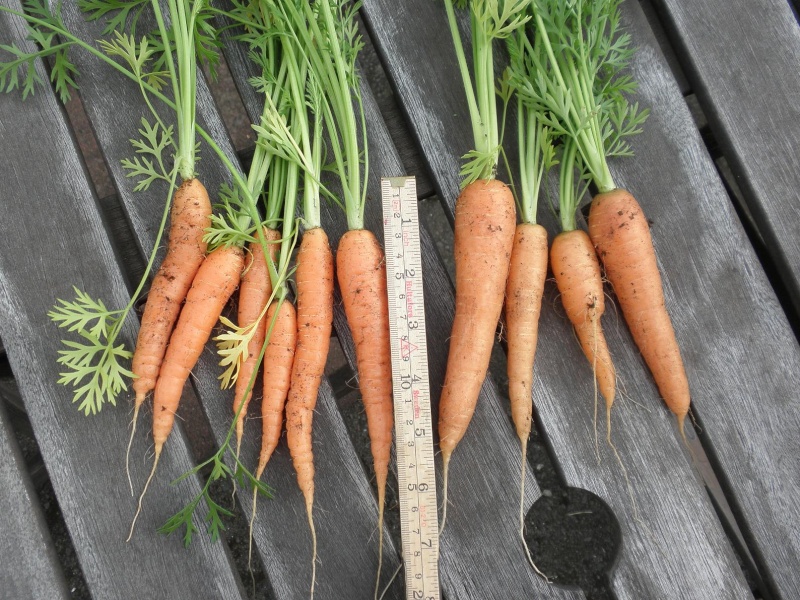 How did yours do?



Posts

: 334


Join date

: 2010-04-27


Location

: Iceland



My carrots did great! I planted little finger carrots really early-direct seeded into my sfg, as well as nantes carrots in my sfg during carrot week. Both did really well. Beautiful carrots, very tasty, nice and straight and varying in size around 3/4" to an 1" around. Awesome. My problem carrots are the ones I planted in a pot. I had some Chanteray Red Core and since they said they got longer than 6", I put them in a pot rather than building a top hat. The greens on my sfg ones were really high and full but the pot ones have still not gotten any higher than about 4 or 5". I haven't stuck a finger in to check the shoulders yet but I am assuming from the greens that they aren't doing as well. Oh well- I guess only sfg carrots next year!



Posts

: 293


Join date

: 2011-03-10


Age

: 41


Location

: Cincinnati Zone 6A



It was a lousy carrot spring here. My Carrot Week carrots are smaller than the ones I planted nearly a month later, and the later planted ones had lousy germination, so I ended up with less than 20 total carrots out of 5 squares. But they were tasty!

GG



Posts

: 3411


Join date

: 2011-02-16


Age

: 52


Location

: Zone 4A - NE SD



It's been a typical carrot season here. The early plantings are slow to go, and the last plantings don't go very far.
Each of these came out of its own square, from the same box (11 inches). They are all Nantes half long. (70 days till harvest LOL)
Planted on:
3/6  3/19  4/2  4/13
carrot week
  5/3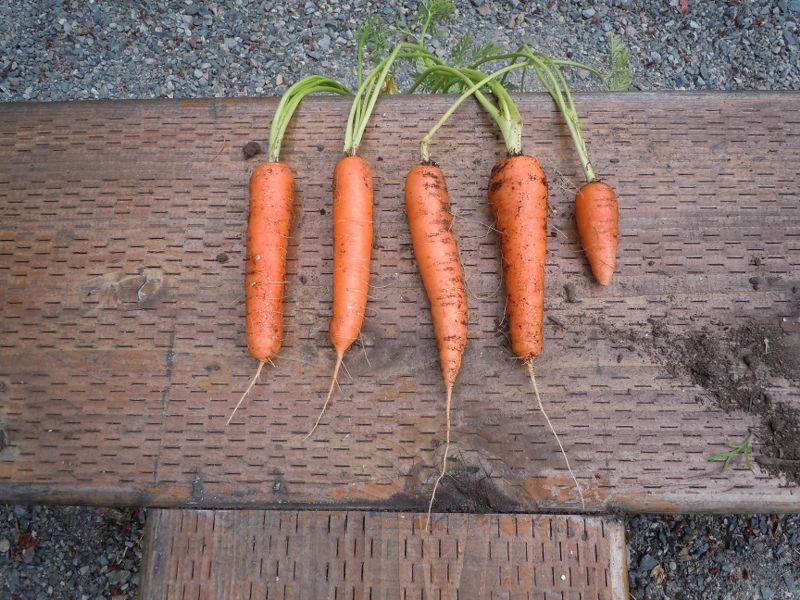 Posts

: 7392


Join date

: 2010-02-26


Age

: 64


Location

: yelm, wa, usa



Well at least some of those have the proper shape Boffer. Mine are clearly not mature yet (though good to eat).



Posts

: 334


Join date

: 2010-04-27


Location

: Iceland



This was my nantes, I pulled them up in July. I grew them in the tt SFG and they did really good.

Certified SFG Instructor




Posts

: 741


Join date

: 2010-03-05


Age

: 22


Location

: Illinois zone 6



Had my grandchildren not visited a couple of weeks ago, I would have been harvesting the April 15 nantes carrots about now. But, them wascally gwandkids ate 'em all but the throw-aways. I'm so proud! Nonna



Posts

: 1437


Join date

: 2011-02-07


Location

: In hills west of St. Helens, OR



our carrots are kinda small....but....at least we got some this year....last year we didnt get any that you could really eat....

the kids harvested these on aug 10th
we planted more today!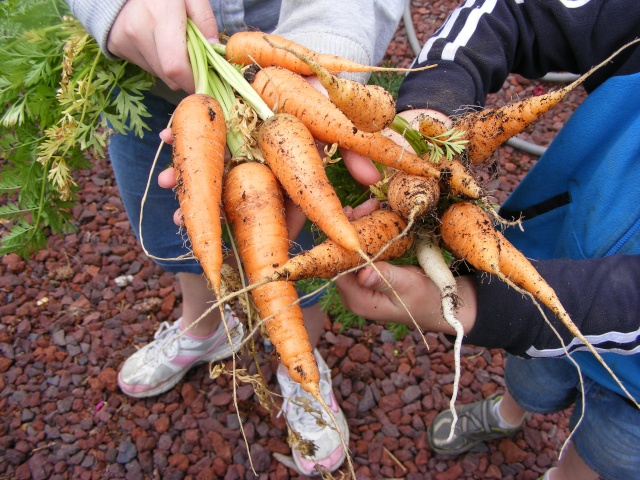 Posts

: 2424


Join date

: 2011-05-10


Location

: Western WA



Nice carrots Rose. If those are the Nantes, they don't grow really big anyway. Ususally about 5 to 6 inches.



Posts

: 3141


Join date

: 2010-06-10


Age

: 70


Location

: Coastal Oregon, Zone 9a, Heat Zone 2 :(



Mine were planted on April 16. The germinationi rate was poor, so I added a few more seeds a couple of weeks later. Still, not all grew.



After four months, none is ready for harvest, although one may be in another month or two. In my yard, carrots generally take about eight months.



Next time I plant, I'll add a bit of bone meal, which I heard is good for root crops.

Certified SFG Instructor




Posts

: 2096


Join date

: 2010-03-02


Age

: 69


Location

: Bend, OR (Zone 5-6)



---
Permissions in this forum:
You
cannot
reply to topics in this forum