Hi
When I was ordering some seed in the Spring I chose Royal Chantenay but obviously did not read the description properly and sowed it in four squares of one of my deep boxes.
Way back in Carrot Week I sowed some Nantes seed in a shallow box because it had a coldframe-type cover over it and I wanted to see if they would do better there than out in the open.
Yesterday I pulled up some of the Chantenay for dinner, and also one of the Nantes from the shallow box.
As you can see in the picture the poor Nantes went looking for more depth but the Chantenay are all shorter than the Nantes-bend.
So I think I will give the Chantenay a try in a shallow box next year and see how they do.
You can see in the picture that although the carrotty bit is short they do have that thin root which carries on down. Does anyone know if even short carrots dislike hitting the bottom of the box? Does it stunt their growth generally or do short types grow just the same in the shallow or deep beds.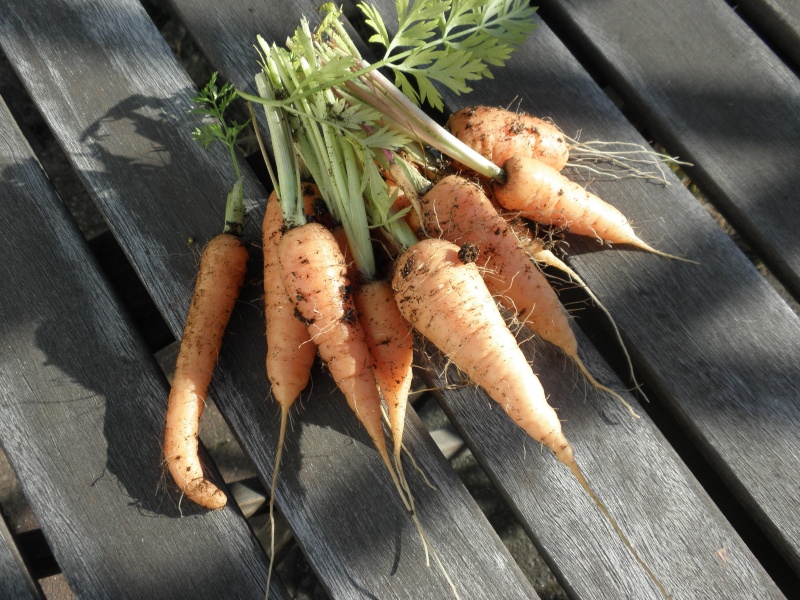 Posts

: 334


Join date

: 2010-04-27


Location

: Iceland



I can only speak to my experience with nantes grown in a 12 in deep box. Some of the nantes carrots went to a full five to six inches long with fine thin roots going down deeper. In another thread, "What are you eating from your garden today?" page 12 is a picture of mine with a ruler next to it. Also if you want to search carrots you should find other information already posted. Hope this kinda helps till others post their experiences!

Certified SFG Instructor




Posts

: 4841


Join date

: 2010-08-20


Location

: Central Ohio zone 6a



The nantes variety, Little Finger, is a good one for a shallow box.



Posts

: 2727


Join date

: 2010-12-25


Age

: 43


Location

: St. Louis, MO



There's also "Paris Market" carrots (available at SSE) that are round http://www.seedsavers.org/Details.aspx?itemNo=1507 instead of long.



Posts

: 300


Join date

: 2011-06-17


Location

: Zone 6b



---
Permissions in this forum:
You
cannot
reply to topics in this forum