I hit up the local garden center end of season sale last month and they had a "pet poo composter" marked 75% off (which made it about $30) I was looking through the directions and it said it could be used as a regular worm bin instead so I got it. Apparently, it's the exact same bin the company just markets them in 2 different ways.
So I bought 2000 red wigglers online and these guys are eating everything! It sits right in my kitchen. It's small so
it's barely noticable, there is no smell and man, can those worms
eat!!! I put all my tomatoes in there that are rotten or half squished
before I get them inside, all my kitchen scraps, paper from my shredder,
coffee grounds, and the worms just gobble it up!
I haven't "harvested" it yet. I think I'll have to read up on it online to see how often I should do that. Any advice?
Here is the one I have(this is my sons about to load it up with worms):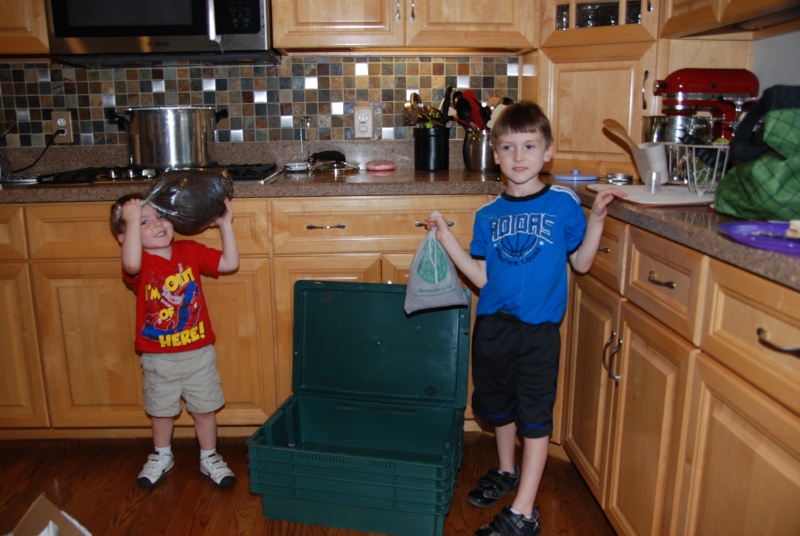 Posts

: 293


Join date

: 2011-03-10


Age

: 41


Location

: Cincinnati Zone 6A



That sounds like a great deal! Which garden center? Do you think they have more?



Posts

: 156


Join date

: 2011-05-25


Location

: Cincinnati, Ohio



Wow! That's great! What temperature do you figure your worms will be at? I thought I read they needed to be a tad cooler, like 50-60 degrees?

I really want a worm bin, but my husband thinks the idea of worms in the house is beyond gross. I have a crawlspace instead of a basement (too inconvenient), so I'm keeping my ears open for any kind of outdoor habitat possibilities that won't let the worms freeze. Either that or hide them in a spare room somewhere - ha.

I heard you can actually just buy the red wigglers at the bait store.



Posts

: 2298


Join date

: 2011-02-25


Age

: 56


Location

: Southern New Hampshire



I have worms also. they are so easy to take care of. I have them in my foyer (we don't use our front door, so it works out great) Everyone just thinks I have a storage bucket sitting there. I don't tell them there are worms in it. LOL I've kept them in the house since March.



Did you get the worms from worms way, in NKY?



I've only harvested a couple of cups worth of casting to make tea.



Congrats on your great score!



Posts

: 567


Join date

: 2011-01-26


Age

: 47


Location

: zone 6, North of Cincinnati



I got it at Delhi(the one in Springdale), they had 2 others when I was there, that was a month ago but I doubt "pet poo" composters are flying off the shelves.

I just ordered my worms online, I think it was Uncle Jim's Worm Farm or something like that. I should of thought of Worms Way, My in-laws live in KY, I could have sent them on a worm pick up!

NHG- From what I read online, you just can't let them freeze and you don't want to let them be outside if it gets over a certain temp, I think it was around 80 F, so that eliminated outside storage for us. They are definitely thriving, we are already noticing a lot of babies!



Posts

: 293


Join date

: 2011-03-10


Age

: 41


Location

: Cincinnati Zone 6A



You guys are getting me excited. I may have to put a small bin in an inconspicuous place and see what happens.




Posts

: 2298


Join date

: 2011-02-25


Age

: 56


Location

: Southern New Hampshire



---
Permissions in this forum:
You
cannot
reply to topics in this forum