Latest topics
»
The Research Journey:Composting Leaves Only
by
sanderson
Today at 2:36 am
»
California's Drought
by
sanderson
Today at 2:24 am
»
Second Year SFG in Canada
by
sanderson
Today at 2:22 am
»
CANADIAN REGION:What are you doing in October 2016
by
Kelejan
Yesterday at 10:47 pm
»
The Research Journey:Back to Eden Organic Gardening 101 Method with Wood Chips VS Leaves Composting Garden Soil
by
has55
Yesterday at 9:36 pm
»
Can i just mix up the Mel's mix right in the garden box?
by
Kelejan
Yesterday at 6:15 pm
»
Fall garden push
by
Cajun Cappy
Yesterday at 5:44 pm
»
Testing MM Calculator
by
pforrester1
Yesterday at 5:09 pm
»
Sweet Potatoes
by
sanderson
Yesterday at 4:40 pm
»
Tomato Tuesday 2016
by
countrynaturals
Yesterday at 4:06 pm
»
When do I prep potted raspberries for winter?
by
trolleydriver
Yesterday at 1:19 pm
»
Please Welcome Our Newest Forum Moderator!
by
CapeCoddess
Yesterday at 12:07 pm
»
who has chickens
by
bigdogrock
Yesterday at 7:12 am
»
N&C Midwest: October Happenings!
by
MrBooker
Yesterday at 7:05 am
»
Sanderson's experiments with Bio-Flora Ag Products
by
dstack
Yesterday at 6:13 am
»
Flowers that easily reseeded
by
yolos
Yesterday at 12:07 am
»
Jade Plant
by
Scorpio Rising
10/25/2016, 11:21 pm
»
Microbes...you gotta see this one !!!
by
Scorpio Rising
10/25/2016, 9:53 pm
»
Fun Spider addition to Home Page
by
Scorpio Rising
10/25/2016, 9:49 pm
»
The Research Journey:Growing in a Raised Wood Chip Organic Gardening Bed
by
has55
10/25/2016, 7:16 am
»
The Research Journey:Building Healthy Soil
by
has55
10/25/2016, 7:13 am
»
the Research Journey:How to Grow Large Healthy Organic Tomatoes
by
has55
10/25/2016, 7:07 am
»
Bountea Compost Tea - Got it!!!
by
sanderson
10/25/2016, 3:23 am
»
Northern California & Coastal Valleys - What are you doing this month?
by
sanderson
10/25/2016, 1:28 am
»
Straw Bales with Seeds?
by
donnainzone5
10/24/2016, 11:50 pm
»
TrolleyDriver's Compost Thermometer
by
jimmy cee
10/24/2016, 10:44 pm
»
Notice: Gluten-free Recipes Sub-Forum- Up and running!
by
BeetlesPerSqFt
10/24/2016, 9:20 pm
»
Our Newest Regional Hosts!
by
Scorpio Rising
10/24/2016, 8:56 pm
»
Indian Solar Gardening Calendar
by
Scorpio Rising
10/24/2016, 8:52 pm
»
Asia Region -Showcase of Gardens - Show Us Yours
by
rajmahendra
10/24/2016, 8:36 pm
It turned out to be such a lovely day today, in the 60s and sunny, that I changed my routine and harvested worm compost instead of making a quilted tote bag. I know I won't be getting many more nice days and this is a job I have to do outside in the yard where I can spread out and get things washed and cleaned. I have a 3-story Can-O-Worms setup which I love. It stays in my bathroom most of the year and under the shade of cool trees in the summer. I only use one story of the condo for living quarters and then make up a clean condo for the next batch of compost farming.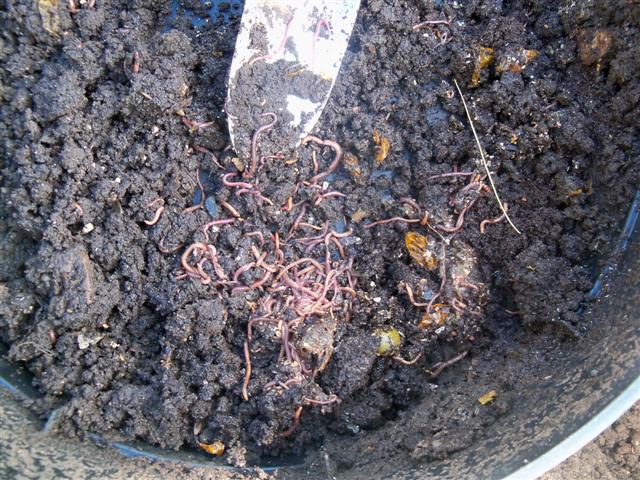 With a pair of latex gloves on for protection, I scooped out the worms and their compost, where I found many clusters of several dozen red wigglers together.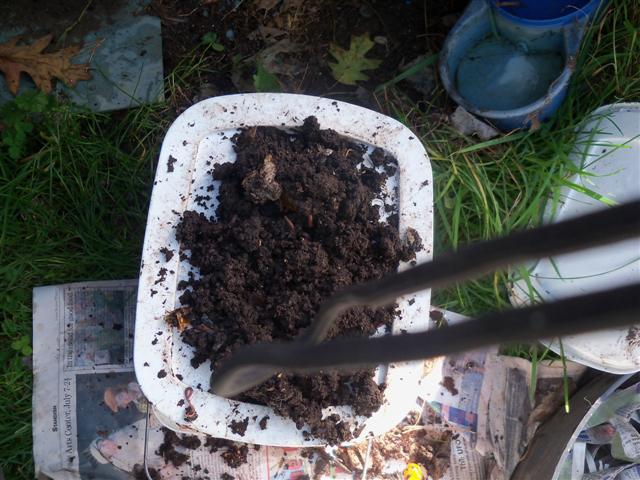 At my age, nearly 70, and with a bad back, I needed a better way to sort so I upended a bucket and scooped compost and worms together on the bottom surface. Worms were picked out and placed in their clean condo quarters with damp newspaper and some finished compost for the organisms that aid in keeping the bed healthy and free from odors. In the photo you can see my camera straps hanging down. Sorry, I didn't notice til I downloaded the pix.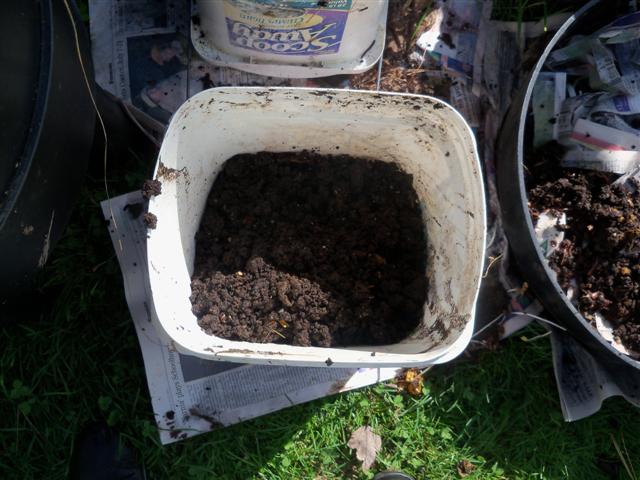 The finished compost went into a 28# bucket and the worms in the new bed to the right with the damp newspaper (you can just see it in the photo). I also trransferred some of the finished compost to the new bed for its micro-organisms that keep the bed healthy and odor-free. When I was thru, I had a full 28# bucket full to the brim for my garden and over 3000 healthy red wigglers to make new compost for me in their clean bedding.
Congrats! How long did it take to harvest the compost? I ask cause I need to do the same and I'm dreading it! LOL



Posts

: 567


Join date

: 2011-01-26


Age

: 47


Location

: zone 6, North of Cincinnati



Nice job

I just started my 1st one. Yours looks great. I hope I will get there some day.



Posts

: 54


Join date

: 2011-10-03


Age

: 49


Location

: Yuma AZ 85364



madnicmom.....I didn't time it, but I'd say around 2 hours. I painstakingly picked out every worm, large and small. When I started to get tired, I wasn't as diligent. Many of the worms got shifted into the compost bucket but that's ok, they'll go into the garden beds this weekend to boost my soil. I found several balls of them in the bottom basement of their condo where there isn't any food, just the richest of wet compost. This area is where the water drains and from here thru the spout into a container outside. For some reason they were congregating there in droves.
Looks great quitlbea!
When I'm trying to get the worms to move to one place so I can harvest my worm castings, I take an over ripe banana, cut in into two pieces, and put it in the the worm bin, the worms love rotten banana, and they will all gather on the inside of the banana peel, eating all the banana, and filling the peel up with a mass of worms, looks really cool too seeing all those worms massed up inside of the peel that has turned black!

Certified SFG Instructor




Posts

: 741


Join date

: 2010-03-05


Age

: 21


Location

: Illinois zone 6



I compost on the ground and have found that earthworms love corn cobs. That's how I get worms into my TTs: When worms infiltrate the inside of the cob, I just bury it into a TT box.



Posts

: 7392


Join date

: 2010-02-26


Age

: 63


Location

: yelm, wa, usa



I know that garden worms love dried brown leaves. If you bury a few handsful in your beds here and there, they will come and hold court thru the winter making lovely rich soil by spring. The red wigglers in my condo love used coffee grinds.

Personal note: I harvest my compost at one sitting because I don't want to have to wait for my worms to move up into the next floor on their own. I need it done quickly. I harvest on a good, clear, slightly warm day so I can scrub and scour and store away the old bed for another season.
In re-reading my post, it appears that I put away my worm condo for the winter. Sorreeeeee! I just put away one floor of the condo, the one I just emptied. I scrub and scour it and store in the garage til needed when I harvest my next batch.
The newly bedded floor of the condo is clean and besides its clean bedding, I've added fresh food, and all my wigglers that I transferred from the other floor.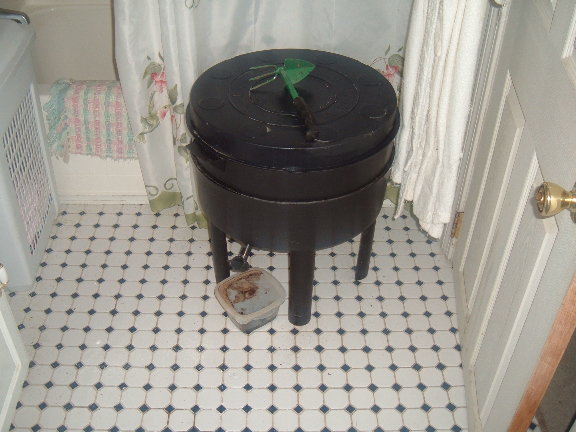 The cleaned condo rests in my bathroom for the winter, away from excess cold. There's no odor.
---
Permissions in this forum:
You
cannot
reply to topics in this forum