The only experience I have with growing tomatoes is determinate varieties; that is, ones that more compact and bushier.

Normally the reason I do this is because I grow tomato plants in containers. I just don't think it's a good idea to grow indeterminate varieties in a confined space, because they sprawl and need lots of space.

However is it possible to grow indeterminate varieties with SFG? If so how many per square? Please tell me how many can be grown per box with vertical gardening and how many per box without using this method



Posts

: 53


Join date

: 2011-10-01


Location

: Boyne City Michigan (gardening zone 5; short growing season....mild and cool climate...hot summers, but much milder than summers in tropical gardening zones)



I grow one inderminate tomato per square and it works fine because I string them. I have 7' tall fence posts on the northern outer corners of my boxes and secure a board or pipe across the top. Along the bottom I string a wire from one post to the other fence post really tight. Then I run a string from the top bar to the bottom wire and tie. As the tomatoes grow I twist them gently up around the string. I use a strong tomato twine and they are sturdy and secure thru the whole season.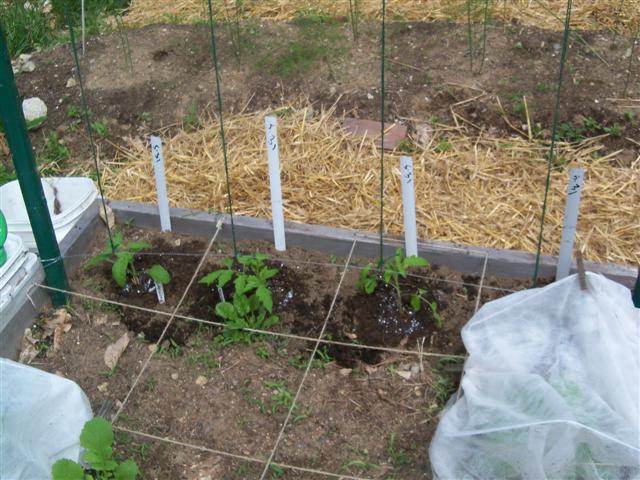 You can see the green tomato twine in the above photo.
You can do the same thing with stakes, just be sure they are strong and at least 6' long.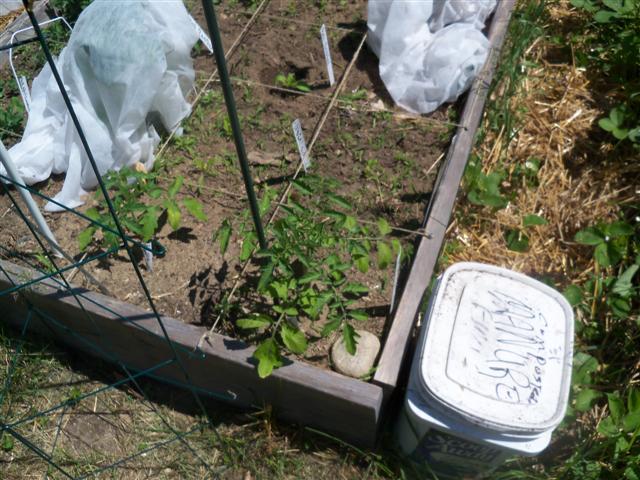 You'll have to tie your branches to the stakes.



Posts

: 4682


Join date

: 2010-03-21


Age

: 75


Location

: Southwestern Maine Zone 5A



One per square, build a conduit trellis like Mel mentions in the book, and you will have 10 foot tomatoes in 6 inches of soil. It'll shock you!



Posts

: 2727


Join date

: 2010-12-25


Age

: 43


Location

: St. Louis, MO



I grew my indeterminate tomatoes in every other square with smaller plants in some of the squares in between. I used a similar stringing trellis system as Quiltbea, but I had constructed an overhead trellis frame.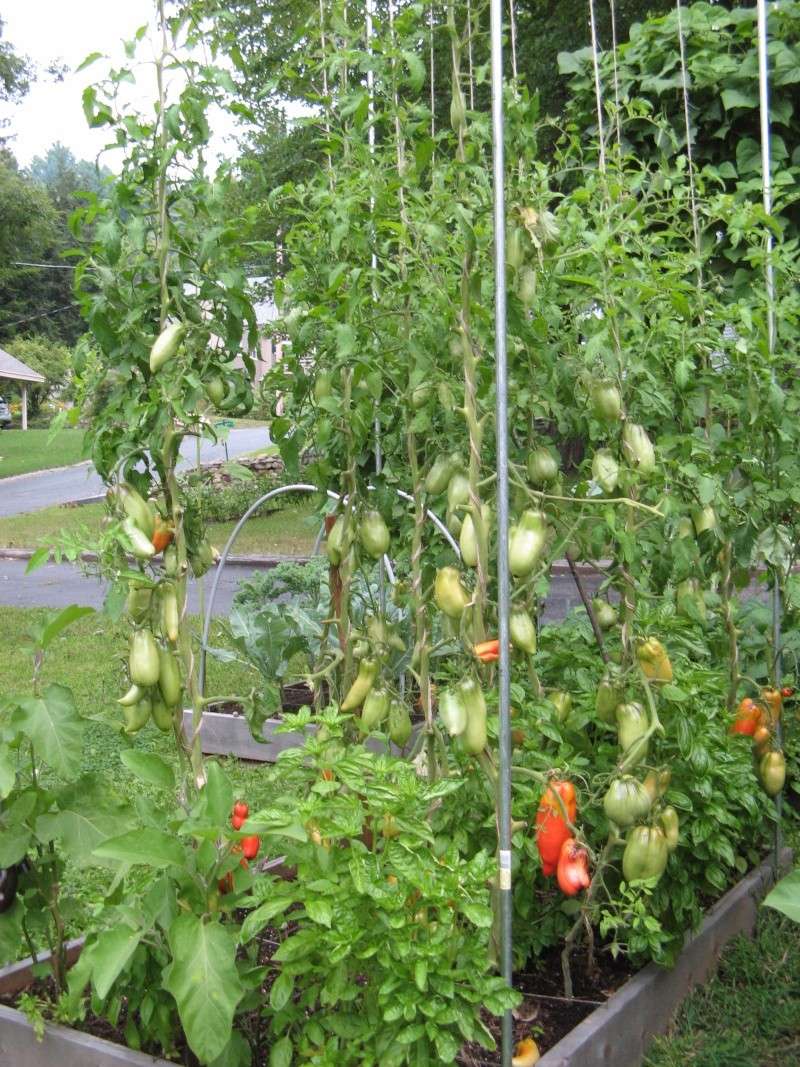 ____________________________
41 years a gardener and going strong with SFG.
http://squarefoot.creatingforum.com/t3574-the-end-of-july-7-weeks-until-frost
There are certain pursuits which, if not wholly poetic and true, do at least suggest a nobler and finer relation to nature than we know. The keeping of bees, for instance. ~ Henry David Thoreau
http://squarefoot.creatingforum.com/t1306-other-gardening-books

Forum Moderator Certified SFG Teacher




Posts

: 14165


Join date

: 2010-03-06


Age

: 54


Location

: Keene, NH, USA ~ Zone 5a



I wonder if using lettuces or spinaches in between would keep them from bolting later in spring since they like cooler temps and don't mind a dappling of shade?



Posts

: 2727


Join date

: 2010-12-25


Age

: 43


Location

: St. Louis, MO



I start lettuce seed in my coldframe and then stick small lettuce plants between my tomato plants as a given. They provide the shade that helps them grow and prevents bolting. Spinach would also benefit from growing between tomatoes. I also cut away any branches on my tomatoes 6"-8" up from the soil so they don't get splashed with bacteria during the rains and I mulch them as soon as the soil is warm as an added measure against soil-borne diseases.



Posts

: 4682


Join date

: 2010-03-21


Age

: 75


Location

: Southwestern Maine Zone 5A



---
Permissions in this forum:
You
cannot
reply to topics in this forum