Latest topics
»
Aerogrow by Miracle Grow
by
yolos
Today at 12:27 am
»
Floating Away and New Seeds!
by
Kate888
Yesterday at 11:46 pm
»
Areogardening
by
BeetlesPerSqFt
Yesterday at 9:54 pm
»
2018 SFG in Brooks, GA
by
Scorpio Rising
Yesterday at 9:39 pm
»
N&C Midwest: February 2018 !
by
Scorpio Rising
Yesterday at 9:31 pm
»
Your favorite blackberries or raspberries?
by
donnainzone5
Yesterday at 9:30 pm
»
Seed Organizing Ideas
by
donnainzone5
Yesterday at 9:28 pm
»
Happy Birthday!!
by
sanderson
Yesterday at 1:38 pm
»
has55's R & D Journey
by
sanderson
Yesterday at 1:55 am
»
parsnips in square foot garden?
by
sanderson
Yesterday at 1:43 am
»
WANTED: Pictures of Compost Bins
by
bigdogrock
2/19/2018, 10:28 pm
»
A new SFG fan from Texas
by
BeetlesPerSqFt
2/19/2018, 10:27 pm
»
The New Square Foot Gardening Foundation page is now online!
by
sanderson
2/19/2018, 6:40 pm
»
February: What to plant in Northern California and Central Valley areas
by
sanderson
2/19/2018, 6:31 pm
»
How's the Weather Where You're At?
by
Scorpio Rising
2/19/2018, 6:24 pm
»
Invasive Tree Roots - Very important topic for newbies.
by
sanderson
2/19/2018, 6:23 pm
»
excited to be here!
by
Kate888
2/19/2018, 2:57 pm
»
Northern California & Coastal Valleys - What are you doing this month?
by
sanderson
2/18/2018, 2:58 pm
»
Butterfly Junction
by
sanderson
2/18/2018, 12:16 am
»
New England Feb 2018
by
sanderson
2/17/2018, 8:14 pm
»
Eggplant - (Japanese) Millionaire
by
Scorpio Rising
2/17/2018, 11:42 am
»
TrolleyDriver's Compost Thermometer
by
has55
2/17/2018, 8:17 am
»
SUGA 2018
by
SQWIB
2/16/2018, 3:15 pm
»
LED grow lights......any advice?
by
sanderson
2/15/2018, 12:08 pm
»
Mystery plant - need ID please
by
yolos
2/14/2018, 8:44 pm
»
new to the site from Arkansas
by
Scorpio Rising
2/14/2018, 8:36 pm
»
Hiya from Massachussets
by
Scorpio Rising
2/14/2018, 8:31 pm
»
What I learned this year
by
Scorpio Rising
2/14/2018, 8:21 pm
»
Happy Valentine's Day!
by
Scorpio Rising
2/14/2018, 8:19 pm
»
Jicama
by
countrynaturals
2/14/2018, 3:29 pm
Page 4 of 4 •

1, 2, 3, 4

The book I have is the second one. Very good and is very particular about what each type of sprout needs. I would advise against soaking overnight,though. I've killed seeds that way, and the Brauenstein book differentiates how much of a soak each seed needs. Out of the dozens of types of seeds he covers, the soaking time is generally somewhere between 3 and 8 hours.
sanderson, each seed needs different numbers of wettings per day. Generally, 3 to 5 is about right, but again, it varies by seed.
Out of the several types of sprouters I've used, I like this one best, but it is being sold at a premium now:
http://www.amazon.com/Accessory-Germinator-Davids-Garden-Seeds/dp/B006JGJ8ZC/ref=sr_1_8?ie=UTF8&qid=1390769891&sr=8-8&keywords=seed+sprouting+trays
The "updated" version is this, which looks like the same thing pretty much:
http://www.amazon.com/Victorio-VKP1014-4-Tray-Kitchen-Sprouter/dp/B005FVPP04/ref=pd_bxgy_lg_text_y
The only problem with these trays is they're a little short, and tall sprouts like mung beans can start to push the trays up and apart from each other. At that point, the sprouts may still benefit from another day or two of growth, and it's time to pull the trays apart and water and grow each separately. This is much less of a problem with sprouts like radishes, and not a problem with small sprouts like brocolli or, usually, alfalfa.
This is one of the flat tray types I tried, but as much as I wanted to, I didn't really like it because the roots went down through its holes and then the sprouts had to be cut or ripped out, shredding them up a bit:
http://www.amazon.com/Sprout-Master-Mini-Triple/dp/B000FK52B2/ref=pd_sbs_gro_4
This is typical of a pre-made sprouting jar:
http://www.amazon.com/Quart-Glass-Sprouter-Sprouting-Strainer/dp/B000N8FGLC/ref=pd_sbs_gro_6
You can see that it isn't so different from what you could do with a spare jar of your own.
As far as seeds, I had good results from Todd's Seeds through Amazon. I also get good seeds from my local farmers market store, including some raw mung beans I just tried out that all sprouted well.
This is the updated version of the lettuce spinner I have:
http://www.amazon.com/OXO-Grips-Green-Salad-Spinner/dp/B001QTVT4A/ref=sr_1_2?ie=UTF8&qid=1390770726&sr=8-2&keywords=lettuce+spinner
Excellent for helping remove hulls from the sprouted seeds. That's especially important with mung bean sprouts, as the hulls have chemicals in them that we don't want in any quantity in our bodies. It's a bit of a fussy job, I won't lie. Sometimes the hulls help by rising to the top or sinking to the bottom, and you can pour or strain a lot off quickly that way. But there will always be plenty that give you an argument. A lettuce spinner helps a lot, but you may be spending a few minutes per tray occasionally.
I've been sprouting for...oh lessee...decades actually...and I've always soaked the seeds overnight.  I rinse only twice a day, morning and night, treating all the seeds the same way.  They all do their own thing in their own time.  I have never read a book on how to do it properly or what tools to use.  With my li'l pea brain, a book might complicate things.  

  I should also add that normally my jars are set up tilted in the dish drainer or dishwasher, where ever there's room, to make sure all the water drips out.  But this time of year it's so dry in here that I just drain then lay the jars on their sides to retain a bit of moisture.
As for growing sprout seeds, the closest I've come so far was to plant some sprouted broccoli seeds.  They never flowered, hence no seeds.  But the leaves were delicious.   
CC



Posts

: 6540


Join date

: 2012-05-20


Age

: 61


Location

: elbow of the Cape, MA, Zone 6b/7a



I also want to recommend The Sprout House for seeds, through Amazon. That's where I got most of my seeds.

And China Rose radishes!

Re how many times to wet a seed, the main thing is to not let them completely dry out. If you water some seeds more times per day, though, you'll get faster growth, speeding up your turn-around time till you can plant your next crop.

One of the weaknesses of sprouting is that unless you have multiple containers going at once, you'll have down times when you're just growing sprouts, not eating them. No big deal if you don't eat many, or there's only one sprout-eater in the house. But you may grow to really love fresh sprouts, and in that case, you'll always want to be growing them quickly and to have fresh batches coming in every few days.
Marc, thank you for all the information!  


Forum Moderator Certified SFG Teacher




Posts

: 15387


Join date

: 2013-04-21


Age

: 69


Location

: Fresno CA Zone 8-9



we have been researching on sprouting for our chickens and thought about using this one from the link above that Marc gave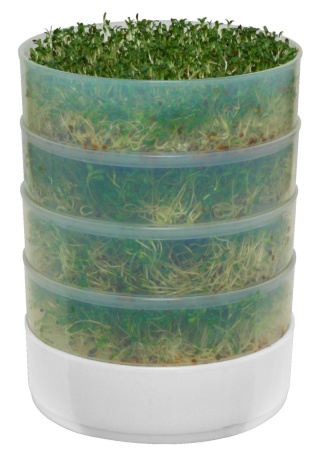 I haven't read starting from the first page so sorry if this has been asked already but by using the sprout trays from above can we start the sprouts on separate days so to have sprouts growing in different stages for our chickens?
happy gardening
thanks
rose



Posts

: 2424


Join date

: 2011-05-10


Location

: Western WA



Of course you can, Rose. That's why you have several trays.
Start them one day apart, two days or as many days  as you want. As you empty one tray, refill it it at once and keep the sprouts coming.  




Posts

: 5058


Join date

: 2011-04-24


Age

: 82


Location

: Castlegar, British Columbia



Yup.

Only thing is, I'd keep mung bean sprouts on the bottom, as they leach a lot of green into the liquid that drains from tray to tray, and being that their hulls have mild toxins in them, I wouldn't want those toxins soaking into any trays beneath. In fact I grow mung beans each in their own separate home-made tray these days.



Posts

: 84


Join date

: 2012-05-15


Location

: Phx AZ






Posts

: 6540


Join date

: 2012-05-20


Age

: 61


Location

: elbow of the Cape, MA, Zone 6b/7a



Page 4 of 4 •

1, 2, 3, 4

---
Permissions in this forum:
You
cannot
reply to topics in this forum