tiffanytiddles wrote:Im loving having a great vege garden this year
but i have green bugs and have no idea what they are
they seem to enjoy the potato plant
I suppose it's the same bug...but in your case...down under:lol:
I'm calling it a green stink bug Tiffany
...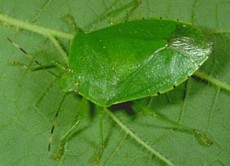 Green Stink Bugs (Acrosternum hilare) ... one of the most commonly seen insects of the summer months. They are 3/4 of an inch long, and bright lime green or grass green in color.
Sometimes referred to as Green Soldier Bugs. They are found in woodlands, gardens and grassy areas.
They feed on plant juices of flowers, garden crops, farm crops, fruits, and trees. In large numbers they can sometimes be a pest and cause significant damage. They have a mouth that resembles a beak, they use this "beak" to pierce plants or leaves. Using an enzyme contained within their mouth they are able to break down plant tissue, allowing them to suck out the juices. As adults they seem to prefer the seeds of various developing plants. Here's an immature nymph



Posts

: 35


Join date

: 2011-09-24


Age

: 63


Location

: Kenyon, Minnesota zone 4



Thanks for that info easy to look up now i have a name
Interesting how im in melbourne and most sites say they are found in NSW and QLD

From a brief search this bugs seem to like tomatoes ...not in my garden lol .They are only on the potatos . I have leaves that look wilted im guessing this is from the bugs
didnt find much on getting rid of em
Hi there,
These bugs look similar to the harlequin bugs which can cause problems on our hibiscus. Very pretty but boy, do they
pong
. We classify them all as Stink Bugs. lol
If you prefer organic solutions try something like Beat-a-bug spray, which has a combination of garlic, chili etc. I think the Gardening Australia website has a recipe if you want to make your own.
The potato wilt may not be from these guys. Potato is susceptable to various fungal problems which can cause wilting. The potato also wilts and dies back before harvesting as well. How long have your potatoes been in?
Not sure if any of this is of any use to you. Best of luck with it all




Posts

: 5


Join date

: 2011-04-16


Location

: Subtropical SE QLD Australia



Last year these BUGgers killed all my sunflowers.

they were about 6 feet tall and every day Id find another one on the ground.

I do believe I called them something else but the name was nauighty:evil:



Posts

: 76


Join date

: 2010-03-07


Age

: 82


Location

: Spring Hill,Florida zone 9b



I've had a big problem with a close relative of the Green bug, called the Leaf-Footed Bug. I keep a jar of alcohol in my garden in the shade, and I catch one whenever I see it and drown it in the alcohol. They are hard to catch !!



Posts

: 383


Join date

: 2010-04-08


Location

: Florida Panhandle



Ohh, sceleste - I can relate about the Leaf-Footed Bugs! They've been my biggest insect problem this year. I've rarely seen a regular stink bug this year - they were really bad last year, though.

I've grown to hate those Leaf-Footed Bugs so bad that I will grab one barehanded and squash him! Kinda gross, but if I don't catch them fast, they'll multiply and have their nymphs on my plants!

I have super light bug covers on my beds, now, though, so they don't get a chance to get to the plants!



Posts

: 850


Join date

: 2011-04-03


Age

: 65


Location

: Mississippi Gulf Coast Zone 8B



potatos are very sad looking at present put them in late in season cant remeber exactly when ...not so many bugs visable but wilted leaves on spuds have planted corn with spuds that seems to growing well
i did see some flowering on spuds a while back but i didnt think all plants flowered
---
Permissions in this forum:
You
cannot
reply to topics in this forum