Latest topics
»
CANADIAN REGION: What are you doing December 2016
by
sanderson
Today at 10:27 pm
»
Gardening in Central Pennsylvania
by
BeetlesPerSqFt
Today at 10:05 pm
»
Winter Reading, Anyone?
by
Scorpio Rising
Today at 9:02 pm
»
Anyone out there tried crosne tubers?
by
Scorpio Rising
Today at 8:49 pm
»
Sprouted Onion Question
by
AtlantaMarie
Today at 8:45 pm
»
N&C Midwest: December 2016
by
Scorpio Rising
Today at 7:37 pm
»
California's Drought
by
sanderson
Today at 6:11 pm
»
Northern California & Coastal Valleys - What are you doing this month?
by
sanderson
Today at 6:07 pm
»
2016 SFG in Brooks, Ga
by
sanderson
Today at 6:00 pm
»
Greenhouse dreams
by
sanderson
Today at 5:58 pm
»
New England, December 2016
by
CapeCoddess
Today at 5:49 pm
»
What are you eating from your garden today?
by
plantoid
Today at 5:47 pm
»
CHALLENGE - Smallest possible footprint
by
BeetlesPerSqFt
Today at 5:05 pm
»
Butterfly Junction
by
countrynaturals
Today at 4:56 pm
»
1,000 worms on their way....
by
llama momma
Today at 2:16 pm
»
Garbanzo (Chickpeas, Cicer arietinum) and Kidney Beans
by
llama momma
Today at 1:59 pm
»
Tomato Tuesday 2016
by
Ginger Blue
Today at 1:57 pm
»
New Member
by
AtlantaMarie
Today at 7:29 am
»
1st Seed Catalog Arrived :)
by
AtlantaMarie
Today at 7:24 am
»
Calcium and Magnesium Deficiency
by
sanderson
Today at 2:14 am
»
Happy Birthday!!
by
Scorpio Rising
Yesterday at 9:29 pm
»
Facebook - SFG Foundation postings
by
sanderson
Yesterday at 12:32 pm
»
Mid-South: December 2016
by
AtlantaMarie
Yesterday at 7:40 am
»
Second Year SFG in Canada
by
sanderson
Yesterday at 4:16 am
»
TrolleyDriver's Compost Thermometer
by
trolleydriver
12/8/2016, 5:21 pm
»
Holy snow Batman!
by
donnainzone5
12/8/2016, 12:13 pm
»
Garlic: Freeze, thaw, and heave
by
camprn
12/8/2016, 7:05 am
»
GF Collard Greens, Kale Recipes
by
BeetlesPerSqFt
12/7/2016, 12:49 pm
»
Bon fires on the Levee
by
Cajun Cappy
12/6/2016, 12:17 pm
»
Mid-Atl - Dec 2016 - Seed Catalog ?
by
Scorpio Rising
12/5/2016, 10:24 pm
I pulled up all of the remaining tomato plants today resulting in a few pear tomatoes for me and 8 very happy chickens snacking around my feet. Summer is over but the garden is not done yet!
I uncovered a few of the beds to water and found this little beauty. I like parsnips but they seem to be hard to germinate at times. It measured 12 inches to the tip of the root.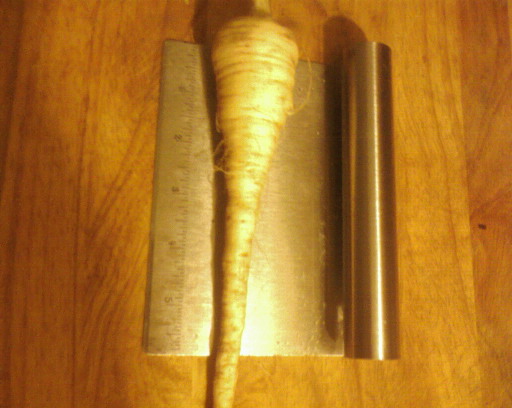 The chard, kale, spinach, arugula, lettuce, parsley, rutabaga, turnips, beets and radishes are all looking good. Had spinach-arugula salad with dinner tonight and I am hoping that everything will continue to survive throughout winter.
Anyone else in the PNW still having success in the garden?



Posts

: 304


Join date

: 2010-05-26


Location

: East County Portland, OR



Thanks for asking. On a whim I pulled out my first every celeric for a soup I was making. YUM-O! I will be putting in a whole lot more of this next year.

Deborah....all out of turkey



Posts

: 2054


Join date

: 2010-03-03


Age

: 59


Location

: Everett, WA USA



Oh look - someone in the PNW forum that's actually near me!

Hi happycamper!
So you took advantage of the dry day yesterday! Me too! I've watched out my window daily and the peas had gotten pretty gnarly looking. They kept putting out new blooms, but the wind and rain had knocked them all loose from the trellis and they were a mess. I tore them all out, and in spite of all the blooms I'd seen over the last few weeks, I didn't find any pea pods. My spinach has sat there for weeks and weeks without producing. I don't really get that, since it's supposed to like cool weather. So I tore it out, even though it looked perfectly healthy. I bet there's a good chance it would have stayed just fine all winter and started producing again in the spring, but I'd rather find a different variety I guess.
I tore out most of the broccoli. (That wasn't as easy - lot of roots that didn't stay in their squares). They are all putting out copious side shoots, but so very tiny and growing so slowly. Decided it wasn't worth darting out between rain systems this winter for the tiniest handful of florets every few weeks. It got too dark to do the rest. All that I'm keeping is the cauliflower because I haven't harvested yet and I'm just curious how far they'll go. Once I get those last broccoli out, I'm putting garlic in.
You've got a lot more going in your fall garden. I have much to learn.

Certified SFG Instructor




Posts

: 1413


Join date

: 2011-05-11


Location

: Vancouver, WA



I'm so excited to have an answer to this one!
My 4x4 has lettuce under the cloche, growing so slowly, and one of my 4x8's is covered, and has lots of things (spinach, carrots, parsnips, beets, 8" tall Brussels sprouts) that aren't really doing anything, because I put them in too late,

and gai lan and peas that are producing, but slowly.

I'm with gweniffer about the broccoli removal and garlic planting. My huge broccoli plants from spring are still getting tiny heads, but, so what? I'd like to get those bulbs in the ground before I eat them.
I still have some onions, carrots and beets in the ground. The bunnies were too happy about this, so I mulched with seaweed, and things look good so far.
The bamboo stakes stuck everywhere at odd angles seem to have scared the deer away. They were way too excited about the squash being gone and leaving empty space for them to roam around inside the fence. They even found the seaweed attractive! Hoofed rats with antlers.



Posts

: 242


Join date

: 2011-09-21


Age

: 109


Location

: Away



It's not quite spring in the PNW and still freezing some nights but things are growing under the nearly daily heavy cloud cover.
Several items planted in late fall have really started growing. The Kale I harvested throughout winter has regained a second life and will require another batch of kale chips. The chard and arugula is ready to be harvested and we have been snacking on it when outside the past few weeks.
The peas planted in February are sprouting, lettuce sprouted, radish growing but the spinach that had sprouted was wiped out by the chickens today (lucky that the winter spinach was saved in time).
I learned a great deal from my first winter garden of 2010, corrected a few mistakes and it helped for a successful winter garden in 2011. My winter garden will quickly be transitioned into a spring 2012 garden.
I live in zone 8 and would like to tell anyone in the area that it is worth the investment of two 10 foot 3/4' schedule 40 PVC pipes and a roll of plastic (mine is cloudy and not clear) to cover a 4'x4' as an experiment in winter gardening in the PNW.
I am getting ready for spring, here is a picture of 6 endive and my first round of tomato babies.




Posts

: 304


Join date

: 2010-05-26


Location

: East County Portland, OR



How inspiring! So the peas that have sprouted are under cover then? I should be seeing pea sprouts this week if they take. Hope so, since I really did love the peas last fall.

Certified SFG Instructor




Posts

: 1413


Join date

: 2011-05-11


Location

: Vancouver, WA



---
Permissions in this forum:
You
cannot
reply to topics in this forum