So I converted an old college loft into a table top garden and it is covered with a hoop. The table is about 7ftx3ft
What would you plant there? I have a TON of stuff. I was thinking most of my lettuces, swiss chard, and spinach. Maybe beets, radishes, and other rooty veggies. Would you throw onions in there or just leave them for another box? I was thinking (but not sold on) putting onions in the whold back row of the box ( 54 onions at 9/box) and my leafys in the rest? I also have turnips, rutabages, carrots (little ones), celery, fennel, and arugala as other "small" items.
So, throw out some ideas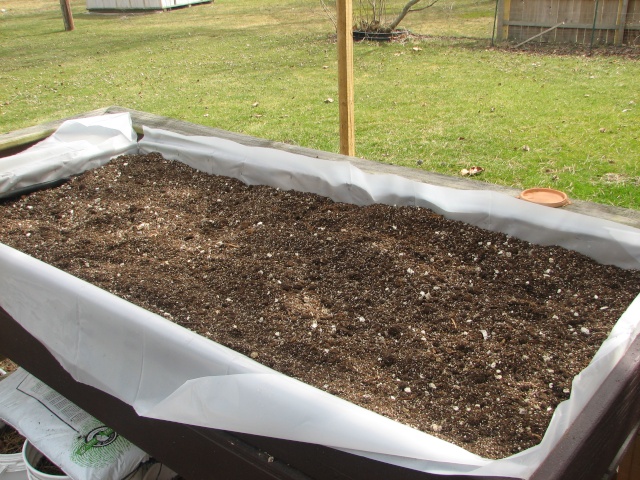 Yup, this was part way through the mix filling.



Posts

: 768


Join date

: 2010-03-11


Age

: 37


Location

: Flint Area, Michigan (zone 5a-5b)



My first TT box I started with the veggies that slugs like best, and shorter, smaller stuff, and plants that generally get more attention, and plants I was likely to replant 2 or 3 times in the season(radishes). We usually snip greens from different plants rather than yanking one whole one for dinner. It's easier on a TT. I also did carrots-planting and thinning is a piece of cake. Something like broccoli is normally care free, when it's time to harvest, the goodies are thigh high and easy to get. No reason to put them in a TT.

I grow onions, celery, and beets in TT but I don't know if there's any advantage. I would recommend at least one tomato plant. I was amazed at the details of the plant that I saw when it was in my face, that I had never noticed when they were on the ground. Maybe that's too geeky. It might be interesting to plant 2 tomatoes of the same type. Plant one 'normally' with the root going down. Plant the other using the 'trench' method. Then, after harvest, study the root structures of each. Then report your findings back here, as I haven't done a side by side test like that yet!



Posts

: 7392


Join date

: 2010-02-26


Age

: 64


Location

: yelm, wa, usa



---
Permissions in this forum:
You
cannot
reply to topics in this forum