I am planning to build my first garden using the sqft method. The best place I have for a garden is in a very windy area that is on top of a hill. I have read that mels mix is such a loose soil that it causes some people problems with taller plants such as corn falling over. Is there a fix to this other than heavy duty stakes for each plant?
Also, I am in the deep south in middle Georgia. Getting enough sunshine is no problem... but how much is to much? It can be so hot in the summer it's hard to imagine any plants thriving in the outdoor oven. Course i've never gardened before so maybe thats just a faulty notion on my part.
Btw, If I post questions that have been asked/answered elsewhere I apologize. I dont have internet at the house and I can only spend so much time at work goofing around on the internet

[quote="JK
Btw, If I post questions that have been asked/answered elsewhere I apologize. I dont have internet at the house and I can only spend so much time at work goofing around on the internet

[/quote]
JK and don't apologise for asking about things that have been talked about previously. Always someone here ready to show off their knowledg: even newbies love to share what they have learned. Sometimes it is quicker to ask a direct question than to browse through the threads. When you have time, then that is when you browse.
As to your questions above, I cannot answer them but I am sure someone will help you.
ETA: If I had too much windy weather I would not bother to plant corn but concentrate on low-growing plants.



Posts

: 4943


Join date

: 2011-04-24


Age

: 82


Location

: Castlegar, British Columbia



Hi, JK, and welcome to the forum!
My garden gets a fair amount of wind, but I don't have the heat you do, nor the sun. My guess is that you'd need a windbreak of some sort, though. I have something that looks like snow fencing (oh, I guess you wouldn't know what that looks like in GA
)
Along highways, they erect this bright orange plastic netting that's only about 60% hole, and 40% plastic to keep snow from drifting across the road. I have it in green: ever so much better looking.
There are some Texans and southerners around here somewhere that might know better, if they're not out shopping......

j



Posts

: 242


Join date

: 2011-09-21


Age

: 110


Location

: Away



Hehe, your right I can honestly say I have never seen snow netting. I've seen plenty of that orange netting that DOT uses though. I think im going to toss the corn since this will be my first year gardening and give it a try later once I know what I'm doing with the easier stuff

.
With high temps and lots of sun is there a point where its better to intentionally plant in a shady area or is to much sun still better than less?
Back in one of my old homes I lived in a 1864 rail crossing gate keepers house perched on top of a manmade railway mound that led to the sidings/ marshalling yards two miles away . We got hit by winds almost every day as we were nigh on 40 feet above the rest of the land which was as flat as a pancake and open pararie style farmed .

My beds at the time were earth based and heavily manured but the solution may be the same or a modified version for ANSFG bed . I planted the corn in stands of 16 ... 4 plants wide by 4 plants deep and knocked six foot stakes in at each row end then wound a nylon line with sections of an old perished 1/2 hose pipe on it around them to make a grid of small squares that were protected on the sides with the old hose to stop plants getting sawn in half by the cord .
Once the plants got to 3 foot 6 high I guided them through the holes and let them grow to harvestable cobs.



Posts

: 3718


Join date

: 2011-11-09


Age

: 66



Small plots of corn are prone to blowing over regardless of what they are planted in. Here's a 8x25 feet corn patch, native soil and compost, that was subjected to just the right combination of rain and wind. The steel framework just happened to be there from another project, to save the day. Despite the lean, the harvest was excellent.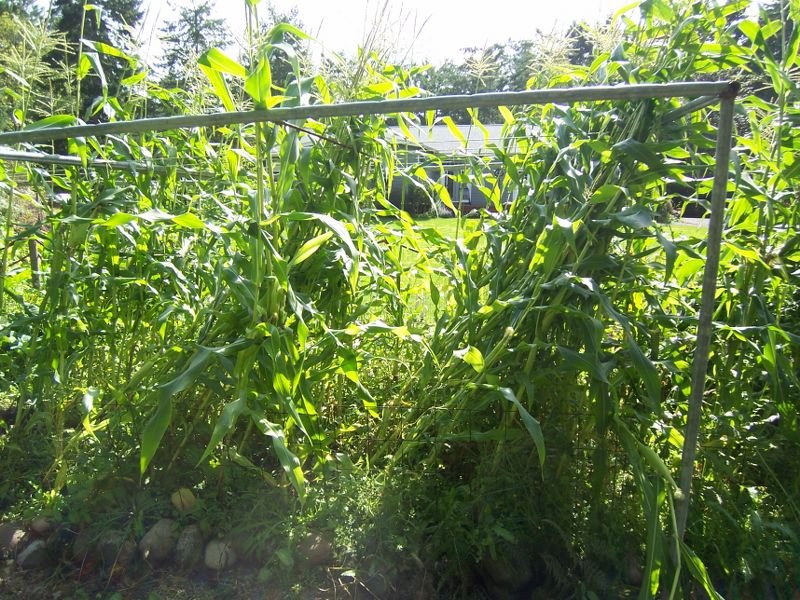 Posts

: 7392


Join date

: 2010-02-26


Age

: 64


Location

: yelm, wa, usa



Thats encouraging

. I think Im still going to wait on the corn though. Due to the expense of getting started I am probably only going to have one 4x4 to start with, maybe two if I can swing it. Now I just need to decide what to plant in it for the largest yield and biggest variety. To many choices :scratch:
---
Permissions in this forum:
You
cannot
reply to topics in this forum