Latest topics
»
Bee 'Sleeping' in Cucumber Flower
by
hammock gal
Today at 7:10 am
»
Store Bought Compost
by
plantoid
Today at 6:58 am
»
Amaranth
by
AtlantaMarie
Today at 6:57 am
»
It's actually more like surviving.... these days...
by
AtlantaMarie
Today at 6:56 am
»
Water....
by
plantoid
Today at 6:44 am
»
CANADIAN REGION: What are you doing in August 2017? 2017
by
Kelejan
Today at 1:09 am
»
Mid-Atl - Aug 2017 - Planning/Planting Fall/Winter Garden
by
BeetlesPerSqFt
Yesterday at 11:22 pm
»
N & C Midwest: August is here!!! 2017
by
Scorpio Rising
Yesterday at 9:58 pm
»
Monarch Supporter
by
Scorpio Rising
Yesterday at 6:54 pm
»
Third Year SFG in Canada
by
trolleydriver
Yesterday at 6:00 pm
»
Top Dressing with Compost
by
donnainzone5
Yesterday at 3:59 pm
»
What do you know about making sauerkraut?
by
CapeCoddess
Yesterday at 3:55 pm
»
who has chickens
by
sanderson
Yesterday at 3:53 pm
»
Heat wave and shade screen
by
jimmy cee
Yesterday at 2:15 pm
»
Sweet Potatoes
by
countrynaturals
Yesterday at 1:33 pm
»
Newbie Oldbie
by
CapeCoddess
Yesterday at 1:02 pm
»
cherokee purple...seed to dish
by
CapeCoddess
Yesterday at 12:57 pm
»
I feel VERY fortunate!
by
AtlantaMarie
Yesterday at 8:28 am
»
Things You Never Knew Existed Until SFG...
by
llama momma
Yesterday at 6:47 am
»
Anyone want walking onions??
by
RoOsTeR
8/15/2017, 9:27 pm
»
What weed? is this? (with pic)
by
yolos
8/15/2017, 8:53 pm
»
Ground Cherries
by
Scorpio Rising
8/15/2017, 7:18 pm
»
What are you eating from your garden today?
by
Scorpio Rising
8/15/2017, 7:17 pm
»
What I've learned this year
by
countrynaturals
8/15/2017, 4:38 pm
»
Grow Produce from Produce!
by
CapeCoddess
8/15/2017, 4:09 pm
»
Zombie Gardening!
by
countrynaturals
8/15/2017, 4:01 pm
»
Butterfly Junction
by
countrynaturals
8/15/2017, 3:38 pm
»
Intro for this region...
by
Browndog
8/15/2017, 2:42 pm
»
Easy and Fabulous Crockpot Marinara
by
sanderson
8/15/2017, 1:37 pm
»
Huge Box of Seeds from 2003!
by
countrynaturals
8/15/2017, 12:56 pm
Hello,

Okay, I understand how to make the chicken wire cage to protect the non-vine crops, and I also understand how to create a vertical frame for vine plants (such as tomatoes) to grow on. However what I don't understand is how does one combine the two? I want to protect my vertical growing tomatoes, as well as the lower lying crops below - So what do I build (and/or how do I build it) in order to protect everything?

Thank you!
New Square Foot Gardener



Posts

: 4


Join date

: 2010-03-31



Hi, cmagras. It would be helpful to know exactly what you need to protect against. Kitty-cats are one thing, deer another.



Posts

: 319


Join date

: 2010-03-22


Location

: Columbia, SC (Zone 8)



Mostly squirrels, birds, possibly cats... and then definitely pests, slugs, etc.



Posts

: 4


Join date

: 2010-03-31



Hmmm . . . Cats won't bother your vining crops. If you think they'll dig and go potty in the bed, lay a piece of wire fencing down at the time you plant your tomatoes. That's right, just lay it down over the dirt and leave it there. It might create a few challenges if you have to cultivate the soil, but cats don't like fencing and won't walk on it. Your tomato plants can grow right up through it. I use plastic-coated fencing and lay it down everywhere I don't want my dogs or cats to walk. They hate it.

Birds shouldn't be much of a problem once seeds have sprouted and become established, and a chicken wire box should take care of that. If you're worried about birds picking berries, there are things like floating row covers and bird netting available. I don't see birds giving you any difficulty with vining crops, providing we're not talking about jungle birds.

Squirrels, now. I don't suppose you could rent a dachshund? If you live anywhere near Columbia, SC, I know of one you could borrow for free! He has declared a bounty on squirrels. But seriously, I wonder if you could create a kind of locker out of chicken wire?

Pests: let me know if you figure it out! Maybe you could drape your vines with floating row cover fabric or tulle. Think Ginger Rogers! You'd have to have an opening, of course, so you could get in to harvest.

Slugs. They hate copper, so a strip of copper around the bed may keep them out. Back in Charleston, SC, they were hardier than that. I used the good old drown-them-overnight-in-beer routine, and that kept the population down.



Posts

: 319


Join date

: 2010-03-22


Location

: Columbia, SC (Zone 8)



I'm fond of using hoop houses that can sit permanently over the garden, and allow you to walk inside of them. You can make them tall enough to cover a 4 to 5-foot high vertical garden. You can make them with 1/2" pvc pipe that is secured to the ground with reinforcing steel (rebar) similar to the way you secure the vertical trellis.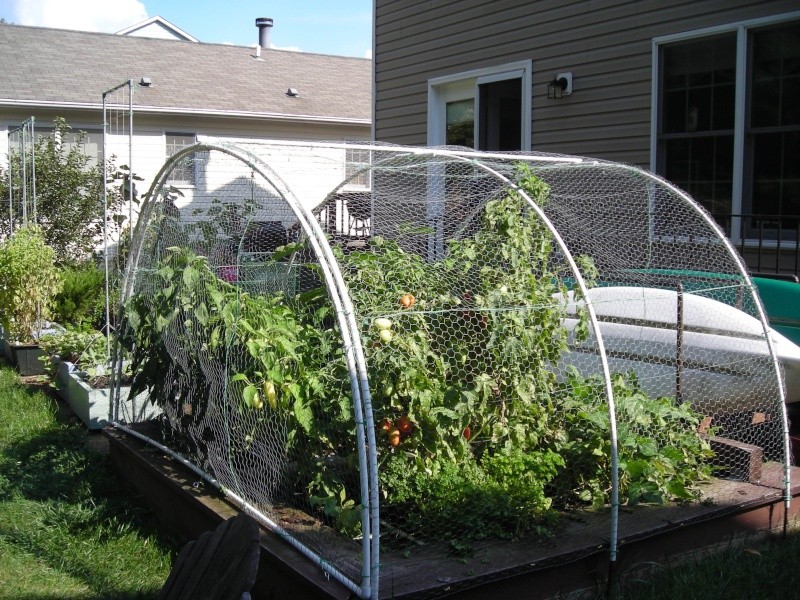 Posts

: 219


Join date

: 2010-03-09


Age

: 55


Location

: Elkridge, MD (zone 7a)



I had deer grazing problems with the veggies on my trellis last summer, even the tomatoes. I didn't realize that deer would even eat tomato vines.

I added vertical posts to the front corners of the box and zip tied black deer mesh to one side of the trellis and wrapped it all the way around my 4x4 box and zipped tied to other side of trellis, then left overlapping flaps loosely over the backside of the trellis to prevent deer from grazing. I made sure it was snug around the base of the box and the posts, the chipmunk that had been digging in my garden stopped going into the garden too, it was too lazy to crawl up under the mesh into the garden. The posts and the trellis poles held the mesh upright and the mesh was tall enough that it flopped inward over into the middle of the box providing overhead screening too. The mesh is large enough for butterflies and bees to go in but small enough to keep out the chipmunks and squirrels and to prevent the deer from nibbling the vines.

I watered the garden through the mesh with my handheld garden mister/sprayer. Since weeding wasn't really a problem I didn't have to open the mesh very often. I just undid the zip ties from one side, unwrapped the garden far enough to pick veggies or to plant seeds and then closed it back up. I just opened the loose, overlapping flaps at the back of trellis and reached through the trellis to harvest tomatoes and snap peas, I didn't need to zip tie the loose flaps shut, the deer didn't realize how to open the overlapping flaps.

I'm not sure if I have described this very well, I'll need to take a picture of my set up once I get things growing; I still have 2 months to wait until winter and frosts are gone before I can start some serious gardening. I found this was easier than building the chicken wire cover and it also covered the trellis. I did this to my 2 4x4 boxes individually. If I had gone once around the 2 boxes together the deer would have enough room to jump over the mesh into the space between the boxes.



Posts

: 189


Join date

: 2010-03-03


Age

: 46


Location

: Petawawa, Ontario, Canada Zone 4a



confession time... I am seriously coveting my neighbor's hoop house. Nice job, Mikesgrdn.




Posts

: 27


Join date

: 2010-03-11


Age

: 53


Location

: Rock Hill, SC



---
Permissions in this forum:
You
cannot
reply to topics in this forum