Hello!

I'm located just North of Boston and I'm soooo looking forward to the end of this long, dreary winter. My beds are ready (got that done last autumn) and I'm planning what I'm going to put in them right now.

I have some questions...first companion planting. My beds are three by six feet and the books and articles I've read concerning companion planting all assume that you'll row plant. How close should the different crops be to make a positive difference? If I have one type of plant at one end of my bed and an incompatible plant at the other end is that far enough away?

Also, growing potatoes. I read that the way to harvest is to take the bed apart and let the spuds (and dirt) spill out. I really don't want my precious Mel's mix spilling everywhere. It can't be that hard to just dig them up and keep the bed intact, can it?

TIA



Posts

: 4


Join date

: 2010-03-03


Age

: 51


Location

: Marblehead MA



I've put my companions in the same pot and the same square of a knot-garden style herb bed that was forced to be my veggie garden during a building project. The can go crazy close.

Basil and tomatoes can have intertwined roots. I imagine other companions can as well.

Keep cucumbers and peppers away from each other. I thought it was just hot peppers that did not like cukes but EVERY cucumber that I potted up with a pepper just wilted away. Sad.

Slugs in the PNW like French marigolds so much that they will choose those before they will choose your basil. You will know they are there when you see their slick trails across the flowers. Generally, marigolds can out grow the damage. The slugs will eventually find your basil if you ignore the problem. We used to go out with chopsticks and a can of salt at night while wearing hikers head lamps. We plucked the helpless little guys right off our flowers and herbs after dark when they were easy to find.

Have fun finding out what does and doesn't work!

Deborah ....out feeding the worms.



Posts

: 2054


Join date

: 2010-03-03


Age

: 60


Location

: Everett, WA USA



Hi xhazzie,

Welcome to the forum. Watch for posts from 'Martha', she's around your locale somewhere.

I'll let someone more knowledgeable than me speak to companion planting.

As to harvesting potatoes, the advice you wrote about is to prevent damaging your spuds with tools while harvesting. If you slice or poke a hole in a spud it's no big deal if you plan on eating it soon. It's recommended that damaged potatoes shouldn't be kept for long term storage-like through the winter. But...

With Mel's mix, it's so friable that you can do most of your harvesting with your hands. There's really no need to take your box apart.



Posts

: 7392


Join date

: 2010-02-26


Age

: 64


Location

: yelm, wa, usa



Hello, Xhazzie! I'm just introducing myself - I hope to see a lot of you around here!

Martha



Posts

: 2188


Join date

: 2010-03-03


Age

: 60


Location

: Acton, Massachusetts Zone 5b/6a



Hi and welcome to the forum I am new too. I will tell you that I have some friends that have done SFG for years that live near Pawcatuck and if you do the dump there has the best compost and as long as you have CT plates on your truck they will give it to you or whatever you bring to collect it in. You may have to sift it but it is the greatest stuff that I have ever seen and they have amazing really early gardens that I would die for. Especially since we are due for two inches of snow tonight. I can dream anyway. Good luck and again welcome.



Posts

: 5


Join date

: 2010-03-09


Location

: Vermont



In regard to companion planting, I tried marigolds and nasturtiums in corners of my raised beds to discourage buggy pests. I think it worked because I had no bug damages except for the Japanese beetles that trived on my sugar snap peas.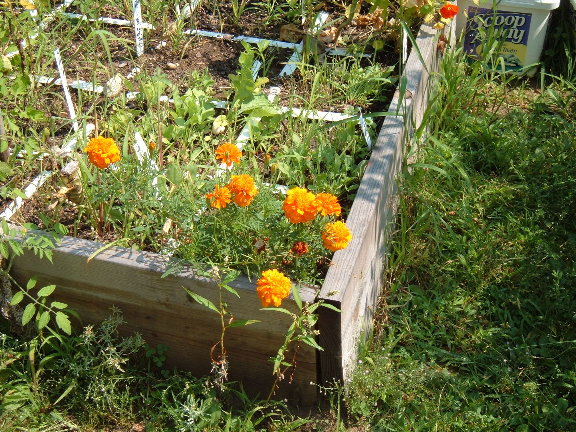 Posts

: 4682


Join date

: 2010-03-21


Age

: 75


Location

: Southwestern Maine Zone 5A



---
Permissions in this forum:
You
cannot
reply to topics in this forum