Take a look at our forecast and see why they call this the Emerald State. We all are turning moldy and green and soggy this time of year, and don't dry out until July 15th.

http://www.weather.com/outlook/homeandgarden/garden/weather/tenday/98249?lswe=98249&%22%20from=%22locator%22&lswa=GardeningForecast

I love how they say that the need for watering today and tomorrow is "Moderate" while later in the week, it's "Low!"
I've been enjoying that our rainfall has been 87% less than average this month. It has been a comparatively great December so far.
The forecast does look depressing however...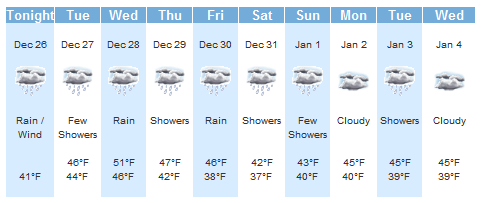 Posts

: 7392


Join date

: 2010-02-26


Age

: 64


Location

: yelm, wa, usa



@janezee

wrote:...snip...I love how they say that the need for watering today and tomorrow is "Moderate" while later in the week, it's "Low!"
I did water my bay lural today....soooooo
What are the chances of seeing stars for new-years? Oh, wait, those are not stars! Was hoping to get out to Fort Casey this weekend but it isn't going to happen.....I'll still be thinking of you. Happy New Year fellow web-foot! Happy carrots to you.



Posts

: 2054


Join date

: 2010-03-03


Age

: 60


Location

: Everett, WA USA



I don't like to complain about the rain. It doesn't have to be shoveled (born and raised in Alaska - so I can appreciate that) and it's what makes everything so green and lush around here. However, forecasts like that can be a little frustrating sometimes. Like now - when I could use some dry weather to take the Christmas lights down. Sure was nice putting them up this year though!

Certified SFG Instructor




Posts

: 1413


Join date

: 2011-05-11


Location

: Vancouver, WA



Well, just like Thanksgiving, we had wind gusts to 60 on Christmas Day, and yes, another power outage.
Fortunately, I was having dinner at the DD's in Seattle.
Unfortunately, we had to take the ferry.
Fortunately, it was running, despite the wind.
Unfortunately, we hit the pier.
Fortunately, no damage to the boat.
Unfortunately, dark and rainy way up north on the Island.
Fortunately, sunny in Seattle!
And, fortunately, power was restored, and is still on tonight!
When I was quite small, I lived in Bellevue which was a small town at that time, and we used to take that ferry to and fro Whidbey to see relatives. I remember the ferry hitting the pier more than once. As a child it was always such an adventure! Hang in there, Spring is on the way!!!

____________________________
41 years a gardener and going strong with SFG.
http://squarefoot.creatingforum.com/t3574-the-end-of-july-7-weeks-until-frost
There are certain pursuits which, if not wholly poetic and true, do at least suggest a nobler and finer relation to nature than we know. The keeping of bees, for instance. ~ Henry David Thoreau
http://squarefoot.creatingforum.com/t1306-other-gardening-books

Forum Moderator Certified SFG Teacher




Posts

: 14141


Join date

: 2010-03-06


Age

: 54


Location

: Keene, NH, USA ~ Zone 5a



Camprn, I'm so glad to hear that you have pleasant memories of my adopted home!
I still love to take the ferry. I call it my mini ocean cruise. It's a whole 'nother sub-culture.
Lots of folks commute together every day. Although the ride is only 12 minutes, you're on the ferry for almost half an hour, plenty of time to socialize over a cup of coffee and a Danish. There are sitters, and walkers. I can do 20-30 laps around the inside each trip. For some, this is probably the only walking time they get all day.
Then there are the day-trippers, and tourists, and delivery trucks.
My first years here, I had to commute a lot. One day I was on my way home and I noticed that everyone was moving to the left side of the boat. There were several orca whales breaching! It was amazing!
(I don't know how you copy your weather so beautifully) Our weather is so strange over on this side of the Mountains. We usually get a day or two of 50's and sunny in the winter months, but it's usually icy and cold. Instead, we are having early spring like weather in December. Strange way to start the new year. I'm almost tempted to see if I can start planting seeds using bottles for protection... but I'm sure we'll go back to hard freezes in January and February.
Tonight


Wed


Thu


Fri


Sat


Sun


Mon


Tue


Wed


Thu


Dec 27


Dec 28


Dec 29


Dec 30


Dec 31


Jan 1


Jan 2


Jan 3


Jan 4


Jan 5











































Showers



PM Showers



Cloudy



Showers / Wind



Partly Cloudy



Partly Cloudy



Few Showers



Partly Cloudy



Mostly Cloudy



Partly Cloudy








54°F





49°F





45°F





40°F





38°F





44°F





41°F





42°F





42°F




41°F






39°F






40°F






32°F






23°F






27°F






26°F






27°F






28°F






31°F




Posts

: 298


Join date

: 2011-03-19


Location

: Central Washington Zone 7a



at 9:00 pm tonight....rain & wind

blah......lights are flicker-in too

nothing to do on this winter night but day/night dream of spring to come as i stroll not troll

thru old threads dreaming up new idea's

hugs
rose



Posts

: 2424


Join date

: 2011-05-10


Location

: Western WA



---
Permissions in this forum:
You
cannot
reply to topics in this forum