Love it! It has been a bumpy ride but I have had a soft landing so far. The bank finally insisted that I leave my home (silly bank) and still not being gainfully employed, I did manage a soft landing in a rented room with a roomie (81 year old lady) who would like a vegetable garden. Can I help her? Well, let me think about it.... LOL.
She already had a 4X4 built in raised bed so I emptied out the top six inches and replaced with a bagged MM. We shall see. Anyway, planted today. I feel at ease again. Hands dirty and ready to roll.
I even started some tomatoes inside today. I have never grown tomatoes from seed so this will be fun. RIght now it is so warm I am going to put the covered container outdoors during the day and bring it in at night. The house is overheated anyway.

Have the usual spring suspects from peas to spinach to cabbage and on and on. She was very skeptical about the whole thing (why do you need to replace my soil - it is very good) and watching with trepidation, she marveled at how neat and orderly it looked and how much produce I planted. No s***. But, I find that seeing is believing more so than trying to explain.
What a relief to have a garden again.
The garden as I found it - pretty good shape with some old oregano: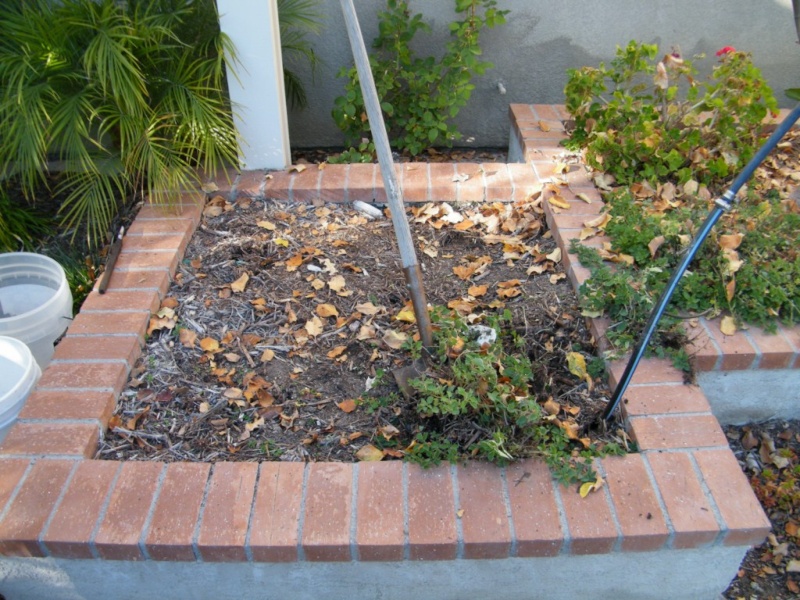 There are some shade issues - to the east an apple tree (now leafless, thank heaven)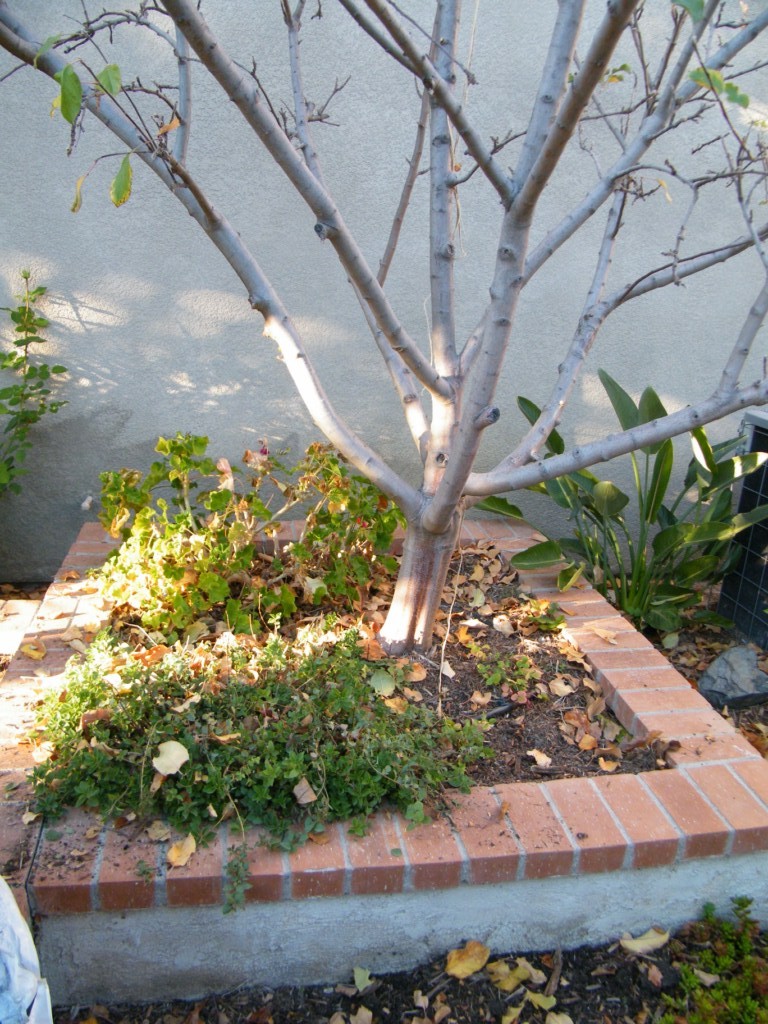 To the southwest some cypress trees: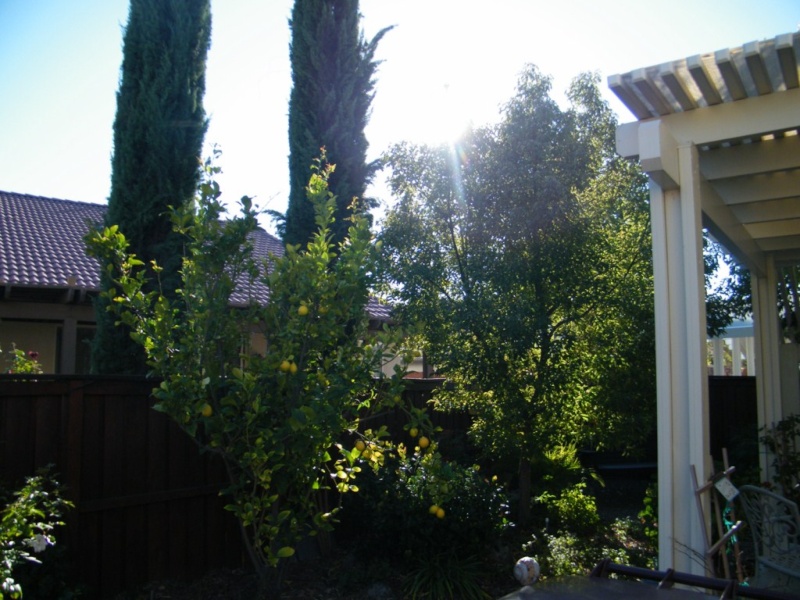 But, hopefully the intense California sun will out.
The final product with some fence to keep out the small dog. Gophers are a local problem, but there is no sign of them in this yard, thank heaven, because I forgot to put down any type of barrier.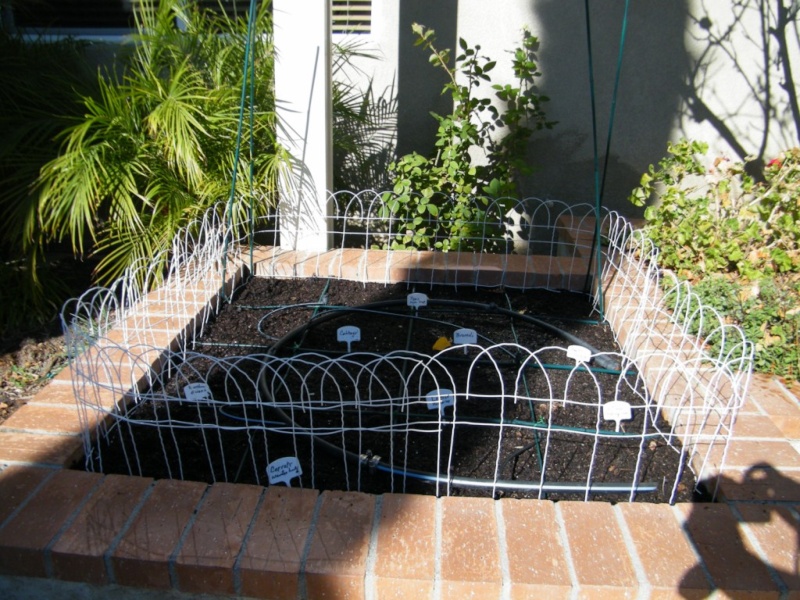 A productive spring will be the final confirmation for my skeptical landlady that this is for real. Although I overheard her on the phone explaining it to a friend. I have already more or less promised to help another neighbor build some tabletops. Maybe I have a new career. LOL



Posts

: 2467


Join date

: 2010-05-05


Age

: 62


Location

: Warner Springs, CA USDA Zone 8a, Sunset Zone 7 (I think)



Well I don't know much about your bumpy ride, but I'm happy for you nonetheless.

I'm glad you had a soft landing! Those are neat raised brick beds your roomie has there. In your final picture, is that long shadow going diagonally right across the bed from one of those Cypress trees? And it looked like the Cypress trees are actually over in a neighbor's yard? That's too bad. Hopefully it works out for you. I htink the sun gets much higher in the sky as summer comes on, and things to the south don't shade as much (at least that's my experience here?).
My neighbors to the south have a whole row of cypress trees (not the skinny ones, but the Leyland type) planted right on the fence line. Right now, they are shading about four feet into my yard. Doesn't sound bad, until you consider my yard is only fourteen feet deep, and those trees were only planted six years ago. I'm guessing, in a few more years, my garden will be in full shade. But I plan to enjoy it in the meantime!

Certified SFG Instructor




Posts

: 1413


Join date

: 2011-05-11


Location

: Vancouver, WA



Yes the shadow is a cypress. But you are right about summer sun. I am hoping it will add at least an hour. Those cypress are thick! And a home to rodents I understand. Maybe you can slyly drop that bit of news to your neighbor in an offhand way. LOL. Maybe the cypress will disappear in a week or so.




Posts

: 2467


Join date

: 2010-05-05


Age

: 62


Location

: Warner Springs, CA USDA Zone 8a, Sunset Zone 7 (I think)



Glad you're getting to play in the dirt again.

Blessings, friend.
____________________________
I have seen women looking at jewelry ads with a misty eye and one hand resting on the heart, and I only know what they're feeling because that's how I read the seed catalogs in January - Barbara Kingsolver - Animal, Vegetable, Miracle
sfg4u.com
FB: Square Foot Gardening 4 U

Certified SFG Instructor




Posts

: 1915


Join date

: 2010-09-30


Age

: 58


Location

: Glen Burnie, MD



I think BBG had a thread about charging to build beds. Any income is better than none.

I have been thinking about a roommate. But it is so hard to get one honest and reliable, especially since I'm often away from home for 3 months during the year. A second pair of hand would help greatly in yard work.

Kay
____________________________
A WEED IS A FLOWER GROWING IN THE WRONG PLACE
Elizabeth City, NC
Click for weather forecast

Certified SFG Instructor




Posts

: 4342


Join date

: 2010-10-17


Age

: 74


Location

: wilmington, nc zone 8



chopper.....glad to hear you made a soft landing and are able to get your green thumbs back into gardening. Sounds like a win-win situation for you.

Your bed is lookin' good. With higher sun for summer, you can't be sure what you've got for garden light just yet. Crossing my fingers its all good.



Posts

: 4646


Join date

: 2010-03-21


Age

: 75


Location

: Southwestern Maine Zone 5A



---
Permissions in this forum:
You
cannot
reply to topics in this forum